At Home on the Road: Cooking Local
Butternut squash bisque at the Sustainable Agriculture Conference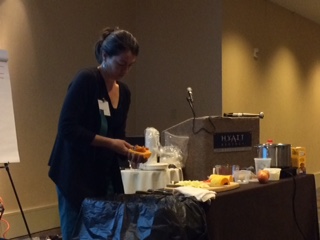 This week, Charlotte at Home focuses on the Sustainable Agriculture Conference put on by the Carolina Farm Stewardship Association in Greenville, South Carolina. To read more about the conference and association, check out Monday's post here.
Katherine Kransteuber, a home cook and local-foods advocate, presented the session about cooking local. Instead of telling people what they should cook and how they should cook it, she asked the audience how they incorporate local food into their lives and prompted a discussion. She provided some simple, straightforward tips for gradually changing your routine and diet to incorporate more local products.
One of her first recommendations was to go shopping before you make your weekly meal plan. Instead of searching for ingredients at a couple of markets and then settling for poor-quality out-of-season produce in the grocery store, go to the market and see what looks good. Then plan your weekly meals around the ingredients you find. Subscribing to a Community Supported Agriculture program, or CSA, is a way to challenge yourself to cook with seasonal, sometimes unfamiliar ingredients. CSAs provide a box of food on a weekly basis filled with whatever the farmer has at the moment.
If a recipe calls for ingredients that aren't in season, think of seasonal substitutes. For example, if a chicken salad recipe calls for strawberries, try substituting apples for the fall. Drying, freezing, or pickling fruits and vegetables while they are in season is a good practice to develop a year-round supply.
Each new recipe won't turn out like you planned. Forgive yourself. Instead of worrying over the failure, think about what adjustments can be made to improve it.
If you're cooking for picky eaters, rely on familiar staples, such as quiche, pizza, and soup, but introduce new ingredients. Try roasted red peppers on the pizza, or add spinach to the quiche. Kransteuber prepared the recipes below using fresh, local ingredients from Swamp Rabbit Cafe and Grocery, a market in Greenville, SC.
Butternut Squash Bisque
1 (2.5-pound) butternut squash, peeled and chopped into 1-inch pieces
1/4 cup butter
1 onion, chopped
1 carrot, peeled and chopped
1 celery stalk, chopped (Kransteuber didn't have celery, so she doubled the carrots.)
2 cloves garlic, minced
2 large Gala or other crisp, sweet apples, peeled, cored, and chopped
48 ounces chicken stock
1 cup apple cider or juice
2 canned chipotle peppers in adobo sauce, chopped (Remove seeds and don't touch with your hands.)
1/2 cup sour cream
3 ounces smoked Gouda, shredded
Celery leaves, shredded Gouda, or crumbled bacon for garnish, if desired
1. Peel, seed, and cube butternut squash. In a 6-quart Dutch oven, melt butter over medium-high heat. Add squash, onion, carrot, celery, and garlic. Cook, stirring frequently, 10 minutes or until vegetables are tender. Add apples, broth, cider, and peppers, Bring to boiling; reduce heat. Cover; simmer 25 minutes or until vegetables and apples are tender. Remove from heat; cool slightly.
2. When slightly cooled, puree in pot using an immersion blender. Blend in sour cream. Heat through. Remove from heat; stir in shredded Gouda until melted. Top with garnish. Makes 8 servings.
(Recipe adapted from Better Homes & Gardens)