At Home on the Road: Morganton Farmers Market
Wherever your summer travels take you, explore the local markets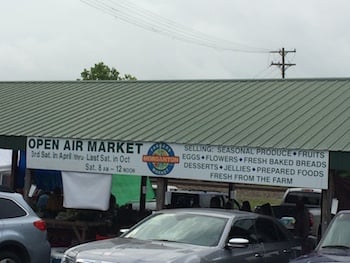 As the summer travel season reaches its peak, we encourage Charlotteans to seek out the local farmers markets. Shopping farmers markets while you travel allows you to support local vendors; learn about different fruits, vegetables, meats, and seafood available in the area; and stock up on the freshest provisions for your stay. If tomato sandwiches are a summertime staple for a lunch at the beach, they'll taste even better with local tomatoes. If you prefer to cook while you're away instead of enduring crowded restaurants, you'll find an array of fresh options for your meals.
This past weekend, we visited the Morganton Farmers Market in Burke County, about and hour and a half from Charlotte. Burke County is a popular destination for outdoor adventure enthusiasts who enjoy hiking and climbing at Table Rock, kayaking and canoeing on the Catawba River, zip-lining at Beanstalk Zip Lines, and exploring nature at Lake James State Park.
Below are a few scenes from the Morganton Farmers Market. We hope they'll encourage you to explore a local market during your July Fourth travels.
The Morganton Farmers Market is located in downtown. From the market, you can see the surrounding mountains, which were covered in fog on this Saturday morning. The market opens at 8 a.m. and continues until noon.
The market takes place under an open-air shelter. Permanent vendors set up in the same stalls every week. Other vendors set up under surrounding tents. The market has plenty of on-site parking, and all surfaces are paved for easy access.
Jesse's Farm, located near South Mountain State Park, had a selection of seasonal produce, including squash, onions, cabbages, peppers. These bright, fresh carrots were the standouts at $1.50 a bunch.
The market has a mix of fresh fruits and vegetables as well as handcrafted items and homemade baked goods. These all-natural bath and beauty products are from Hedgehog Hills Soaps & Sundries, run by Joshua and Sarah Harris from Lenoir.
TLC Farms in Morganton is a new vendor this year. They had fresh green beans, cucumbers, and zucchini.
Jim Shell of JAM Expressions in Morganton had an assortment of fresh baked goods and homemade jams and jellies.
Billy Cloud of Billy's Scroll Saw Art makes wooden puzzles and home decor items.
Sherilyn Ritchie, who runs Winding Road Apiaries with her husband, Jeff Ritchie, offered samples of four different "pulls" of honey. Each one — spring light, spring light amber, spring amber, and summer — had a slightly different taste.
Paul and Evelyn Benton had a selection of plump, ripe blackberries.
A half-gallon of blackberries costs $6.
Stephen Hawkins of Hawkins Family Farm had huge cabbages for sale for 50 cents a pound.
He also had a bowlful of freshly dug beets.
Apple Hill Orchard, located just south of Morganton, had a selection of cider, dried apples, apple butters, and baked goods all made from apples harvested on the farm this past fall. The orchard has been in operation since 1955 and has a family history that goes back five generations. The orchard opens to the public in late August when apple harvest begins and is open throughout the fall. The property offers orchard tours, apple picking, and a country store with fresh apples and apple products.
Apple Hill Orchard is a good example of one more benefit of visiting local markets: gathering ideas for your next trip.