Auditions for 'The Bachelor', Summer DJ Fest at EpiCentre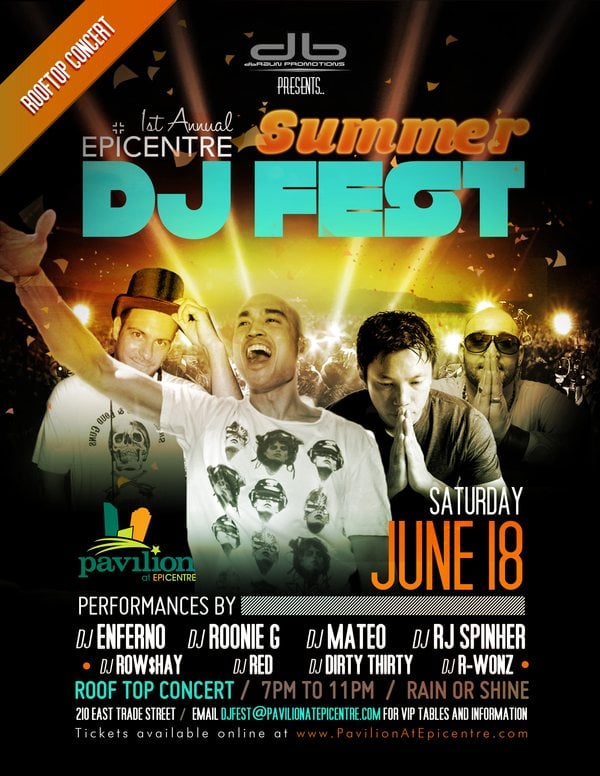 There is never a shortage of events and parties at the EpiCentre, but there are two in particular this week that stand out.
The popular, weekly Alive After Five should see a noticeable increase of ladies in attendance this Thursday, June 16 at Pavilion at EpiCentre. Casting producers from ABC's The Bachelor will be present, searching for prospective bachelorettes to appear on the next season of the hit reality show. If you've long dreamed of attending the famous rose ceremony in search of true love, then here's your chance to audition. Registration will begin at 4:30 p.m., and on-camera interviews will run through 10 p.m. at Suite. And if you think the odds are insurmountable of you becoming one of the twenty-five women chosen from the thousands who audition nationwide, just remember that Charlotte native Emily Maynard not only made it onto the show but won the final rose from Brad Womack this past season. Click here for more details.
Then on Saturday night, June 18, dbraun Promotions presents the Inaugural Summer DJ Fest. The roof-top concert will feature performances by Los Angeles-based DJ RJ Spinher, a popular club DJ on the West Coast; DJ Enferno, best known for his work with Madonna as both her touring DJ and for working with her in the studio; DJ Roonie G, who incorporates video into each of his sets and is a three-time winner of the Clubworld Best VJ Award; and DJ Mateo, touring DJ for U2. The main set will run 7-11 p.m. at Pavilion. When the concert is over, each of the DJs will perform their own after-party sets at individual EpiCentre bars and nightclubs. DJ Spinher will play at Kazba, DJ Enferno at Suite, DJ Roonie G at Whisky River, and DJ Mateo at Mez. Tickets can be purchased in advance for $20. Click here for more details.
EpiCentre, 210 E. Trade St., epicentrenc.com.