Austin Fashion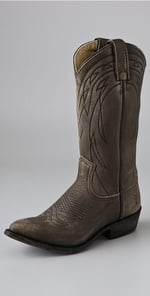 After spending a glorious past few days in Austin, TX, I've finally figured out the true meaning of "Texas Swagger." There's a certain bravado that accompanies a person who steps off of a plane into the Charlotte airport (coming from Austin) wearing cowboy boots—just as many of those who flew alongside me on my returning flight did. I have to admit, I stared. But in awe. They (men and women, alike) were dressed in perfect business wear, with tough, but polished boots peeking out from their hems. And yet, they weren't cowboy caricatures. They exuded an authenticity and a connection to their roots that I feel we rarely see these days. Maybe I'm a little jealous that North Carolina doesn't seem to have its own fashion identity—though, I think we look damn good. It doesn't mean we don't have the style instincts to do it, it just means we haven't really found our own unique place on the fashion map. On my first trip to Texas, I expected big, sprayed hair and an overload of boots and hats, but what I found was an absolute alignment with this season's trends, and still, a refusal to let go of the trends that make Texas, Texas.
Much to many of my friends' chagrin, I've never been a huge fan of cowboy boots and sundresses in North Carolina (even though I attended UNC and this seemed to be the dress code for football games); something about it feels too planned. Don't get me wrong, I respect the confidence it requires, and often times, I think it actually looks pretty adorable. But the difference between cowboy boots here and cowboy boots in Austin is that in NC, they seem to require confidence, whereas in Texas, they mean confidence.
So, my final call: these (cowboy) boots were made for walkin' –Texas streets.