Averting Wedding Day Disasters
5 beauty mishap remedies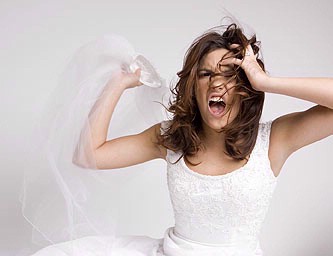 Beauty disasters are a dime a dozen. And while, under normal circumstances, we can hide out at home or laugh it off at the office, pre-wedding mishaps require a different set of tricks. A stress-induced zit or accidental sunburn simply doesn't complement bridal white. But before you have a bridezilla-esque panic attack, take a deep breath and relax. We've compiled a handy list of quick fixes for the most tedious misfortunes. No need to let a cosmetic calamity wreak havoc on your big day!
Spot On: How to remove splotchy self tanner
For streaky tanner, use a gritty exfoliating scrub and work into areas surrounding the splotches. This will help to even out the streaks. An exfoliating sponge soaked in lemon juice will also do the trick. For tricky areas such as between fingers, nail polish remover works like a charm. For lifting color overall, baby oil works as a lightening agent. If you need to reapply additional tanner following your quick fix, be sure you've sufficiently exfoliated AND moisterized the area. These are two key prerequisites for self-tanner.
Blushing Bride: How to mask a sunburn
For overnight treatment, take an evening primrose oil capsule and puncture its top. Squeeze out the contents and spread over the reddened area. Its contained acids help to restore the moisture barrier and, in turn, reduce redness within a matter of hours. Aside from that, mineral makeup is your best friend. Mineral makeup contains concentrated pigment and aloe vera, helping to calm and conceal the red. Ibuprofen is key for severe sunburn. It reduces pain and swelling. A 1 percent hydrocortisone cream followed by a cooling moisterizer should be used for body burn.
Pop-Up Enemy: How to get rid of a pimple stat
For those with sensitive skin, a stress-induced zit can surface with ease. If you have at least 24 hours to spare before the wedding day, call your dermatologist to schedule a cortisone shot. (It's covered by most insurance plans). The steroid in the shot will stop the pimple from growing and reduce its size and redness within one day. They are also able to extract the pimple's contents in a method that avoids scarring or scabbing. Avoid peroxide or acid-based treatments. By drying out the pimple, you'll make it more difficult to cover. Instead opt for a buffering lotion and top with sulfur-based drying potion. Don't attempt to pop it unless it is absolutely ready to burst. Dot concealer that matches your skin tone with a small brush starting in the center and working your way out to the edge of the blemish. Top immediately with translucent powder.
Bumpy Road: How to get rid of razor burn
For severe razor burn, apply a bit of neosporin to kill bacteria and avoid scarring. You may also apply salicylic acid to help remove dead skin and kill bacteria, thus reducing redness. (Just don't apply to bikini area!) Once it dries, rinse and notice immediate fading in redness. Hydrocortisone can reduce itching from razor burn and helps to moisterize the area.
Bright Eyes: How to fix puffy eyes or dark circles
First thing in the morning apply a cold compress to puffy eyes. You may also chill a teaspoon by running it under ice water for a few moments. Then massage the back of the spoon into the puffy area. A rollerball of under eye gel containing caffeine should be applied afterward. Then apply an illuminating concealer pen to the area just beneath the bags. For dark circles only, tap a concentrated creamy formula in a peachy hue directly over the dark area only.