AZN Wine 'n Dine
The Asian eatery will highlight a few stars from The Biltmore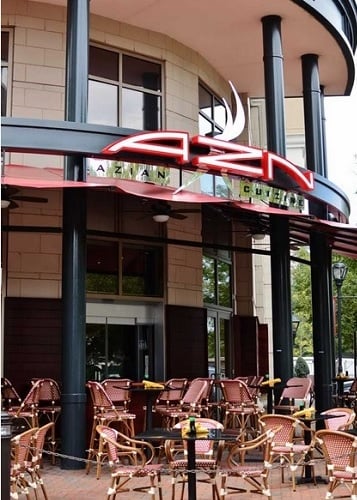 Get ready: AZN Azian Cuizine is hosting a special wine dinner with Biltmore Wines on Thursday, September 25, 2014 at 6:30pm. The dinner comes as a salute to AZN's two year anniversary in Piedmont Town Center in SouthPark.
"We are glad to partner with Biltmore Wines to bring North Carolina wines and favorites from the Asian cuisine culture together," says Anna Hsu, owner of AZN, in a press release. A native of China, Anna and her husband Raymond have been in the restaurant industry for decades, with locations in the United States in Naples, Florida and Atlanta, Georgia. AZN Azian Cuizine in Charlotte is their newest restaurant.
"Bringing authentic Asian cuisine to the Charlotte area has been exciting for us," continues Hsu. "Working with Biltmore Wines gives us an opportunity to celebrate North Carolina as well."
Food favorites for the wine dinner include five full courses, starting with Thai Sashimi Salad and following with Seared Japanese Scallops, Lamb Bolognese, and Oscar Filet Mignon. Dessert is Rich Dark Chocolate Mousse, topped with Salted Caramel ice cream. Each course is paired with Biltmore wines, including their Reserve Blanc de Blanc, a sparkling wine, along with Chardonnay, Sangiovese, Cabernet Sauvignon, and Syrah. Anna and her staff will be on hand to talk about the food courses and the Asian culinary culture and John Justice of Biltmore Estate Wine will speak about the wine and the North Carolina history. Biltmore Winery is the country's most visited winery. For more information about the Wine Dinner with Biltmore Wines, please visit the website.
This special evening is priced at $55 per person plus tax and gratuity. Limited reservations are available and advance reservations are strongly encouraged. For more information and to make a reservation, please call the restaurant at (980) 819-9189. AZN Restaurant is located at 4620 Piedmont Row Drive in Piedmont Town Center in SouthPark, across from the Harris Express YMCA. Complimentary valet parking and abundant deck parking and street parking are available.