Baby Ginger Harvest at Windcrest Farm
Stock up now for holiday baking and flavorful dishes throughout the year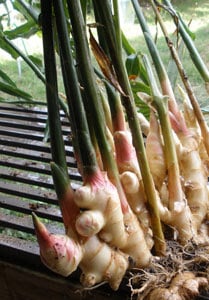 Mary Roberts and her team at Windcrest Farm in Monroe have completed half of their baby ginger harvest. Roberts tripled production this year, but the pearly white rhizomes are selling just as quickly as last year's crop. She expects to harvest about 250 pounds.
Baby ginger is harvested before the rhizomes fully develop, toughen, and form a skin like the mature pieces you see in the grocery store. The flavor is milder and works well in both savory and sweet dishes. It freezes well, so you can use it throughout the year.
Roberts usually prefers planting to harvesting, but the ginger harvest is a special experience. On October 25, she invites people to her farm for the Talk & Tour, Ginger Harvest event. Participants will tour the farm, learn about ginger cultivation, and sample ginger confections. (The cost is $10, and $5 of it can be applied to purchasing ginger or ginger products.)
"There's nothing like seeing that baby ginger come out of the ground and looking forward to growing some in your own home garden," Roberts says.
Roberts operates a 14-acre USDA-certified-organic farm just south of downtown Monroe. She sells her products at the Matthews Community Farmers' Market, Atherton Food Hub, and Union County Farmers Market. Restaurants throughout Charlotte and the surrounding area also use her products. Customers can place orders online (click here) for specific crops, such as baby ginger, and pick up their orders at the market.
In addition to farm tours, Roberts also holds classes on the farm. On November 2, Windcrest will play host to an on-the-farm cooking class focused on baby ginger with local culinary expert Heidi Billotto. Guests will learn about the farm and the ginger, and then prepare a four-course meal paired with wine. (Click here for registration instructions. The cost is $75 per person.)
"I like to have farm classes here with Heidi because I am a student," Roberts says. "I learn as much from her as anyone else. As far as farm to fork, I'm way on the farm side, and I often tell folks it's like seeing your kids graduate from college. The chefs that we're working with make [our produce] into incredible creations."