Bachelorette Weekend Getaways
Pack your bags! It's time for your bachelorette weekend.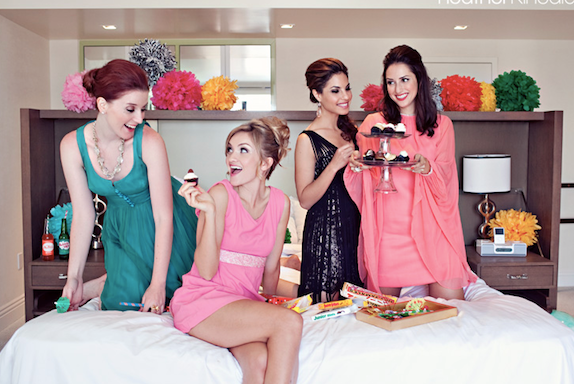 Bachelorette parties have been getting a bad rap these days as blow-up dolls, feather boas and princess crowns have taken over. If you're not into club-hopping in matching dresses, you're not alone. Recently we've seen a trend in ladies skipping the bachelorette party and instead taking their girls on a relaxing, bachelorette weekend getaway. We buckled down and came up with a few of our favorite destinations all within driving distance from Charlotte. Don't forget to pack the champagne.
Kiawah Island, S.C.
Yes, we know. Every other bachelorette weekend takes place in Charleston. They've gotten so out of hand lately that gay clubs put a ban on bachelorette parties in their venue. Save Charleston for a weekend getaway with your fiancé and take your girls to Kiawah – the Holy City's island sister – for a few days of sand and sun. Rent a villa but head to the Sanctuary Hotel for the best spa experience of your life. Kiawah's four pools and ocean access will give you countless opportunities to enjoy the fresh, saltwater air but make sure you take time to rent a bike and pedal out to Freshfields Village, where you'll find some of the best island shopping around.
Get some sleep: Kiawah Resort Villas | www.kiawahresort.com/accommodations/the-resort-villas
Eat here: The Fat Hen | www.thefathen.com
Don't miss: Freshfields Village | www.freshfieldsvillage.com
Photo: Kiawah Island
Wilmington, N.C.
Take a stroll down the historic Riverwalk that winds around the Cape Fear River and you'll wonder why it took you so long to venture out to Wilmington. As one of North Carolina's most accessible coastal destinations, Wilmington offers a bit of everything – from eclectic boutiques, to three beaches less than 20 minutes away, to thriving nightlife venues. Start the day off with breakfast at Sweet-n-Savory café before hopping aboard the Henrietta III, the state's largest river tour boat. If you're a history buff or want to add a little culture to your celebratory weekend, take an hour to tour the North Carolina Battleship. When the sun sets, get ready for a night on the town at one of Wilmington's many pubs, but not before a carriage ride through the city!
Get some sleep: Hilton Wilmington Riverside | www.wilmingtonhilton.com
Eat here: Caprice Bistro | www.capricebistro.com
Don't miss: Riverfront Park | www.riverfrontwilm.com
Photo: New Hanover County Tourism
Blowing Rock, N.C.
We can't say enough about Boone's quaint little sister. Visiting Blowing Rock is anything but a traditional bachelorette weekend getaway but it's perfect if you're looking for a relaxing weekend without all the frill and bar-hopping. Rent a cabin or stay at the luxurious Chetola Resort and spend your day shopping at Tanger Outlets before taking a leisurely stroll down Blowing Rock's picturesque Main Street. Make sure to stop in Kilwins for some ice cream or a caramel apple. If you're feeling adventurous, hike out to the Blowing Rock for some incredible views.
Get some sleep: Chetola Resort at Blowing Rock | www.chetola.com
Eat here: The Best Cellar | www.ragged-gardens.com/blowing-rock-restaurant
Don't miss: Christopher's Wine & Cheese | www.christopherswineandcheese.com
Photo: Paul Lyndon Phillips

Atlanta, Ga.
If you're looking for a fast-paced weekend in a buzzing metropolis with some of the best restaurants and bars in the southeast, Atlanta is for you. Spend your days succumbing to the ways of the tourist by spending a few hours at the World of Coke and the Georgia Aquarium. In the evening, embrace your refined side at the Atlanta Symphony Orchestra or catch a play at the Alliance Theater before taking the party to the streets. Afterwards, grab your leading ladies and head to Opera Nightclub for nonstop dancing. Looking for a more sophisticated atmosphere? Have a drink or two at The Sound Table, boasting some of the best mixologists in the city.
Get some sleep: The Westin Peachtree Plaza | http://www.starwoodhotels.com/westin
Eat here: Cakes & Ale | www.cakesandalerestaurant.com
Don't miss: The Georgia Aquarium | www.georgiaaquarium.org
Photo: Georgia Aquarium