Back and Forth on Charlotte's Transit Future
#discussCLT panelists wrestle with ambitious plans, not enough money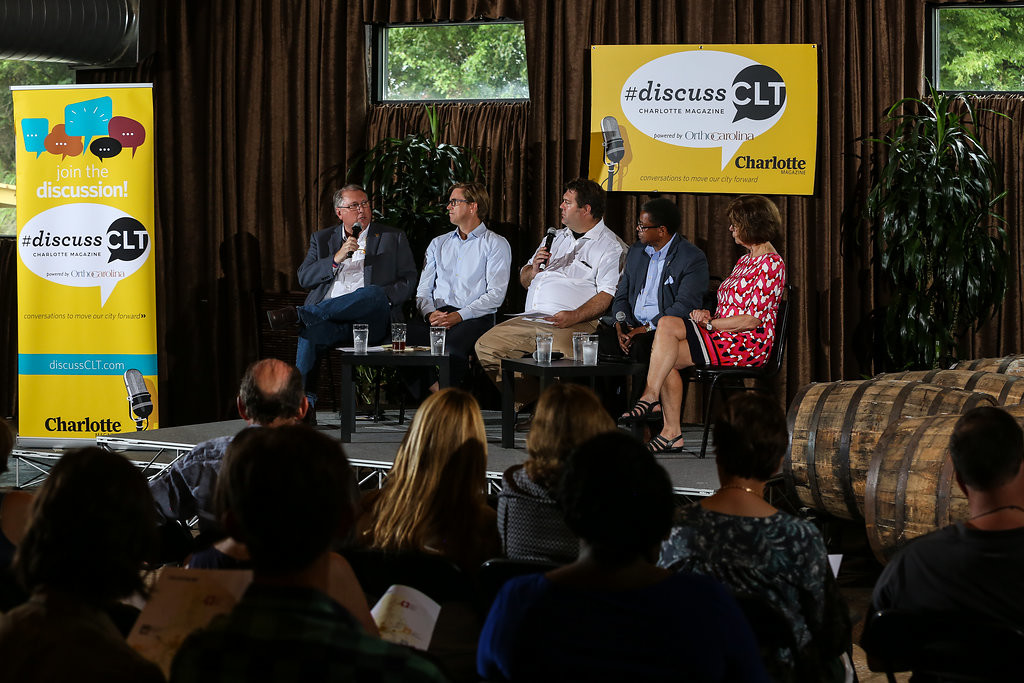 We held a #discussCLT discussion last week on Charlotte's transit future. The discussion was lively and well-informed, the audience questions pointed and valid, the beer cold, the snacks toothsome. Here's the upshot: Charlotte officials have a big, ambitious plan for a countywide system of light rail and other modes of transportation by 2030. It almost certainly will not be done by 2030, even under the best of circumstances. If Republicans remain in control of the state and federal governments, it might not get done at all because they fundamentally do not like the idea of mass transit—imagining it a massive boondoggle in a sense that, say, toll lanes on stretches of interstate are not—and therefore will not help pay for it. In the absence of the necessary funds, local officials are trying to develop "creative solutions," which means going hat in hand to any private entity willing to help pay for transit. We'll see how that goes.
Within that gloomy summation were some smaller yet still relevant pieces. Some highlights:
The local source of transit funding is the half-cent sales tax that voters approved in 1998, when Charlotte was about half the size it is now. Even as revenues have risen with population growth—the tax pulled in about $93 million last fiscal year—it's nowhere near enough to pay for the $6 billion or so needed to build out the 2030 plan. At some point, our panelists concluded, voters are going to have to decide whether to tack on another half-cent to even begin to expand the transit system.
That led to a piquant exchange between panelists Edwin Peacock III, the Republican former City Council member and two-time mayoral candidate, and Mary Newsom of UNC Charlotte's Urban Institute, who have known each other for years. Peacock, who's a bigger fan of transit than many of his fellow Republicans, nonetheless said he questions whether Charlotte's transit planners should rely so much on rail corridors when smartphone technology—Uber, Lyft, dockless bicycles, scooters—is upending dominant modes of transit seemingly every week.
"We don't know how technology will fully impact your choices as a rider, because now the consumer is in charge on demand, and they want it fast, and they want it convenient," Peacock said. "But for so many years, our friends in the transit business have largely had a monopoly on rail and bus."
Newsom objected to the terminology. "You said it was a 'monopoly,' she told Peacock. "No—it's a public service."
"Public service monopoly," Peacock said.
"Yeah, I mean garbage collection is a monopoly, and police service is a monopoly."
"A polite monopoly, Mary."
"My point is that if there was a lot of money to be made (on transit), the private sector would have leaped in and done it," Newsom said. "It is a public service, and that means we all have to pay for it."
"Public service monopoly." How is that not a contradiction in terms?
Discussions about transit in Charlotte tend to center on light and commuter rail. They're the big-ticket, contentious, transformational items that take longest to build and the most money to pay for. A key fact can be lost in the conversation: About two-thirds of the sales tax revenue goes to fund the bus system, which would remain the backbone of Charlotte Area Transit even with the full complement of five rail lines.
All four of our panelists agreed that a certain "social stigma," as Peacock put it, comes with taking the bus. "There's been this sort of negative image that buses are what—gasp—poor people take," Newsom said. "And the rich people who were running the government didn't want to have the transit modes that poor people took. I think that's changing. But what we have baked in now into the civic consciousness is that rail is better."
That's especially true in the South, where the bus has been viewed as the mode of choice for poor African-Americans roughly since the days when Rosa Parks refused to give up her seat on one. That's slowly starting to change, as Newsom said. Dedicated-lane Bus Rapid Transit has been a huge success in other cities, especially one I'd never even heard of—Curitiba, Brazil, a city of nearly 1.8 million. Peacock brought up the prospect of upgrading the bus experience—WiFi and coffee, maybe even avocado toast. (He was joking, I hope.)
Our other panelists, CATS Deputy Director John Muth and Democratic Charlotte City Council member Greg Phipps, who chairs the council's Transportation and Planning committee, mentioned CATS' advances in lower-emission buses, a reworked bus route system, and a pilot partnership with Lyft to help pay for rides to and from designated light rail stations. Muth mentioned the 2017 drop in CATS bus ridership, blamed partly on an outdated route system but also the ubiquity of Uber and Lyft. "We're trying to understand the drop in our ridership," he said, "but we're also looking at ways to leverage it and give folks more access to our system."
Young folks do use the apps. During the Q&A portion, a young man arose to gripe that the primary CATS app, RideCATS, is hard to use and offers little information about routes and schedules. The trip planner function takes the user, clumsily, to Google Maps. The man's complaints drew applause.
"I agree with everything you said," Muth told him.
This drew the obvious reply: "When are you guys going to do something about it?"
"I actually might be able to speak to that a little bit," said another young man who took the microphone. "My name's Tom. I work for Passport, who created the app."
Laughter. Actually, Passport created only RideCATS, the light rail app—which is another part of the problem, having separate apps for the bus and rail systems. In short, CATS is working on it.
Finally, some resources:
Want the details on the 2030 plan? Click here. You can also email telltransit@charlottenc.gov or call 704-336-7433.
Here's a wide-ranging interview Andy Smith and I did with CATS CEO John Lewis earlier this year.
The five members of the City Council's Transportation and Planning committee: Chairman Greg Phipps, gaphipps@charlottenc.gov, 704-336-3436; Julie Eiselt, vice chair, julie.eiselt@charlottenc.gov, 704-336-4099; Dimple Ajmera, dimple.ajmera@charlottenc.gov, 704-336-2777; Larken Egleston, larken.egleston@charlottenc.gov, 704-336-3433; Braxton Winston, braxton.winston@charlottenc.gov, 704-336-3185.
The N.C. House Transportation Committee, with links and contact information. Ditto for the N.C. Senate.