"Back to the Garden" Art Exhibition
Ciel Gallery in South End displays nature-inspired works by 38 artists from across the country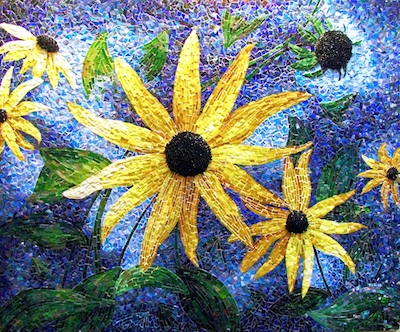 On Friday evening, Ciel Gallery becomes a secret garden.
Visitors will enter the gallery through a stick sculpture created by the gallery's member artists. Then they'll peruse 38 garden-inspired works of art. Some are straightforward — flowers and vines, birds and butterflies — while others are abstract — pools of color drawn from the outdoors. The sound of trickling water will echo throughout the gallery from two installed water features.
"It should be very enchanting and magical, which was the goal," says Laura McRae Hitchcock, a gallery partner and one of the leads for the fourth-annual "Back to the Garden" exhibition.
The exhibition is a national juried show that drew 122 entries. The pieces can be of any medium but must relate in some way to the garden. ArtPop founder Wendy Hickey served as the juror, narrowing down the entries to the 38 selected for the show. Most of the artists are from North Carolina and South Carolina, but the lineup also includes Tennessee, New Hampshire, Texas, and California.
The large installation at the gallery entrance was inspired by the work of stick sculptor and North Carolina resident Patrick Dougherty. Amy Hart, a Ciel Gallery member and metalwork artist, made the structure's armature. Then Hitchcock and fellow show lead, Pamela Goode, collected clippings from all across town. They brought the sticks to the gallery and began constructing the work they call "The Bower." The name references the term for a secret hideaway as well as the bowerbird, known for its elaborate nests.
"I'm an oil painter; isn't that crazy?" Hitchcock says of her involvement with the sculpture. The installation also represents the collaborative nature of the gallery, which is a collective of about 30 artists. As artists stopped by to bring artwork, they would place a few sticks. Metro GreenScape, a local landscape design company, donated the two water features and some greenery and plantings to complete the outdoors-inspired exhibition.
"Back to the Garden" opens with a reception this Friday, April 3, from 6 p.m. to 9 p.m. The reception coincides with the South End Gallery Crawl, which takes place the first Friday of each month and includes extended gallery hours, special events, and food and music throughout the neighborhood. The exhibition continues until April 25. The gallery will then follow this exhibition with a fund-raiser for the Arts & Science Council and a May exhibition titled "Skew the Masters." Visit the Ciel Gallery website to learn more.