Back to the Source
We know so little about where our food comes from. Why not get some of it closer to home -- your backyard?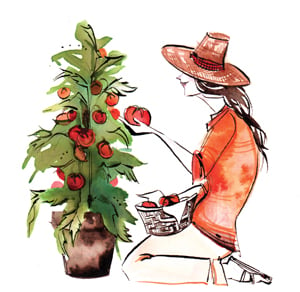 I am a faIlure at growing things. To me, houseplants are fresh flowers that come with dirt and extra greenery. after a period of dismantling them- selves leaf by leaf, they meet the big gray box on wheels behind my house. from there they go home to the landfill. I start over.
This summer I decided to make an effort to grow my own vegetables, because I've become so alarmed about the american food supply. But to garden, I knew I needed help.
Early one March evening, I found myself in good company in a classroom on the horticultural campus of Central Piedmont Community College. The first thing our instructor, Don Boekelheide, asked us was why we were there. after some initial hesitation, the confessionals began. It reminded me of what I've heard about aa. By the time a man on the back row spoke, we had a class theme: "like most people in this class, I have disaster stories about vegetables," he said softly. I looked across the aisle and grinned. These were my people. Judith had been gardening by the seat of her pants. Sherry said she attempted to grow an organic garden twice, but each time "watched the bugs at the dinner table." She worked; they ate. Sue learned gardening from her Slovakian grandmother and successfully gardened for three decades in Ohio, but then she and her husband moved to the South. "You have insects I've never seen," she moaned. Then she brought up the red clay.
Boekelheide, cheerful and encouraging, sat on a desk at the front of the room wearing a ball cap over his trim gray hair. He has a master's in agriculture from Cal Poly San luis Obispo and is a proponent of its motto, "learn by doing," a methodology he honed in the Peace Corps. as he chatted about plants the way most of us discuss our relatives — explaining their likes and dislikes, who they get along with, what they like to drink and eat, where they want to live, when they feel crowded and when they need attention — he drew our stories together into a single narrative. We were in this together. like Temple Grandin explaining cow behavior to ranchers, he explained plants to us.
I was here confronting my dearth of eco intelligence because of a paradigm shift that began eight years ago, when I started making a connection between the food I was buying at grocery stores and my body. It began like the slow and easy ascent up a roller coaster slope. I would learn things, it was interesting, I was comfortable. But this past year my amusement-park ride crested and I began hurtling downward, speeding through a frightening draft of information. I'm hoping a garden is at the end of the ride.
In 2002, I attended a weeklong conference for food and wine journalists at the Culinary Institute of America. The vineyards of Napa were loaded with ripe grapes, and restaurant tables in St. Helena were loaded with the fall harvest. In one of the sessions, Corby Kummer talked about slow food. On staff at The Atlantic Monthly, he had just published The Pleasures of Slow Food, which extols the virtues of regional foods produced by craftsmen. artisanal cheeses. Portuguese sea salt. The apples of New england. Throughout the week, as I listened to editors and writers from such publications as The New York Times and Bon Appétit discuss how to write about food, I realized it wasn't enough to understand how it was prepared or how it tasted. We needed to know where it was before it appeared in a cold locker. Our practicum was a daily lunch prepared by CIa students in the institute's gymnasium-size kitchen.
It was in St. Helena that I decided to change what I ate. Lynn Lohr and I talked after class one day — she's the sister of Napa vintner Jerry Lohr, as in J. Lohr wines. She explained to me, in detail, what "farm-raised salmon" meant: fish bred in crowded pens filled with excrement and pumped with antibiotics. I was shocked. I have never again bought fish that was not caught in the wild.
After Napa, I eased into more information. When a national magazine asked me to interview a landscape designer in Texas and another in California for a gardening story, I learned about water shortages. as a result I learned about water shortages. as a result, I watched Flow, a 2007 documentary about our planet's water. The movie examines the lack of adequate testing of drinking water, the corporate takeover of our planet's water, and the dubious quality of bottled water. although I never fell for the bottled water fad — why buy what is free? — my resistance hardened. During the Charlotte drought of 2007, a friend shared that his wife had figured out how to recycle the family's wash water. Normally I would have thought someone like this was crazy. Not any more.
I kept running into people who were taking their lifestyles, and the environment, seriously.
Last summer I interviewed Christy Shi for this magazine's Genius Issue (August 2009). Shi started Know Your farms, a Davidson company that sells produce from local farmers to subscribers. That was the first time I heard about community-supported agriculture. I took seven pages of notes, overwhelmed by her incisive, but never caustic, observations. This was an educated, intelligent woman. Before, if I heard people talk about something this radical (which is to say, eating local), I wrote them off as antiquarians or zealots. Christy sounded, well, normal. Her brother was joining the business, and he had an mBa. "I spend a lot of my time trying to educate government officials and leaders about how policy decisions are affecting bringing local food into the city," she told me. She reminded me of a fellow writer I knew who went vegan and started compost- ing and growing his own food. No cheese? No milk? His commitment to a healthful food supply has been unwavering.
I began to pay more attention to small things. The taste of an egg from a caged hen and that of a free-range one. Butter. a "farm fresh tomato" at the farmers market that was suspiciously tasteless. maybe it was fresh from a farm, but maybe it was also picked green and gassed. I watched documentaries. I read books. I studied biotechnology and educated myself on the meaning of "genetically modified," learning that there are no long- term studies of the effects of eating plants and animals with altered DNa. I discovered that we are eating lots of genetically modified foods in america, and, unlike in europe, none of it is labeled. We're doing things that don't make sense, like subsidizing corn and then feeding it to cattle, animals that eat grass. and I discovered that the oil crisis starts at the dinner plate. In Animal, Vegetable, Miracle, Barbara Kingsolver's husband, Steven Hopp, writes, "each food item in a typical u.S. meal has traveled an average of 1,500 miles." activists compare the corporate food industry to the tobacco industry of an earlier generation — I see their point.
I felt out of touch with my own food sup- ply. The closest I got to a cow was a package in the meat department. There was a lifeline connecting me to the planet, a placenta be- tween man and earth, but I felt like an egg floating in a petri dish.
And now I was in a class titled "Grow Your Own Vegetables," listening to someone who was connected. Someone who understood how to connect others to the living earth.
After Boekelheide listened to our failures and insecurities, we piled into cars and drove down the street to our class plot at the community garden. a light rain was falling as we listened to him wax poetic about our broccoli shoots — the plant was classified a cruciferous vegetable by monks who saw a crucifix in the four-petaled flower. Students pulled hoods over their heads; I stepped back and popped open my umbrella. There were dozens of plots in the fenced-in field; every one was different. There were red-veined leaves of beets, tender snow peas just starting up a twine structure, yellow flowers that looked like weeds, a little Buddha, and tall stands of clover. Students kneeled in the dirt to plant broccoli, then stood to tamp the soil in place. ("like this," Boekelheide intervened when a large man mashed his foot too firmly on the soft dirt.)
I'm really hoping my heirloom tomatoes and basil make it. If they do, it will prove that people like me can learn. We can change. I'm looking forward to those plump tomatoes I knew as a child, the kind I pulled off a bush in my parents' garden. They were warm, and after brushing off the dirt, I'd take a bite, the sweet, tangy juice dripping down my chin. That's the kind of tomato I want, the one that will make me close my eyes and think, Next time I'm coming out here with a book and getting in the hammock.
I'm going to put a cloth napkin in a small basket and fill it with those tomatoes. maybe I'll have to brave a summer shower to get them. In the kitchen, I'll wash them off and set them on the counter to dry. Then I'll make a cornmeal crust in a french tart pan and pour eggs and sour cream and goat cheese over it. I'll cut thick slices of tomatoes to press into the custard. I'll tear the basil and scatter it over the top, with crunchy sea salt and freshly ground pepper. Then I'll open the hot oven and put it in. and pour a big glass of wine. as I wait for it to bake, maybe with a good book in my lap, I'll feel satisfied. Be- cause I'll know exactly where the food on my plate has come from, and there won't be any weird drugs involved or genetically modified organisms. In fact, the only jeans I'll modify will be the ones I'll wear, damp with dirt and a summer rain.
E-mail editor@charlottemagazine.com, or comment online. Laurie Prince's essays appear regularly in this magazine.