Backyard Barbeque
An authentic Carolina picnic is the perfect way to celebrate the season, southern-style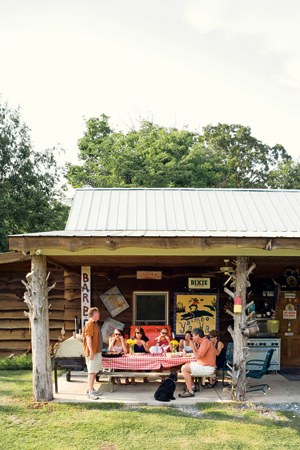 An authentic Carolina picnic requires three things: mouthwatering barbecue, refreshing drinks, and good friends. Add in a laid-back setting, a dash of Southern charm, blue skies, and the expertise of barbecue enthusiast Dan "The Pig Man" Huntley, owner of Outdoor Feasts Catering—it's the perfect way to celebrate the season
Text By Aleigh Acerni
Recipes By Dan Huntley
Photographs By Chris Edwards
GRILLED CORN WITH BLUE CHEESE AND BUTTER
Serves 8
8 ears unshucked local corn
1 cup crumbled blue cheese, preferably Maytag
8 footlong lengths of butcher's twine
2 sticks unsalted butter
1 teaspoon cumin
1 large pot ice water
2 tablespoons flat leaf parsley, chopped
salt and fresh ground pepper to taste
Shuck corn, pulling husks straight back to the tops of the cobs. Tie with butcher's twine so the husks stand straight out. Remove the silk from the ears, soak in ice water for 15 minutes. Prepare charcoal grill to medium heat, and make a 2-foot-by-8-inch tinfoil rectangle folded double to use as a heat shield for corn shucks. Carefully grill ears directly over the coals for two minutes, then quarter turn, cooking for a total of 8 minutes or until the kernels begin to caramelize and turn to light brown "leopard spots." In a bowl, mash 1 cup of blue cheese and mix with melted butter. Remove corn and brush with cheese-butter mixture, return to grill, and quickly reheat (about 15 seconds on each side). If grill flames up, spritz with water. Lay corn on platter and sprinkle with cumin, paprika, salt, pepper, and parsley.
THE SETTING: When he's not dishing out pulled pork and bone-in Boston butt from his food truck, you'll most likely find Huntley entertaining at his home near Lake Wylie. A painted wooden pig with Mardi Gras beads—a gift from one of the many fans of his barbecue—is always close by.
RED SKIN POTATO SALAD
Serves 6
10-12 red skin potatoes, scrubbed but unskinned and diced into 1-inch cubes
4 hard boiled eggs, peeled and roughly chopped
1 cup mayonnaise, preferably Duke's
1 tablespoon flat leaf parsley, chopped
½ teaspoon garlic powder
½ teaspoon onion powder
1 tablespoon sweet dill pickle relish
1 teaspoon mustard
8 strips bacon, cut into cubes and fried; reserve 1 teaspoon bacon grease
salt and fresh ground pepper to taste
Boil eggs, cool, and peel. Boil potatoes until tender but still in cubes, drain. Put potatoes into bowl while still warm and mix gently with boiled eggs, mayonnaise, and bacon grease. Add remaining ingredients; cool in refrigerator until ready to serve.
SMOKED CAROLINA PORK RIBS
Serves 2 as an entrée, 4 as an appetizer
1 rack St. Louis-style pork ribs
1 pint apple juice
2 cups hickory chips, soaked in
water for 1 hour
1 cup barbecue sauce
2 sheets aluminum foil
1 pint Dan's Pig Rub
Start your charcoal grill for indirect cooking (coals on half of the grill and an aluminum pan full of water on the other side). Place one handful of wet chips on top of the hot coals and close the grill. On the back side of the ribs, take a butter knife or other dull kitchen utensil, insert between rib bone and the white silver skin membrane, pulling off as much of the membrane as possible. Gently sprinkle Dan's Pig Rub on both sides of the ribs. Place ribs curved bones upward on the grill, opposite the coals; close the grill. Every 30 minutes, add more coals and wet chips, and spritz the ribs with apple juice, cooking the ribs at about 250 degrees for 3 and a half hours or until the meat shrinks from the end of the bone by about ¼ inch. Remove the ribs from the grill, slather both sides with sauce, and double-wrap them tightly in foil, returning to the grill to smoke for 30 minutes. Remove ribs and unwrap from foil. Return ribs to the hot side of the grill and quickly crisp over the coals for two minutes on each side.
DAN'S PIG RUB:
½ cup kosher salt
¼ cup fresh ground black pepper
½ cup Turbinado or raw sugar
1 tablespoon dry mustard
½ tablespoon cumin
1 tablespoon smoked paprika
1 teaspoon cinnamon
1 teaspoon allspice
½ teaspoon cayenne
Mix and store in airtight container. Will last 6 months.
Fresh Fruit:
Bowls of fresh blueberries, strawberries, and canataloupe from
Bush-N-Vine Produce
in York, S.C. added a touch of seasonal sweetness to the spread. In the spring and summer, you can pick your own berries at their farm.
PIEDMONT RED COLE SLAW
Serves 5
2 heads green cabbage
2 tablespoons kosher salt
1 teaspoon freshly ground pepper
1 teaspoon celery seed
1 cup ketchup
1 cup apple cider vinegar
1 tablespoon sugar
Remove outer cabbage leaves and chop. Shred inner leaves. Place cabbage in large bowl. Mix with a sprinkle of salt. Add remaining ingredients, mix again. Place the mixed cabbage in a large colander for 20 minutes so the water in the cabbage leaves can drain. Place in covered container in refrigerator until ready to serve.