Bacon & Brews Cruise-in this Sunday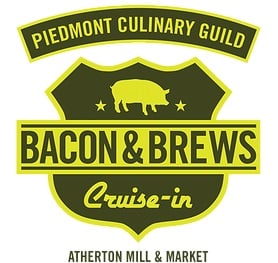 There are two things that are near and dear to my heart: beer and bacon. So I'm thankful for the Piedmont Culinary Guild, which had the tremendous idea to combine the two in an inaugural event that I hope will be around for many more years to come.
The first Bacon & Brews Cruise-in will take place at Atherton Mill & Market this Sunday (June 29) from 3 p.m. to 7 p.m. This event features some of Charlotte's top chefs, several local breweries and a number of classic cars (hence the "Cruise-in" part).
The breweries scheduled to pour are NoDa, Lenny Boy and Fonta Flora, along with Salud Beer Shop. (While they're currently on the Web site, Free Range Brewing will not be there. I spoke with co-owner Jason Alexander, who said they are continuing work on starting the buildout of their brewery).
Those who attend this event will also have a chance to try beers from one of Charlotte's newest breweries, Sycamore Brewing. While co-owners Sarah and Justin Brigham are working steadily to have their South End brewery open in the next several months, they'll be bringing three beers for everyone to sample: a pecan brown ale, cucumber saison and an imperial mocha cream stout (in related news, wow).
And let's not forget about the bacon. Twenty chefs from such restaurants as Block & Grinder, Heirloom, Passion 8, Mimosa Grill and 300 East (the full list can be found here) will put their best spin on a dish featuring bacon for everyone to sample.
For the classic car enthusiasts, those interested can bring their pride and joy to the event with a chance to win $500. There is a $15 entry fee, and registration can be found at this link.
Tickets for the BBCI are $35, which includes a sampling of all the dishes and three beers (there will also be $1 raffle tickets sold at the event). You can purchase tickets here, or at the event. Proceeds from sales will go to the Piedmont Culinary Guild, which is made up of Charlotte's local chef and culinary community and whose mission is to share resources, educate consumers and establish regional recognition. Learn more about the PCG by visiting its Web site.