Bad Daddy's Opens in Mooresville
The burger chain opens another restaurant in the Charlotte market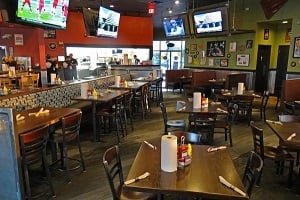 If you haven't heard, Bad Daddy's Burger Bar opened yet another Charlotte location. The 5th installment (Bad Daddy's also operates in Ballantyne, Huntersville, Dilworth, and the Charlotte-Douglas International Airport) opened in Mooresville Town Square on New Year's Eve – an opening date used on several other occasions by chief executive of the Bad Daddy's franchise, Frank Scibelli.
The new joint – which seats 180 patrons and was previously home to Taps Pourhouse & Eatery – will offer the same great burgers as the other eateries, including my personal favorite, the Cantina Burger; a vegetarian black bean patty topped with green chilies, avocado, chipotle ranch, cheddar and Monterey Jack cheeses.
New executive chef, Paul Cruz, is lending a hand to the venture. The cook has an impressive resume, having trained at Johnson & Wales in Charleston before working with Harpers Group (owners of Upstream, Harper's, and Mimosa Grill) and Chef Tom Condron, who now heads up Lumiere in Myers Park.
Cruz says he will keep close to the Bad Daddy's formula; however, the chef says he's "always up for adding even more quality-driven dishes" and "adding new twists to old classics." The chef also said local purveyors – especially when it comes to beer – are on tap at the new joint, so look for Birdsong, NoDa Brewing, and Olde Meck among others.