Baku's Brunch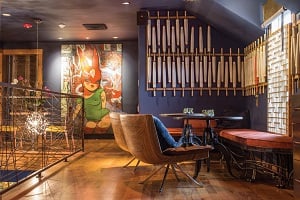 To me, brunch is everything. There's something super awesome about rolling out of bed at 10 a.m. and venturing to a cafe or restaurant for a choice of either breakfast, lunch or a combination of the two.
BAKU, the trendy robata-syle eatery in SouthPark will now be offering a full brunch experiencethat is definitely out of the ordinary. The restaurant appropriately calls their brunch "Baikingu" – the Japanese word for Viking. In dramatic and beautiful displays of their cuisine, chefs Michael Shortino and Tsuyoshi Ono give guests a variety of sharable plates for the table including fresh fruit, seasonal salads, homemade Liège waffles with rich yuzu caramel sauce and a cart brimming with an array of tempting signature BAKU sushi.
The chefs also offer a wide selection of savory entrées that include spicy filet of beef, salmon teriyaki, Jidori chicken and baby back ribs. BAKU is known for their delectable desserts and it will be hard to select the one you want, so BAKU lets you sample several to find your favorite — a practice I would encourage every restaurant in Charlotte to do!
On the drinks front, you can also pair your brunch with one of BAKU's Sake-Mosas or their hand-crafted Bloody Mary's. The cost is $36 per person and $10 for children under 12, plus tax and gratuity. The brunch menu at BAKU is available on Sundays from 10 a.m. – 3 p.m. To make a reservation, call (704) 817-7173 or visit www.baku-restaurant.com for more information.

The Sunday brunch menu includes the following:
For the Table
Fresh Fruit Box
Seasonal Salad Bowl
Homemade Liège Waffles
Sous Vide Cage-free Eggs
Baikingu Sushi Cart
Wild Mushroom and Vegetable Hot Pot

Entrées (one per person)
Salmon Teriyaki
Jidori Chicken
Baby Back Ribs
Spicy Filet of Beef
Vegetable and Shrimp Tempura Bowl
Assorted desserts and pastries