Balance and Simplicity in the Kitchen
Chef Jon Fortes, two-time winner of Fire in the City, reflects on the competition and shares some tips for home cooks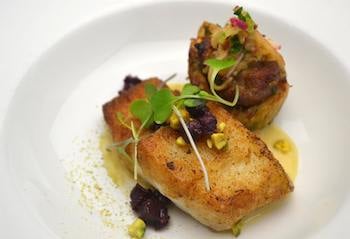 On September 29, Jon Fortes, representing Mimosa Grill, defeated Tom Dyrness of Mama Ricotta's to win his second Fire in the City title. On November 20, he'll represent Charlotte in the statewide finals of the Got to Be NC Competition Dining Series. (Tickets go on sale Wednesday, October 29 at 7 p.m.)
Chef Fortes has now prepared 27 courses while cooking in the Competition Dining Series. At each competition, he must present three courses involving a secret ingredient, which isn't disclosed until noon on the day of competition. Some may consider his experience with the competition an advantage, but in many ways, it's also a challenge. (Photo courtesy of Competition Dining)
"It's not only harder because some of the ingredients are similar, but when you're a chef, you automatically go certain directions with certain flavors," Fortes says.
Similar to a home cook who may be limited by budget, time restraints, and pantry stock, Chef Fortes must take what he's given and use it in creative ways.
The final round of Fire in the City involved two secret ingredients: sweet potatoes and Pepsi. For his first course, Chef Fortes drew inspiration from a photo that a friend had posted online the day before. The picture was a biscuit stuffed with meat, apples, and kale. Chef Fortes and his team of two additional chefs turned that biscuit concept into a bourbon-Pepsi sausage meat pie with a bacon, sweet potato, and kale crust. They paired the pie with brown-butter-roasted N.C. flounder and topped it off with apple-pistachio butter. (Photo courtesy of Competition Dining)
"It all stemmed from seeing a biscuit, but it turned into a meat pie," Fortes says. "It was supposed to be a biscuit, but we went with the meat pie because it was easier. [We took] the idea of those ingredients, and manipulated them into a pie."
Starting with fresh, high-quality ingredients is the first step in creating a great dish, Fortes says. One of the missions of the Competition Dining Series is to highlight North Carolina products. Once a chef has his ingredients, he should then think about balance.
"It's about what's local," Fortes says, "but after what's local, it's about balancing the flavors and textures on the plate."
Cooks should always taste as they go, striving to balance sweetness, saltiness, and acidity. The balance of textures—something creamy with something crunchy—also helps round out a dish.
One key rule is to avoid overcomplicating things. For many meals, especially those prepared at home, a few good, fresh ingredients are all you need.
"You don't need 100 ingredients on a plate," Fortes says. "You need five or eight."