Ballantyne Couple Treks to Mt. Everest Base Camp for Cancer Charity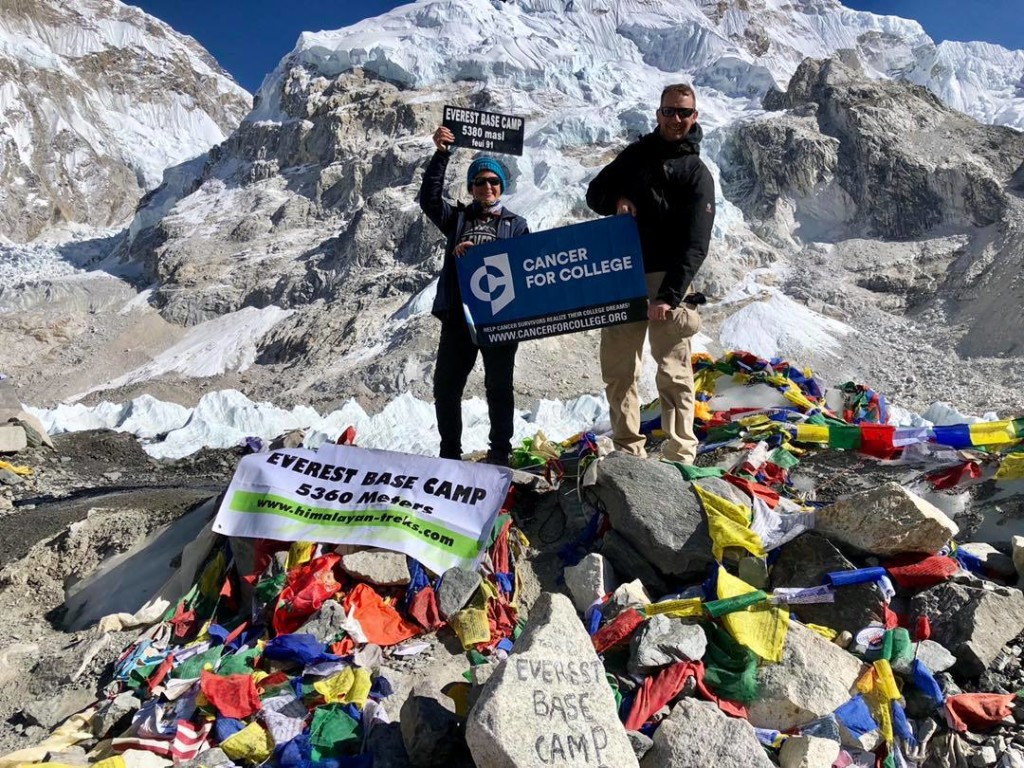 ONLY A WEEK BACK from Nepal, Amelia Old's voice cracked and growled, scratchy from the "Khumbu Cough," a bronchial infection from the ultra-dry high-altitude air she encountered trekking in the Himalayas. Old and her husband, Tim, are readjusting to suburban life in Ballantyne after 20 days among the world's tallest mountain peaks, more than 8,000 miles from home.
The Olds, exhausted and invigorated, are reflecting on their 13-day Hike For Hope, a trek that began at Lukla, Nepal, an elevation of 9,000 feet, and culminated 45 miles away at Mt. Everest Base Camp in the thin air found at 17,600 feet. They undertook the journey to raise awareness and funds for the Carolinas chapter of Cancer For College, a charitable foundation providing college scholarships and mentoring to cancer survivors.
"One of Tim's coworkers has a roommate that founded the foundation, and we've been supporting them for several years," says Amelia, a travel writer who shares her zest for philanthropic-focused adventure at Passports From The Heart, a widely followed blog documenting her global journeys. "These kids go through so much, their battle with cancer is so mentally and physically challenging, their experiences inspired me to push myself outside of my comfort zone, share my experience, and inspire others to support them."
The couple spent nearly 18 months planning for the adventure, a challenge unlike anything they'd ever experienced. "Amelia mentioned she had a great idea to support Cancer for College," and I thought, 'Uh-Oh,'" says Tim, an executive at SPX Flow in Ballantyne. "I would have never guessed she wanted to hike to Everest Base Camp. It is so far outside of the box. It took me two days to come on board. Amelia was committed, I knew it was up to me to get on the train and then we were off."
Never mind they'd never done any mountain climbing or even hiking at altitude, or subscribed to any form of sustained fitness training, the couple each got trainers, poured over tons of first-person advice online, signed up with a Nepalese outfitter/guide firm to tour with, and made their plan.
"I had a nagging shoulder injury that needed to be addressed," Amelia says, "And my first order of business was getting that surgically taken care of."
A several month battle with shingles ensued post-surgery, after which Amelia began cardio training to build stamina. Tim focused his training around weights and building upper body strength. But nothing prepared them for the altitude.
"Charlotte elevation is about 760 feet," Tim says. "The most challenging aspect of our trek was definitely the rapid elevation ascents and the altitude. We spent many days of our journey simply acclimating before making the final push to Base Camp."
Of the 13 days on trek, the Olds were under the stars in tents for 11, staying in rustic guest houses for only two nights.
"We had one shower in 13 days," Amelia says. "I got used to sleeping in my clothes and waking up with frozen water bottles that were filled with hot tea only hours earlier."
The Olds were paired with a small group of international trekkers from locales such as Zimbabwe and the U.K. for their climb.
"It was a great group," Amelia says. "Everyone was there for their own reasons from bucket list journeys to a father-daughter pair who wanted to share a special experience. We picked up trash every day and left the mountain in better shape than when we found it."
Amelia said while she gained inspiration from the cancer survivors she was there to support; the physical and mental challenges were at times overwhelming.
"One day I was in my tent crying and wondering how I could continue on," says Amelia. "One of the guides came in, wiped away my tears and told me to look back, down the mountain path we'd taken. 'Look at all you've accomplished, look at what you have behind you instead of what you have ahead,' he encouraged. That was motivating for me and helped me realize how much tougher I was then I realized."
The physical toll did ultimately force Amelia to cut short her journey by one day after her cough and swelling of her face became concerning. She was airlifted to lower elevation by helicopter, though not hospitalized. The couple would let nothing stand in the way of greeting their new friends upon return and were in Lukla to welcome them back upon their return.
And how did their fundraising go?
They smashed their initial $15,000 goal and stand at more than $17,000 to date, with more still coming in.
"For us, it was a challenge, but we knew it would be over after 13 days," says Tim. "For these kids with cancer, they don't ever truly know what lies ahead or when their 13th day will come. It puts it all in perspective."