Ballpark Brew: Olde Mecklenburg and NoDa highlight craft beer options at Knights' new uptown park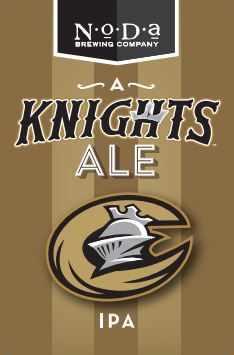 Many are anticipating Friday's home opener for the Charlotte Knights at their new uptown location, BB&T Ballpark, and for good reason: it's been long overdue for the team to move from Fort Mill, S.C.
But aside from a sparkling state-of-the-art facility, affordable tickets and America's pastime, there's something else worth rooting for besides the home team: local craft beer at the ballpark.
When entering the new Knights park, you'll be able to visit a specially designed area featuring beers from Olde Mecklenburg Brewery, as well as drink an exclusively made beer for Knights games from NoDa Brewing. It's all part of an extensive craft beer offering at the new ballpark, featuring local and regional options.
"It was extremely important for us to partner with our local community providers; that's something we've always wanted to do when we talked about (the new uptown Charlotte ballpark) years ago," says Erik Hassy, general manager of Ovations Food Services, which handles food and beverage services for the Knights. "We wanted to make sure we had fresh, local craft beer at the park. That's what our fans want and what we are proud to serve."
Down the third base line near the left field foul pole sits Olde Mecklenburg's beer hut, where you can enjoy several OMB beers of your choosing. The hut will have a seating area in order to create an OMB biergarten at the ballpark. Look for Copper and Fruh Bock to be offered on tap early in the season, with the addition of Captain Jack and Southside Weiss when summer hits. Captain Jack and Copper will also be available in 12-ounce bottles.
From NoDa Brewing comes A Knights Ale, a sessionable IPA brewed with Amarillo, Warrior, Summit and Centennial hops. A Knights Ale comes in at 5.9 percent ABV and can only be found at BB&T Ballpark and the brewery (I'm told there's a chance it also may be released to bars and restaurants next year).
You'll be able to grab A Knights Ale along with NoDa's other newest beer, CAVU, on tap in sections 111 and 115 as well as Beers of the World, a themed concessions section that offers local and regional craft beers. Included among those are Natty Greene's Southern Pale Ale and Buckshot Amber Ale, Carolina Blonde, Carolina Strawberry and Sweetwater 420, all on draft. Along with the previously mentioned two from Olde Mecklenburg, you can also get bottles of Natty Greene's Southern Pale Ale and Buckshot Amber Ale, Foothills Hoppyum, Sweetwater 420 and Sweetwater Blue.
Several beers from Samuel Adams will also be offered, as well as New Belgium Fat Tire and Goose Island's Honkers Ale and IPA. (Obviously the ballpark features domestic beer as well, but those can be discovered on your own. This is a craft beer blog, after all.)
The Knights' home opener on Friday is sold out, along with the games on Saturday and Sunday as well (FYI, Queen City Q is running a contest and giving away two tickets to Friday's opener). Enjoy the game (and a local craft beer) if you have tickets, and here's hoping maybe one day that beautiful new ballpark can play host to a craft beer festival. It'd be a perfect location.