Band of Gold
Tips on buying the groom's ring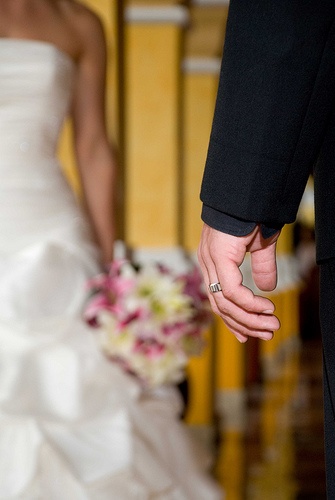 As the days draw nearer to 'I do,' the ever-important task of procuring the wedding bands remains. Be sure to set aside ample time for sizing. Don't leave this to-do until the last minute. Aside from that, you most likely have a few lingering questions on your mind when it comes to choosing your soon-to-be-groom's ring. What's most popular? A good price point? Since the wedding band purchase will likely be a first, it's best to consult an expert for all the advice you'll need on this tangible symbol of forever. Enter: senior associates Keri Tyson and Alason Mills from Phillips Place shop Windsor Jewelers. These two savvy experts were eager to dish out all the details on the groom's ring.
Pay Pal: Who buys the ring?
Mills: Typically the bride (and/or her family) foots the bill for the groom's ring. But I've had several customers who purchase the band together.
Tyson: As a sales professional, I still like to suggest the bride pay. Maybe it's my southern upbringing, but either way is certainly acceptable. This is their story and they are able to write it as they please.
Class Superlatives: What's most popular?
Mills: 14k gold is most ideal, but Tungsten has been a standout seller.
Tyson: Platinum and white gold seem to be most asked for, but it's such a personal preference. Titanium and Tungsten are close seconds. I find the younger grooms gravitate toward the latter options for price point and light weight.
Trend Setter: New and noteworthy styles?
Mills: The benchmark style is definitely on point. Titanium bands with a more industrial look are currently trending.
Tyson: For the middle-aged or older groom, a traditional comfort fit in white or yellow gold is highly requested. For the younger groom, a brushed or satin in white gold or titanium. But again, it's so personal and everyone is different.
Price Check: What should I expect to spend?
Mills: Average price for a gold band ranges from $720-$1,390, depending on width. Platinum is more pricey. Titanium is most affordable, ranging from $60-$500.
Tyson: Because of price difference in metals, diamonds and gems, the price range is significant, spanning anywhere from $60-$3,500.
Birds of a Feather: Shop together or solo?
Mills: A lot of couples will come in together to get "ideas" about what he likes and doesn't like.
Tyson: If the couple is traditional, they'll shop separately. If not, they'll come in together.
Clock Watcher: How far in advance should the purchase be made?
Mills: I recommend purchasing the groom's ring no fewer than 3 months out. If you want to have any customization done to the band, be sure to ask your jeweler what the turnaround time is. The key is giving yourself more than enough time.
Tyson: It's always better to come in at least 3 months prior to the big day. Having the proper finger size is so important. Plus you'll need to leave yourself enough time, should you need to special order a ring. It's the worst when a frantic couple comes in days before the wedding looking for rings… No good!
Shopping How-To: Any final words of wisdom?
Mills: Come in together to try on first. He may have an idea of what he likes, but once he starts trying on, his taste may change.
Tyson: Brides- don't force your groom into a ring he doesn't like. Hopefully he'll have it forever, too… just like you.
Windsor Jewelers
6809 Phillips Place Ct. (704) 556-7747