Baptismal Waters: Twenty Minutes with the New River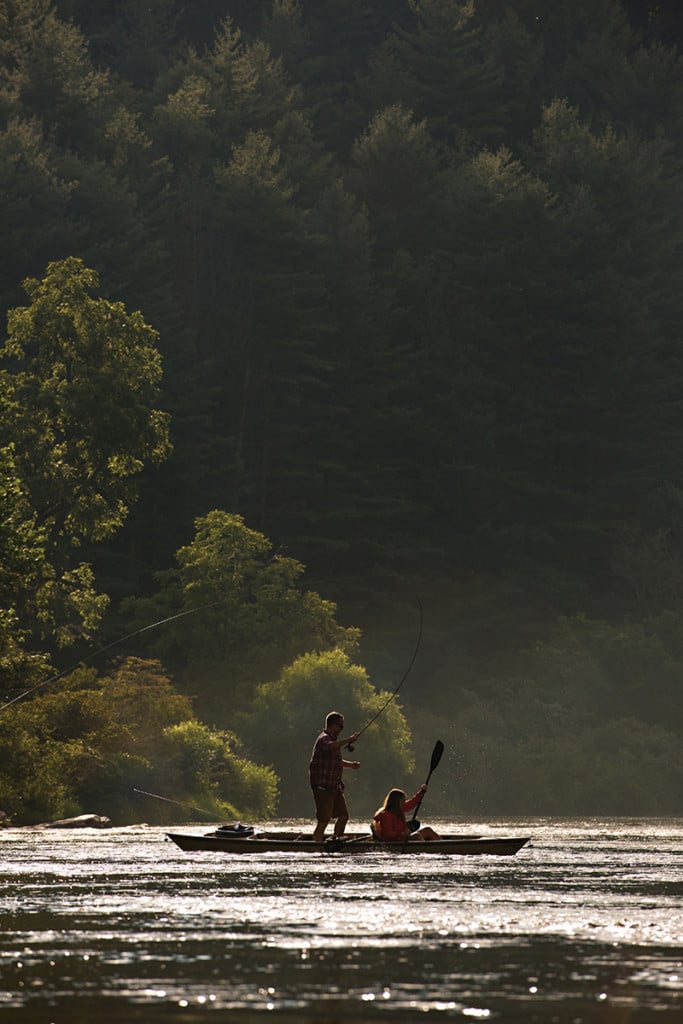 A STORM IS COMING. I walk down to the river anyway. It's summer in the mountains—a glorious, too-short season, and I've been at my computer all morning, carried away by streams of abstract thought. Outside, I find that the river banks have filled with blackberries while I wasn't paying attention.
Still, the blackberries are not yet ripe.
At the river's edge, just a few hundred feet from my back porch, I sit in a patch of clover and search out purple flowers. Nearby, a bumblebee seeks the same. I clench a slender, trumpet-shaped petal between my teeth and pull. Clover has been used to heal ailments since before this place was known as the New River. It is, in fact, one of the oldest waterways in the world, named by unaware European settlers. I savor the flower—in remembrance of all that goes unnoticed. Because it reminds me that even living things with common-weed status can have unexpected powers.
The wind picks up. There's a rumble. The sun disappears.
It's midday. Summer in the mountains. I'm freezing.
I move to a beach, rutted with notes scribbled by last night's rain. I trace the weaving paths of water-skimming spiders. Peer at the tops of Queen Anne's lace, each intricate doily displaying a different insect.
The rain announces itself—tap, tap, taptap—on the waxy leaves of a mountain magnolia. I put on my raincoat, feeling the rhythm vibrate on my arms. The world goes quiet, withdrawing. But, in less than 10 minutes, the sun is fullon shining again. The storm has moved up river. There, clouds are falling to earth. What was once overhead will soon be underfoot.
It's midday. Summer in the mountains. I'm burning up.
I take off my jacket, my shoes. Nearby, swallowtails swarm bursts of milkweed. I wade into the water and lift a river snail from its slippery home. I put my finger to the soft spot where it attaches to stone—hoping, as a young child might, that the snail will connect to the pad of my pointer. Just for a minute.
This stretch of river, with its stone overhangs and eddies of twigs and trash, is not far removed from Boone, with its public transportation and intellectual hum. Small rapids do nothing to mask the sound of a FedEx truck moving down a parallel road, on its way to meet a deadline. The river doesn't care. It doesn't care about social media or anyone's inbox. And, right now, neither do I.
Spending time at the river isn't a break or escape from the real world. The river is the real world. This, I have to relearn each time I visit.
My attraction to this place might be inspired by what biologist E.O. Wilson calls biophilia: a loving urge to explore and affiliate with living systems. The New River makes communion easy. It runs through my backyard, but it's not mine. It's ours, an American Heritage River accessible in North Carolina, Virginia, and West Virginia.
There's a forgotten butterfly net on a nearby bank. I pick it up and wade over to a deep spot, where I've seen fish congregate. I submerge the net. I sweep. I score. The fish's silver side catches light, until it's a living rainbow, the length of two quarters thrown into a wishing well. The fish thrashes against my palm. Without words, it screams: Alive, alive! A silent anthem, a reminder.
I stare at the fish. The fish stares back. Or, at least, I think it can see me. Brethren of the river. Skin against scales, both of us dripping with the water some local churches still use for old-time baptisms. Everything in the New River watershed converges here. Rainwater. Spring water. Holy water.
I lose my footing, and the river takes me in. The fish lands with a plop—tiny, fluttering fins and tail, the cumulative power of every creek in this valley carrying it downstream. We are lost to each other. But, from the river, always, I emerge feeling found.
Leigh Ann Henion is a writer based in Boone. Her debut book, Phenomenal: A Hesitant Adventurer's Search for Wonder in the Natural World, was published in March. Learn more at leighannhenion.com.