Bar Chocolate Kept Me Sane
Chocolatiers offer amazingly crafty flavors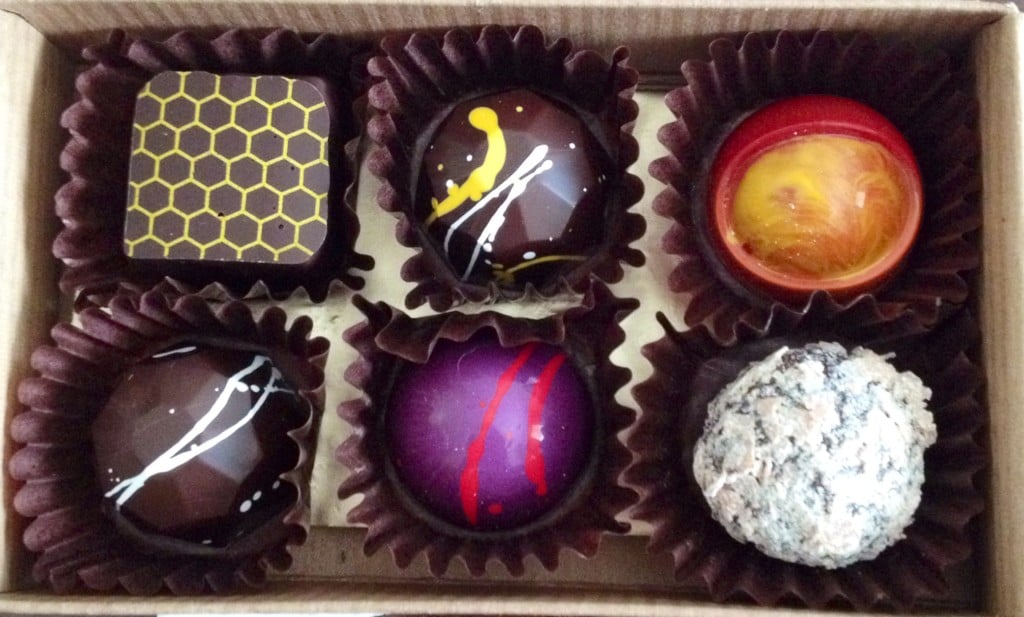 It's no surprise that I love chocolate. It's right up there with my intense love of cheese. But the best kind of chocolate, to me, is the kind slowly and carefully crafted with intense flavors that are out of the ordinary. Don't get me wrong — I love the typical caramels, coconuts, almond and nougat found just about everywhere. But the masters sitting at the Bar Chocolate stand in the 7th Street Market recently made such an impression on me, I can't help but sing their praises.
Mike Shafer and Lin McKay use a handful of carefully chosen ingredients — both exotic and local — to craft their delicious chocolates. Each tiny piece of art is handmade and ALMOST too pretty to eat. Although Keia wrote about the pair when they opened back in 2013, I hadn't had a chance to taste these treats until a few weekends ago.
In my perfectly packed Bar Chocolate box I chose a Tahitian Vanilla Sea Salt Caramel, Pailleté Feuilletine, Sea Salt Caramel, Cherry Balsamic Milk Chocolate Ganache, Ghost Chili Sea Salt Caramel, and Bee Pollen Hazelnut Praline. Each chocolate is a masterpiece in its own right, with notes that vary from floral, to spicy, to savory. As a note, it's also a great feeling to know that one chocolate may incorporate products from two or three purveyors right within the 7th Street Market.
So, if you're in the market for chocolates, don't big-box it. Visit Mike and Lin and handpick your handmade creations. Visit their website or Facebook page to check out more.