Bar Louie Opens in University City
Franchise has dozens of locations around the country, but this is the first in N.C.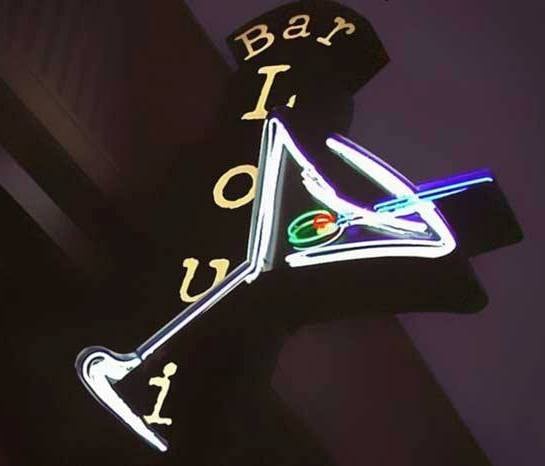 Bar Louie has arrived in Charlotte. Described as "an eclectic urban bar made famous for our signature martinis, cocktails, and dynamic beer selection," this is the Texas-based franchise's first North Carolina location, bringing its total to about 80 locations around the country. It opened two weeks ago in University City, in the space that formerly housed Smokey Bones Bar & Fire Grill.
Bar Louie is big and obviously part of a chain, but the operators aim to have the appeal of a neighborhood bar. There's homage to the local sports teams, but a lot of the décor and artwork also reflects golden eras in nightlife such as iconic images of The Rat Pack and Prohibition. Live music is featured certain nights of the week, like Thursdays, which is Blues & Brews night, where local blues musicians perform beginning at 10 p.m.
The menus are huge. The drink menu features a list of about 15 martinis, and about that same number combined of specialty cocktails like The Manhattan, The Ultimate Bloody Louie, and margaritas and mojitos. It should be noted that the cocktails are made with fresh fruit and hand-squeezed juices. There are also 20-plus wines by the glass and a large selection of draft beers. The food menu is even more extensive—Bar Louie, after all, is open for lunch, dinner, and late-night dining—including a multitude of small plates, flatbreads, burgers, sandwiches, and even large plate dishes like fish, chicken, pasta, and steak.
Back on the nightlife tip, the bar is hosting a special event next week: a Prohibition Repeal Party. December 5, 1933 is the day the 18th Amendment was repealed, effectively ending Prohibition and making it legal to produce and sell alcohol again in this country. Could you imagine living without spirits? (Shout out to Boardwalk Empire, one of my favorite TV shows.) So on Thursday, December 5 (2013), Bar Louie is honoring that monumental date in U.S. history. Three special cocktails will be featured—French 75, Irish Old Fashioned, and Sidecar—and a band will play live jazz. You're invited to come dressed in period 1930s attire.
Be sure to bookmark www.charlottemagazine.com/Blogs/Dusk-Till-Dawn to stay plugged into Charlotte's nightlife and social scene. Follow me on Twitter @HollidayInk; email me at jarvish@grownpeopletalking.com.