Barrington's Celebrates 15 Years
The eatery in Foxcroft was Moffett's first Charlotte venture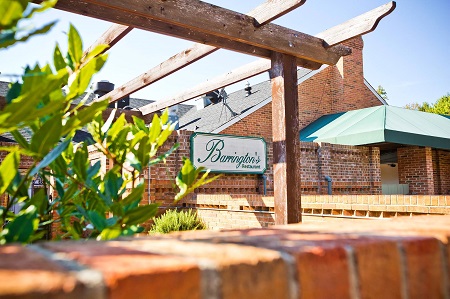 On a fall day in October, 15 years ago, Chef Bruce Moffett opened Barrington's in a little shopping center in Foxcroft, down the road from SouthPark Mall. Named after Moffett's Rhode Island hometown, the eatery, which opened on October 15, 2000, boasted a menu that was a combination of the chef's New England cooking style infused with southern influences and local ingredients. Little has changed or needs to in a critically acclaimed restaurant such as this.
The chef, who is currently in Italy on a wine tour as well as eating his way through the countryside (an Instagram post showed a delicious looking bowl of pasta with the caption, "Cannot get enough pasta while I'm here in Italy/Guinea hen ravioli with black truffle"), has worked to bring more attention to the Charlotte eating scene since opening Barrington's. He opened James Beard Award semi-finalist, Good Food on Montford, in 2009; expanded his culinary reign over the Queen City by launching Moffett Restaurant Group in 2013; and opened his third restaurant, Stagioni, in 2014.
Barrington's, which is a cozy eatery with only 45 seats, underwent a renovation last year to bring in more updated textiles with cooler colors reminiscent of Moffett's oceanic hometown. The menu changes seasonally and makes use of local ingredients. "I'm grateful to Charlotte locals and visitors who have embraced my style of cuisine and allowed Barrington's to become a popular destination for fine dinings," said Moffett in a news release. You can book a table here.
Earlier this year, Moffett also launched a campaign called "Charlotte Cooks Too" which works to further recognize Charlotte's chefs and restaurants. Moffett hopes to grow the movement with future events like chef collaborations and charity dinners.
So, what's on the horizon for this chef/restauranteur? Moffett says he hopes to grow the Charlotte food scene even further, bringing more attention to the Queen City. "If I leave any legacy here, I want it to be that I helped foster a better, stronger, more vibrant food community. If I succeed in that, then I've accomplished something."