Barrows on Sports: Curveball
Last summer, Daniel Bard, former Charlotte Christian and UNC Chapel Hill boy wonder, seemed headed for stardom as a pitcher for the Boston Red Sox. This summer, he's floundering. A story of sudden loss and the uncertainty that follows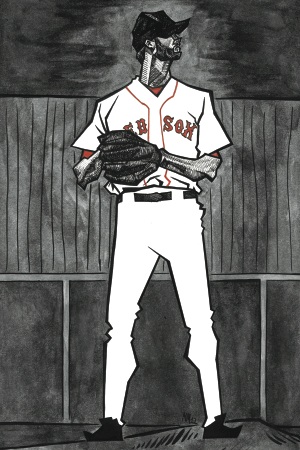 Daniel Bard is a twenty-seven-year-old pitcher from Charlotte who is struggling to find his place with the Boston Red Sox, and he's struggling, to put it bluntly, in ways that are agonizing to watch.
His story is about promise and disappointment, about being good at something and then, almost inexplicably, not being good at it.
Before we proceed, let's play a game of baseball trivia.
What team can claim the three most significant pitchers in history? The Red Sox. Starting in 1890, Cy Young amassed 511 wins, more than anybody else before or since; eight of his prime seasons came with the Red Sox, and the trophy given annually to the sport's best pitcher is named for him. Shortly thereafter, Babe Ruth emerged as one of baseball's top pitchers and the toast of Boston. Then somebody realized he could also hit, and the Red Sox sold him to the New York Yankees, where his home-run exploits jolted the nation's attention from the 1919 Chicago Black Sox scandal and turned his new team into what it still is today: the most successful professional sports franchise in the land. Lately, Roger Clemens, the most revered pitcher born in the past ninety years—and quite probably the most reviled as well—starred for the Red Sox in his first thirteen seasons. When Clemens retired in 2007, after winning a record seven Cy Young awards, he and Barry Bonds were the poster children for the era that installed the phrase "performance-enhancing drugs" in baseball's vernacular.
Red Sox pitchers are measured by not just their earned-run average but by how they stack up against a century-old mythology, against tradition. This is a different context than pitching for the Kansas City Royals or the San Diego Padres, and for Bard it's a nettlesome one.
Which franchise has put together the longest streak of consecutive regular-season sellouts ever in U.S. big-league sports? The Red Sox. When last I checked, toward the end of June, the number was 749 and counting, a figure that falls as short of capturing the intensity of Boston's relationship with the team as it would to describe Picasso's Guernica as 281 square feet of canvas. These words also fall short: preoccupation, infatuation, obsession. The Ted Williams tunnel stretches beneath Boston harbor. Without a pithy comment about last night's game, you're at a conversational disadvantage anywhere, even at Harvard and M.I.T. It's tough to find a neighborhood pizza joint or dry cleaner's that doesn't have photos on its wall of old-timers Carl Yastrzemski and Dom DiMaggio. The Green Monster, Fenway Park's thirty-seven-foot-high left-field wall, is more famous than most of the city's politicians—and more beloved.
No place, except perhaps St. Louis, is more loyal to a single franchise than Boston. In larger cities (New York, Chicago, L.A.), the baseball allegiance is split between two franchises, and St. Louis fans, reared in the tradition of Midwestern Niceness, are neither as demandingly impatient nor as downright ornery. Bill Buckner, once a Rex Sox first baseman, made an error that lost the 1986 World Series and ultimately was forced to move away from Boston as a result of the abuse hurled at his family. "Had they been around today," the Wall Street Journal wrote this year in describing the fickleness of Red Sox followers, "Paul Revere and his horse would have wound up getting traded to the Marlins."
Boston is as big a stage as baseball has, and Bard is in his fourth year there. In high school, he was a hard-throwing prodigy for Charlotte Christian School, and next, at UNC Chapel Hill, he was so eye-catching that Boston selected him with its first-round draft choice in 2006. Until late last season, he had his share of positive moments as a relief pitcher for the Red Sox, yet his performance in September, and the club's as a whole, was a catastrophe. Then, as this season opened, the team hatched the plan to turn him into a starter. That has gone badly, too.
Final question. This one isn't pure trivia in that the answer is subjective. Because I'm making up the rules, I say it qualifies.
What is the hardest route to success in the major leagues? Starting pitcher. Baseball as we know it dates to 1876, when the National League was organized. If we stipulate that making it as a starter involves both winning games and enduring for more than a handful of seasons, it's neither irrational nor arbitrary to set the bar for success at a hundred victories. In 126 years of Major League Baseball, here's the number of pitchers who have reached that level: 585.
Think about it: our nation's entire infrastructure of amateur and minor league baseball—from T-ball through the minor leagues, not to mention such prolific sources as the Dominican Republic, Mexico, and Japan—spits out an average of four or five pitchers a year who are good enough, and will survive long enough, to win 100 games. The odds against any single pitcher are very high.
So much can go wrong. The human arm, elbow, and shoulder weren't engineered to withstand the stress of flinging a baseball at near-maximum velocity, and pitching careers are routinely thwarted or derailed by injuries or overuse. What coaches call the mechanics—the stride, the grip on the seams, the angle of the arm, the footwork—are subtle and complex; a lot of things must happen just right at virtually the same instant. As a pitcher ages, losing fractions of the strength he had in his early twenties, he needs to compensate with guile and artifice; some master those, and some don't. Plus, fragile as the arm is, it's often more resilient, with problems that are
easier to diagnose, than the psyche.
For years, Bard was unafflicted by difficulties. He benefitted from the baseball genes that run in his family: his father played minor league ball, his maternal grandfather coached college teams in New England, and brother Luke pitched for Georgia Tech before he was drafted in June by the Minnesota Twins. Among the Bards' favorite anecdotes is one recalling the voicemail Daniel left for his father with the news that, while at a summer camp for high school pitchers, he had fired his first 90-mile-per-hour fastball. Says Daniel's father, Paul Bard: "He was so excited." Greg Simmons, his coach at Charlotte Christian, remembers his impression when he initially saw Bard pitch: "The ball just exploded out of his hand; you could tell you were seeing a guy who would be in the majors some day." Bard's teams won state championships for Charlotte Christian; his UNC squad reached the final game of the College World Series.
His trajectory was straight up. Although he wasn't brilliant as a minor-league rookie in 2007 for Greenville, South Carolina, that's where he met his wife, Adair, so, on balance, it wasn't a bad year. He was promoted to Boston in 2009, and, for the rest of that season and most of the next two, he distinguished himself in late relief, generally working an inning, seldom more.
Standing six-foot-four, when he stepped into his windup he was a tangled whirl of arms and legs, his right hand launching one of the American League's best fastballs. Hard to see. Harder to hit. By August 2011, he had set a franchise record by making twenty-five consecutive appearances without yielding a run.
September was awful, epically awful. The Red Sox began the month with a nine-game lead over the second-place team in the American League East, and the talk around town was of another World Series championship to go with those they won in 2004 and 2007. But Boston lost eighteen of its final twenty-four games and didn't reach the playoffs. Bard gave up the winning runs in four of those defeats. He had a 10.84 earned-run average for September. The talk around town was full of anger. A statistics maven for ESPN calculated that although many players were culpable in the collapse, Bard was marginally more responsible than anyone else.
With Bard still in psychological recovery from his poorest sustained showing as a professional, the team's leadership decided that when the current season opened, it would try him as a starting pitcher. As experiments go, that one blew up the laboratory. In ten games, Bard walked more batters than he struck out and looked helpless as his earned-run average spiked to 5.24. The nadir came June 3 in Toronto; in less than two innings, he walked six and put two others on base by hitting them, yielding five runs. The talk around town was disparaging, petulant. The talk around town was of Pawtucket.
Pawtucket, Rhode Island, forty-five miles south, is the site of Boston's top minor-league team. Fenway Park, the Red Sox's home, is a century-old icon; if baseball has a mecca, that's it. McCoy Stadium is where the PawSox play; at the entrance to the gravel parking lot is a statue of a cherubic bear waving a paw. Within hours of the nadir in Toronto, Bard was assigned to Pawtucket. The idea was that in a place less stressful than Fenway he might somehow reverse his free-fall, or, at a minimum, deliver the ball consistently in the strike zone. In the space of three months of games, he had crashed from among the major league's most stifling relievers to a distressingly ineffective starter. Goodbye, Green Monster. Hello, Mr. Bear.
I went to Fenway, in the wake of Bard's departure, and learned that everybody had a theory. No. 1: The switch to starting was an overly taxing change for a slumping pitcher with beaten-down confidence. No. 2: He did not get enough coaching.
No. 3: He got too much coaching and wasn't able to absorb it all. No. 4: As a starter, the necessity of pacing himself—so that he could survive six or seven innings—partially negated his most significant advantage: a fastball that has zoomed at nearly 100 miles per hour when he's relieving and knows he'll only face three or four batters. No. 5: His other pitches, a curveball and slider, haven't been completely up to snuff. No. 6: It was in his technique. No. 7: It was in his head. No. 8: Various combinations of the above.
At Pawtucket, I found Bard in the clubhouse, slipping into his uniform in preparation for an International League game against Louisville. He radiates an earnest approachability, which is a good thing because a gaggle of sportswriters down from Boston to see how he is faring is lobbing one question after another. You cannot help but feel a certain empathy for him, given how disquieting and disorienting it is to suddenly falter at the thing that has been your identity. That's a wrenching experience, compounded for any of us by not knowing how to pull ourselves out of the abyss, and made the more so for Bard by the gestalt of Boston baseball.
Of course, the subject of the interview is his deterioration. The day's development: the Red Sox have announced that he will no longer start—in Pawtucket or anywhere. "I'm not ready to call it a failure," he says of his two months as a starting pitcher. "I wasn't the worst. I still believe I can be a good starter. But maybe I was trying to be too perfect, instead of just throwing. That's who I am, a thrower. I think I'll be more comfortable in relief. I've dominated before. I've gotten people out before." He sounds as if he's attempting to convince himself.
I ask what he has learned since the beginning of September. "It has been good for me to realize that this can be taken away from me at any time," he says, "and not just by an injury." My interpretation is that he's referring to the caprices of baseball, to the cruel possibility that he will never regain the form he had, that something has been lost, perhaps irretrievably.
Three hours later, Bard enters the game in the seventh inning. With the PawSox leading 3-2, he yields a two-run homer and hits the next batter. Louisville wins. The talk around McCoy Stadium is tinged by frustration; he has had other disappointing appearances for Pawtucket, and it's clear that he is far from ready to return to Fenway. Something has been lost, and he doesn't appear close to finding it.
Here, traditionally, I would write a couple of paragraphs, a predictive or clever conclusion. The trouble is, Daniel Bard's story is still unfolding. The end isn't obvious. His raw talent—that glorious fastball—should earn him another opportunity with the Red Sox, though maybe not soon and perhaps not at all.
Let me suggest this: In late September, we'll check the Red Sox box scores. If we see his name, we'll know he's back in Boston, and if we see a string of zeroes on the same line—in the columns for the hits, runs, and walks he allows—we'll know he's back and flourishing.
If we don't see his name in the box scores, we'll cross our fingers for him and hope for the best.