Battleground for Volunteers
Charlotte's home to both the Democratic National Convention and a strong Obama presidential campaign. Separately, they're competing for your support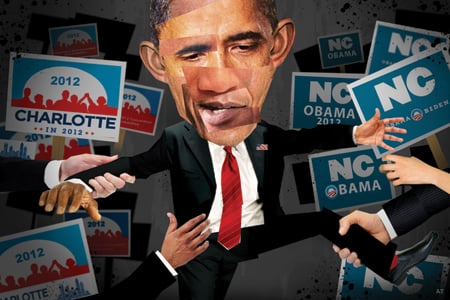 Amy Chiou is rather soft spoken. That is, until you get her talking about politics.
In 2008, the twenty-eight-year-old was an enthusiastic volunteer for Barack Obama's presidential campaign, Organizing for America (OFA). "OFA had a huge presence in North Carolina [in 2008] because it was a targeted swing state, and they managed to turn it, even if only by a small margin," says Chiou.
Fast-forward to presidential election year 2012. Charlotte is now home to both OFA-NC and the Democratic National Convention. The success of their respective missions hinges, in large part, on recruiting talented and dedicated volunteers like Chiou.
While the convention has a full-time staff that manages the September event, most of its volunteer and community outreach efforts are coordinated by the Charlotte in 2012 Convention Host Committee, composed of staff and volunteers. OFA-NC and the Host Committee operate separately, with no coordination between them, prevented by law because of the committee's nonprofit tax status. So what we have in Charlotte are two large organizations with different objectives—OFA-NC to make sure President Obama wins the state; Charlotte in 2012 to promote the city and raise money for the convention—but they're largely competing for the same support.
On March 1, as the Host Committee's DNC forum for small- and minority-business owners was getting underway uptown, so was OFA-NC's celebrity-led voter registration drive. The two organizations also held separate events simultaneously in January.
"It doesn't bother me that you may find competing events that happen from time to time because what that speaks to is that the mission of the local host committee is really not the same mission as the OFA campaign," says Mayor Anthony Foxx, co-chair of Charlotte in 2012.
However, both organizations downplay any potential adverse impact to their recruitment efforts. The Host Committee anticipates having 10,000 volunteers working the convention. OFA-NC's press secretary, Cameron French, says their volunteer total is a "very fluid number" (400 turned out to their office opening).
Eric Heberlig, political science professor at UNC Charlotte, predicts volunteer support for the Host Committee from non-Democrats will be strong in 2012.
"People in Charlotte like being involved in the next big project—and this year, the convention is it," Heberlig says. "I suspect that the group that will pitch in to take advantage of the convention is larger than the group that will turn out just because they're Democrats."
For her part, the committed Chiou is donating her time to both groups, a choice some volunteers will not make.
"I'm mindful that a lot of the people participating in supporting the convention will have no interest in supporting what that I do for [OFA]," says Chiou. "I'm OK with that."
EDITOR'S NOTE: A different version of this article appears in print in the May issue, with the headline "Communication Breakdown." The headline, subheading, and article has been updated to more accurately reflect the separate operations of OFA-NC and Charlotte in 2012.
Web Extras
Read bonus Q&As in "The DNC In The CLT" blog comprised from interviews conducted for this article. Click on the links below.