BBQ Master Keeps on Truckin'
Dan "Boone" Gibson is out on a new adventure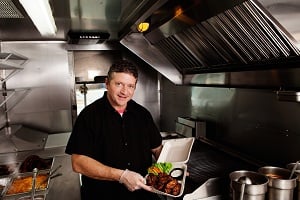 A renowned Charlotte pitmaster has set out on his own adventure.
Dan "Boone" Gibson, who previously cooked up barbeque at Mac's and Queen City Q has opened his own food truck. Boone's Bar-B-Que Kitchen, as it's called, can be seen roaming around Charlotte and was a part of the Food Truck Friday event this past week.
Compared to the other extensive menus at the event, Boone's Bar-B-Que Kitchen had only a few choices — a pulled pork sandwich being the star along with wings and ribs this week — but I did not see any disappointed faces diving in.
In an interview with Charlotte magazine, Boone, a Charlotte native, says all of his barbeque is from family hand-me-down recipes perfected with time. He calls it Piedmont style — a concoction devised of tastes from eastern and western North and South Carolina. He also says his secret is a combination of good quality pork, secret homemade dry rub, and the right smoke.
During the week, Boone's food truck can be found at the following locations:
Tuesday lunch at Coliseum Center Buildings 3 & 4
Wednesday lunch at Coliseum Center Buildings 5 & 6
Thursday lunch at Parkway Plaza
Monthly
Every 3rd Friday of the month: Food Truck Friday in Southend
Next – Friday, July 18th
The Ashton Southend
Friday, July 25th at 5:30
Come on out and try a taste of this Charlotte native's stellar barbeque!