Beat the Heat at Chuy's
New drinks grace the menu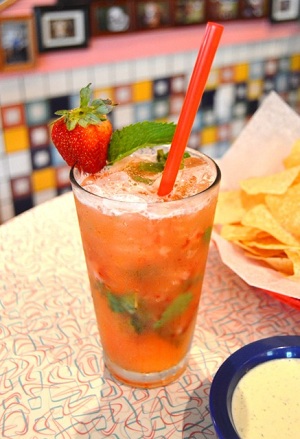 Chuy's in SouthPark has come up with a way to beat this oppressive heat — all in the form of new and delicious drinks!
Of course, with any great thing, there's a catch: the drinks will only be available through July 27.
Frozen Peach Margarita – Exotico Silver tequila, triple sec, peaches and fresh-squeezed lime juice. $6.95 ($5.95 on Tuesdays)
El Sol Martini – El Mayor Reposado tequila, Patron Citronge, Monin Agave nectar, fresh-squeezed lime and orange juice. $10.95
Strawberry Mojito – Bacardi Dragon Berry rum, fresh strawberries, mint leaves, fresh-squeezed lime juice and sugar, topped with a splash of soda and Sprite. $6.95
If you just find it too hot, sticky, humid, or nasty to head out, I've got a few tasty drinks to impress yourself and your guests this summer. There's an herb theme here, based on the fact that this writer is overrun with lavender, basil, thyme, mint, and everything in between.
Lavender Mojito: This recipe combines lavender simple syrup with white rum and mint. The concoction is so popular, it was featured in the NYTimes. Good enough for me!
Basil Gin Smash: Gin is one of those quintessential liquors of summer — piney, tangy, and refreshing. Combine that with basil — the scent alone of which stirs images of hot summer days — and you've got a different and delicious beverage.
Lemon-Thyme Cocktail: Thyme is one of my favorite herbs since it lends itself to just about everything. Case in point, this cocktail which combines the citrusy herb with tangy grapefruit, black pepper, and vodka for a burst of flavor.