Beating the Cold
Soup is on the menu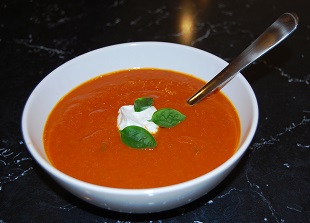 Whether you're a little sad or very relieved that we aren't due to get three feet of snow in the next 72 hours, you can't deny it's a bit chilly outside. Temperatures are set to barely top the 40s this week, so what better way to combat the winter chill than with some of Charlotte's best winter soup offerings?
We searched far and wide, and have come up with a list (in no particular order) where you can find a big pot of bubbly goodness to eat in or take home and cuddle up with.
Barrington's: This French style restaurant from the Moffett brothers is offering up the classic French onion soup. It's true to the original with a twist, bringing together the rich broth with smoked bacon, rosemary butter croutons, and gruyere foam.
Malabar: This uptown Spanish joint has the classic Zarzuela – a seafood stew combining a rich tomato broth with mussels, clams, shrimp, scallops, calamari, and the fish of the day.
Basil: The spicy goodness of Thai food is sure to please when the temperatures drop. Basil – which just opened another location in Ballantyne – has several soups, but the star is surely the Tom Kha Gai. Sliced chicken breast is cooked in coconut milk and flavored with galanga roots, lime leaves, lemon grass, button mushrooms, cilantro, and scallions.
The Waldhorn: Beef stew or goulash is one of those things that always hits the spot when the temperatures dip. The German eatery in south Charlotte always has Ungarische Gulaschsuppe on the menu. A rich broth is filled with potatoes and beef to stave off the winter blues.
Viet-Thai Noodle House: Pho is a given on a list of cold weather soups, and Viet-Thai has several varieties to keep you full. Try the Pho Dac Biet which combines the broth and rice noodles with meatballs, rare beef and several other cuts; all topped with tons of cilantro, scallions, sprouts, and chilies.
Napa on Providence: You can't beat a classic; Napa on Providence has the ultimate comfort soup: tomato bisque. Theirs is served with a sprinkling of ricotta salata and a drizzle of basil oil to remind you of summer.
Brave the cold and get cozy with a bowl of soup!