Beef and Barley Soup
Taking a break from eating out for a warm bowl of comfort food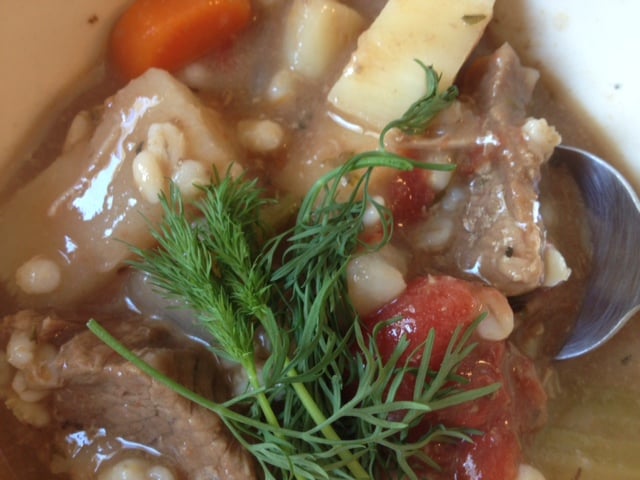 I'm getting pretty sick of this chilly, dreary weather. I feel like I have only seen glimpses of the sun in the last week, and I'm not feelin' the whole winter thing anymore. Growing up in the Northeast, you could definitely assume I'm pretty used to the icy temperatures, but it doesn't mean I have to like them.
When I begged enough, my mother would make her delicious beef and barley soup. Seriously, nothing was better with a big slab of crusty bread and a giant spoon. The trick is to cook the beef just long enough that it starts to shred, but not too long that it turns mushy. Same with the veggies and herbs. This will definitely help to beat the winter blues, at least as long as the soup lasts.
Beef and Barley Soup
2-3 lbs beef bones with meat (or oxtails, or combo of stew beef and beef bones)
1 package of soup greens, if you can't find it pre packaged, go with 2 carrots, 3 stalks celery, 1 parsnip, 1 turnip, handful of fresh dill, and a handful of fresh parsley, and one medium white onion
1/2 cup of barley
1 15oz can whole tomatoes, undrained
1 bay leaf
2-3 beef bouillon cubes
salt and pepper to taste
Peel the turnip, parsnip, onion, and carrots. Otherwise, leave the vegetable whole when adding them to the broth (I have chopped the onion, however, and it seemed okay … don't tell my mom)
In a large soup pot or Dutch oven, cover the beef bones with water and add the bay leaf and bouillon cubes. Simmer for 1-2 hours or until the beef is tender. Remove the beef/bones from the pot and remove the meat, cutting into bite-size pieces. Return to the pot. Add veggies, tomatoes, and barley. Simmer for 45 minutes or until barley is done and vegetables are tender. As a note, the celery may cook faster, so you may have to remove it first. When vegetables are tender, remove them from the pot, carefully cut them into bite size pieces, and add them back to the broth. Remove the bay lead, add salt and pepper to taste, and heat through. Serve immediately or store chilled. Can also be frozen.
There you have it. Make this. It'll make you feel better about the fact that more winter storms and ridiculously cold temperatures are heading our way.