BEER: A Stout Challenge for Charlotteans
As winter approaches, local beer drinkers seek comfort in the dark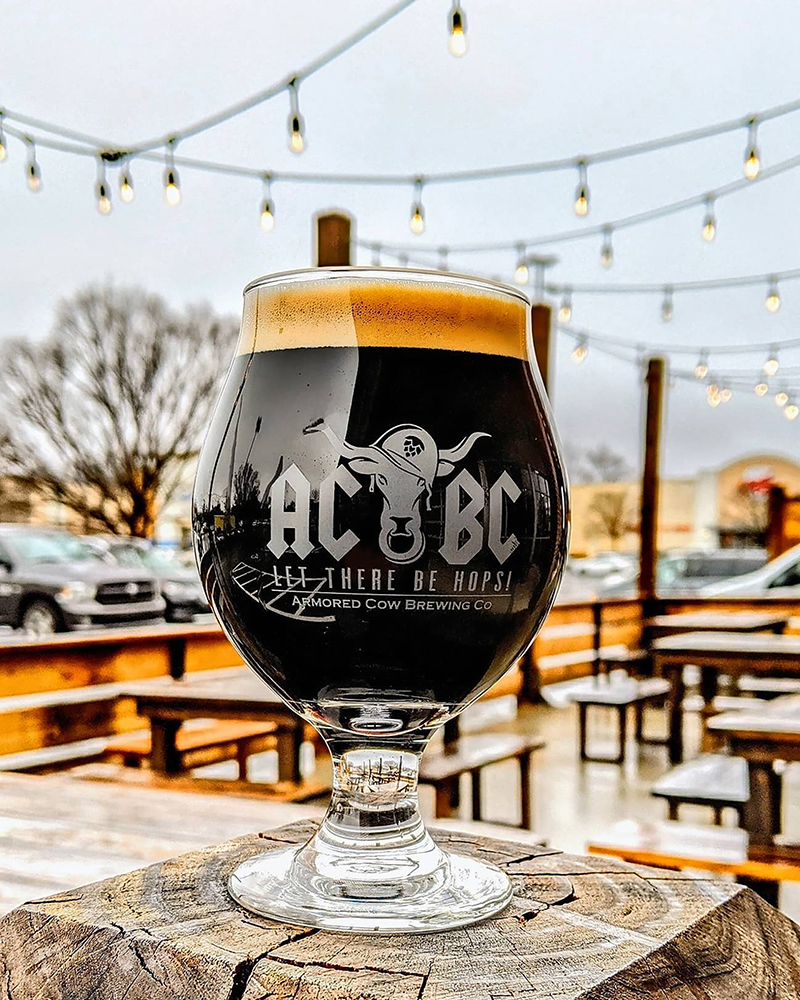 Thank goodness for stouts, beers you can practically chew. The days grow shorter, the air colder; in this season, tastes turn from the delicacy of summer light lagers and ales to dense, rich beers best enjoyed next to a fire. That means stouts.
"Or porters," you might add, and you'd be fundamentally right. No one's clear on which came first, stout or porter, or exactly what the current distinction is. What we know is that by the 18th century, brewers in England were producing potent beer with roasted malts, which darkened the brew. Working-class people loved it. It got them nice and toasty. "Porter, because of its alcoholic strength and high hop rate, was a very stable beer" and easily storable, Michael Lewis, the founder and retired director of the Professional Brewing Programs at the University of California, Davis, writes in his 1995 book Stout. "It was therefore the first beer technologically suited to large-scale production."
Today, "stout" generally refers to a dark, high-alcohol-content beer, although it doesn't have to. The world's best-selling stout is, of course, Guinness, brewed in Dublin since 1759; the brewer's bedrock, Guinness Draught, has an ABV of only 4.2%, lower than Pabst Blue Ribbon. But in Charlotte and most American cities, if you order a locally brewed stout, the bartender will probably fill your glass with what amounts to a dare: Here. See how long you can hang with this. I typically prefer to hang for a while. So, although I am a stout guy, I'm not, strictly speaking, a "stout guy."
Yet I decided to sample some Charlotte brewers' stouts and rank them according to a criterion appropriate for a beer that looks (and sometimes tastes) like you could use it to lubricate farm equipment: viscosity. Grab a spout.
➏ Black Blaze Milk Stout
Blue Blaze Brewing, 5% ABV
Stouts frequently use coffee and chocolate, as does this one. The espresso is more than a hint—it's a memo in all caps—but lactose, the milk sugar that makes Black Blaze a milk stout, balances it out.
➎ The Dude Imbibes
Triple C Brewing Co., 9.1% ABV
Another milk stout with coffee. This was the most drinkable of the bunch—the lactose tames the coffee and rum. The mouthfeel was right with this one, you know, in the parlance of our times.
➍ Chevallier Stout
Lenny Boy Brewing Co., 9.4% ABV
Chevallier is an imperial stout that Lenny Boy makes with full-flavored heritage Chevallier malt barley aged for two years in Buffalo Trace bourbon barrels. "Full-flavored" is an understatement. We're rolling now. If this were a swamp, we'd be knee-deep.
➌ Comfort in Darkness
Divine Barrel Brewing, 10.5% ABV
Up to the waist. "This viscous, jet black beer is decadently complex with notes of roasted coffee, rich chocolate, oaky vanilla, and a touch of bourbon." Now we're talking. Embrace the viscosity! And it's actually somewhat drinkable, considering it somewhat resembles tar.
➋ Ricura En Pote
Salud Cerveceria, 12% ABV
We have entered the saccharine realm of the pastry stout. Ricura En Pote ("yumminess in a can") is made with maple, local HEX coffee, and blueberry. This is no knock on Salud, an exemplary bottle shop with some superb brews. But to me, this tastes as if you mixed coffee with blueberry syrup and canned the result. I cannot drink it.
➊ Sleepless in Seattle
Armored Cow Brewing Co., 13% ABV
Another pastry stout, this one aged in rum barrels. Tip can toward glass; it doesn't pour so much as ooze. The rum aroma mule-kicks your nostrils. Each sip (I did not take many) numbed my tongue. Congratulations to the robust soul who can down one of these. I'm good for at least another six months or 10,000 miles, whichever comes first.