Beer & BBQ: A match made in heaven
Elwoods BBQ & Burger Bar is highlighting its own specialties alongside Triple C Brewing's brews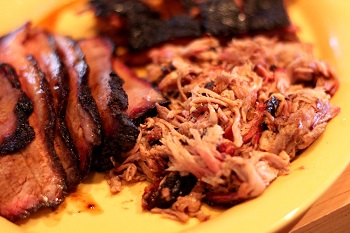 If you're really trying to beat the mid-week blues (and who isn't, honestly), head out to Ballantyne next Tuesday, September 30, for Elwoods BBQ & Burger Bar special dinner featuring Triple C Brewing pairings. Beer and barbeque – at a time when we probably all are juuuuust starting to miss summer. Here's the breakdown:
Elwoods' Chef Michael Theimer will prepare a four course menu to highlight and partner with four Triple C brews. Never heard of Elwoods? Its been a little known gem in Ballantyne since 2009, highlighting traditional barbeque and new southern cuisine. Meats are smoked daily, burgers are all ground in house, and just about everything is made from scratch with local and regionally sourced ingredients.
You have until Friday, September 26, to make reservations for the dinner on Tuesday, September 30. Call 980-819-7711 to reserve — limited seating is available and cost is $30 per person. Here's the menu of what you can expect:
FIRST COURSE: A citrus salad highlighting orange, walnuts, gorgonzola cheese, and mixed greens with a citrus vinaigrette. Paired with the Greenway IPA.
SECOND COURSE: Smoked beef brisket potstickers made with chopped smokey brisket, corn, cilantro, roasted red peppers and roasted jalapenos, all wrapped snug in a wonton and steamed. Paired with Smoked Amber.
THIRD COURSE: Asian-style braised pork belly, marinated and braised in citrus, fresh garlic and ginger, then served on a fresh bed of frisee lettuce tossed with rice wine vinaigrette. Paired with Golden Boy.
FOURTH COURSE: Ah, dessert. A raspberry chocolate tart made with a rich chocolate crust, marscarpone cheese, fresh raspberries, and a raspberry glaze. Paired with the Road to Nowhere Porter.
Om nom nom.