Beer bill could have expanded growler sales headed to Charlotte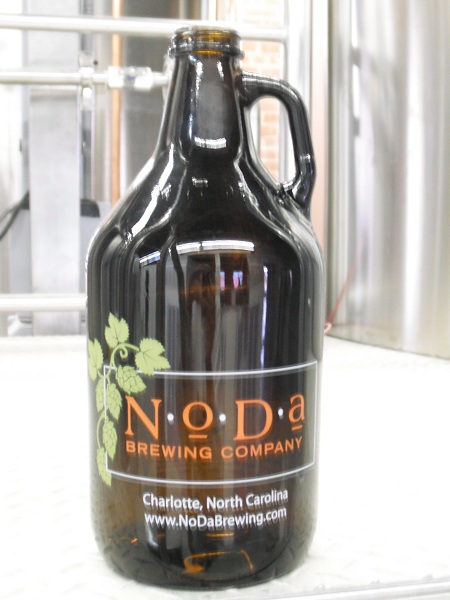 On April 10, a bill was filed in the N.C. House that could have a huge impact on the craft beer scene in Charlotte, along with the rest of the state.
Bill 829 is entitled as "an act to allow certain ABC permittees to sell malt beverages in certain containers for consumption off the permitted premises."
Getting rid of the legalese, it boils down to this: Soon, you could walk into a Charlotte bottle shop, grocery store or even gas station and be able to pick up a growler of your favorite craft beer. And you could even see specific growler filling stations open up in the area.
Currently, breweries in Charlotte and the rest of North Carolina can fill growlers (or a half-gallon brown glass container, for those not in the know) to take home, provided said growler has the necessary information and labeling on them. (Click here for more information, as NoDa Brewing does a great job of explaining the N.C. growler law for breweries.) Local bottle shops also have pre-filled growlers from area breweries for sale.
If passed, this bill would permit growlers to be filled from restaurants, hotels, retail and food businesses, private clubs, convention centers and community theatres (provided they have the proper ABC permits). It also means any beer on tap at an establishment (meaning both local and national craft selections) can be filled in a growler, if the business so desires.
The bill (which includes two Mecklenburg County Representatives, Rob Bryan (Rep.) and Beverly Earle (Dem.), among its 15 sponsors) has met little opposition since being introduced. It passed all three required readings in the House in less than a month and was sent to the state Senate. There, Bill 829 passed its first reading May 7 and was then referred to the Senate Standing Committee on Commerce, where it currently sits at press time.
On-site growler sales would likely increase traffic and sales to local bottle shops, some of which already have taps in place for pint sales. And that's one of the reasons Good Bottle Company co-owner Chris Hunt is in favor of the bill.
In fact, Hunt said if it passed, "I'd be on the phone the next day with our investors to talk about purchasing more tap towers, growlers with our logo on them and even a possible expansion of our store."
"It's a no-brainer," Hunt added. "I thought something like this could happen within three years of us opening, not this quickly."
Growler laws vary by each state but it seems to be a hot topic, as several states, including Michigan and Minnesota, have some form of growler legislation presently being discussed. On the local front, right now you can buy growlers in South Carolina, including just across the N.C-S.C. border in Fort Mill at Grapevine Wine (which currently has selections from NoDa and Olde Mecklenburg) and Frugal MacDoogal.
Georgia's current growler law is peculiar, to say the least. In the Peach State, you can buy growlers almost everywhere—except for where the beer is brewed itself.
Yes, you read that correctly. Growler sales are currently prohibited at breweries and brewpubs in Georgia. A bill was introduced in February to change the law, but it quickly stalled and has since been tabled.
I was down in Atlanta a few weeks ago for a music festival, and made a stop at the highly recommended Hop City. There, you'll find Growler Town, which devotes 60 taps to filling 64-ounce growlers and 32-ounce "growlettes."
Really, it's a sight to see. The taps (Hop City started out with just six originally) had a wide array of craft beer styles and featured more than 40 breweries, both national and locally.
When Hunt was doing research prior to Good Bottle's opening, he went to Atlanta to speak with the owners at Hop City and Ale Yeah, another bottle shop in the Atlanta suburbs that has growlers. Talks quickly turned to sales and while Hunt wouldn't divulge the numbers out of respect to the two shops, he said, "it proves to you what (selling growlers) does to your business."
Ryan Self, director of sales at Olde Mecklenburg Brewery, agrees that sales of growlers will also bring "an immediate boost" to local breweries. After all, the more growlers that stores sell, the more keg orders they would place at the breweries. But there are also multiple concerns, he adds, and not just from his perspective as a brewery representative but more of being a craft beer fan in general.
The main issue involves the sanitation and cleanliness of the growlers being sold. Done improperly—even the slightest bit—it could drastically affect the taste of the beer.
"Here at OMB, you can currently get a growler to go, and we stand behind anything we fill," Self says. "But if you get that growler filled somewhere else, then we're left with a situation where we lose control."
The issue here wouldn't be with the local bottle shops and breweries, whose representatives all possess extensive knowledge of the craft beer industry. For instance, Hunt says he cleans Good Bottle's lines and tap heads once a month in on-site sanitation sinks. And OMB and other breweries have commercial sanitation machines for proper cleaning of growlers.
But let's say a local grocery store wants to put in growler taps. Are they going to hire a specific craft beer representative? (That's doubtful.) If not, who will be in charge, and will they have the proper background and education on the process? Will the beer be poured correctly? Will the lines be properly cleaned when switching out taps? What about the seal?
Yes, that's a lot of questions, but the major worry from a brewery standpoint is that if someone buys a flat or bad-tasting growler, the liability will fall incorrectly.
"No matter how many times you tell folks, it's going to be human nature to blame the brewer," Self says. "And then what happens if they go on a Web site and rate that beer publicly? Eventually, it could turn into a cycle of not buying that brewery's beer."
There is a section in the proposed bill that states, "The ABC Commission shall adopt rules dealing with sanitation of growlers by Jan. 1, 2014." So at least the bill's sponsors acknowledge the issue of cleanliness. What those rules are and how they are applied and enforced has yet to be determined, though.
Hunt says he'll take it upon himself to teach people who bring in growlers the proper way to clean them.
"Just like anything in craft beer, the key is you'll just have to educate people," he says.
And the person buying the growler can present some issues as well. If you bring in a growler to trade out, the store has little idea of how clean it is or if it has been stored properly. (Self told me someone once brought in a growler to OMB that had a dead mouse in it. Needless to say, that customer's growler went in the trash.)
Now, I don't think every eligible business in Charlotte will be selling growlers. But it's hard to imagine places such as Whole Foods (which already has four local taps), area Total Wine locations and certain Harris Teeters that already have a decent selection of craft beer won't jump at the opportunity for increased business.
At the same time, not everyone will be buying just growlers instead of bombers and 4-, 6- or 12-packs, mainly due to the freshness of the beer. When the seal on a growler is broken and opened, the beer is supposed to be finished usually by two or three days, at the latest. The longer it stays in your refrigerator, the less carbonation and subsequently poorer taste. (Even unopened, growlers probably should be consumed within a week or two, depending on the beer). And if it's a beer that has a high ABV, you may be better off buying a single bottle or two than a full growler, unless you're sharing it or just have a crazy high tolerance.
But given the rapid movement of the bill, I wouldn't be surprised to see growler sales in North Carolina at some point in the next year. (Though, as always with politics, things could change in a second.) Is that a good thing? It depends. As a consumer, you're probably excited to have more choices and, from the brewery side, there are legitimate concerns.
Overall, I believe there is a place for growler expansion in Charlotte's craft beer community—with hopes that the majority of growler users are or become properly educated on the subject. If you're unsure, stick with purchasing them from local bottle shops or the breweries themselves, as it's there where you're guaranteed to get the best possible product.