Beer Quest offers new and unique craft beer festival experience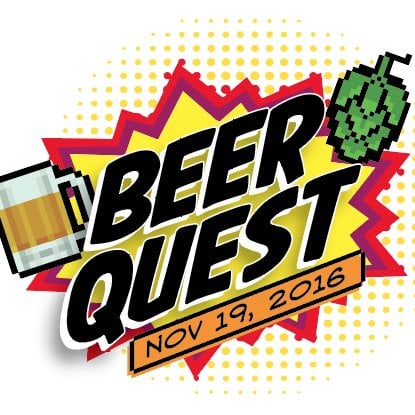 Remember the "Choose Your Own Adventure" books as a kid? You'd read a little bit and then were given a couple of options on picking the next steps for the book's main character and what happened next.
Beer Quest, Charlotte's newest craft beer festival, is taking a similar idea – but with happy endings that include unlimited beer samples, all in the backdrop of BB&T Stadium, home of the Charlotte Knights.
The event takes place Nov. 19 from 1 p.m. to 5 p.m. and will feature 75 beers by 35 breweries, several of which are local. It's being presented by All About Beer Magazine, which also put on the North Carolina Brewers Celebration at the same location last year.
"We thought that was a great venue for a festival and wanted to host a fall event this year," says fellow local beer writer Daniel Hartis, who's also the digital manager for All About Beer. "Since Charlotte has a number of great beer festivals, we wanted to make sure this one offered something different … and bring a new concept."
That concept offers up four "paths" for attendees to walk, which will provide them with a unique experience in beer tasting. The paths are Hoppy & Curious (a wide exploration of IPAs), Fizzy Yellow Greatness (a casual journey through numerous styles of sessional beers), The Dark Path (bigger stouts, porters and barrel-aged beers await you here) and Not 4 Noobs (for the more adventurous beer drinker – call this one the "palate" path).
There's no obligation to follow any path; those who want to walk around and sample all the beers at their own leisure are certainly welcome to do so. But Hartis says the hope is by breaking up the sections, it will help open people's eyes to various styles they might not have tried before.
"At any given festival, there are often two types of people; those that seek out beers in their comfort zone and those that explore a little more widely," he adds. "We thought dividing the festival into four distinct paths could appeal to either approach. If you're a hophead, you'll find a lot of great beers in the Hoppy and Curious section. But of course if you want to sample a variety of beers, the next section's right there for you."
The festival is also a chance to try some of the latest releases from Charlotte breweries, including Birdsong's MexiCali Stout, Olde Mecklenburg's Dunkel, Triple C's Eyes of the World and Unknown's Dos AKs. NoDa and D9 will also be pouring at Beer Fest, and Hartis is also excited about the Charlotte debut of Brown Truck Brewery out of High Point, which won two medals at the 2016 Great American Beer Festival while also being named the Very Small Brewing Company (and Brewer) of the year.
Tickets are on sale now and there are two options – general admission for $50 or VIP for $90, which gets you into the festival an hour early along with food vouchers at the concession area and a special entrance into the VIP beer section, which will feature rare beers in the private lounge behind home plate.
You can find out additional information, including a link to buy tickets and a full list of breweries, by visiting the festival's main page.