Beer releases (Birdsong, Olde Mecklenburg and Sugar Creek) & breakfasts (Good Bottle and Sycamore) on tap for this week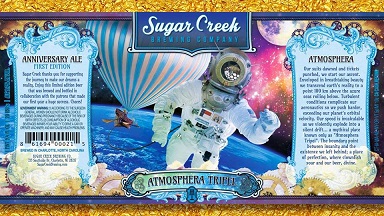 While you patiently/nervously/confidently wait for the Panthers playoff game this Sunday, here are some ideas to help clear your mind beforehand. Plus, you need beer for the game, right? (Trust me. You need beer.)
–Today (Wednesday) marks a bottle release party for Sugar Creek Brewing Co., and this one has some celebration attached to it. That's because Atmosphera Tripel is also the brewery's anniversary ale. You may recall Sugar Creek's Ticket to Ride contest, in which four winners were selected to come to Sugar Creek and brew this beer along with the head brewers. This Tripel is the result, and it's described on the brewery's Facebook page as boasting "complex fruit and spice flavors derived from our unique Belgian yeast strain" with a "tart and refreshing hint of lemon zest, supported by a soft pilsner malt backbone and a warming alcoholic finish."
–Birdsong's Honey Pie Double IPA is always one of my favorite releases, and the brewery has upped its game this year by doing a one-time can run. Just like MexiCali Stout, this will be a very limited release and only available in the taproom, beginning this Thursday. If you've never had this beer, you're missing out. Birdsong uses several different hop varieties for this double IPA, and adds in numerous pounds of honey from local company Cloister Honey. Birdsong's taproom opens on Thursday at 4:30 p.m., and the brewery will have live music from 7 p.m. to 9 p.m. with Hiya Food Truck also on site. And while the cans can only be purchased in the taproom, expect kegs of Honey Pie to start making their way out to local craft bottle shops and restaurants in the next week or two.
–Over the next three weeks, Olde Mecklenburg will be releasing a bourbon barrel-aged beer every Saturday, leading up to its BBA Fat Boy party (which I first mentioned in my 2015 Charlotte Craft Beer Year in Review). First up will be OMB's bourbon barrel-aged Schwarzbier. This beer is a product of Olde Meckelenburg and homebrewer Adam Reinke, whose Schwarzbier took first place at the most recent U.S. Open homebrewers contest. Together, Reinke and OMB used his recipe and then aged the beer in Kentucky bourbon barrels. The BBA Schwarzbier will be released Saturday at 11 a.m., and will be followed by the outstanding BBA Mecktoberfest on Jan. 23 and then the Fat Boy release and party, for which tickets are currently on sale.
–Good Bottle Co. is putting on its first "Good Morning" breakfast of 2016 this Saturday beginning at 9 a.m. The taplist will feature both 2014 and 2015 bourbon barrel-aged Up All Night from Triple C, Steel String's Thick Frenchtoast, S'more Porter from Saranac and beermosas featuring Sierra Nevada's Otra Vez, a gose brewed with grapefruit and cactus. Free coffee will be provided from Magnolia Coffee Co. and there will also be donuts from Your Mom's Donuts for sale.
–There's also a beer breakfast at Sycamore Brewing this Saturday beginning at 9:30 a.m. This will be part of a breakfast series Sycamore will be doing all year, held on the third Saturday of each month. For this one, Roots Farm Food will be on site with a full breakfast menu. Sycamore's taps will be flowing as well, and the brewery will have mimosas and ciders available too.