Beer Releases from Sycamore, Wooden Robot, NoDa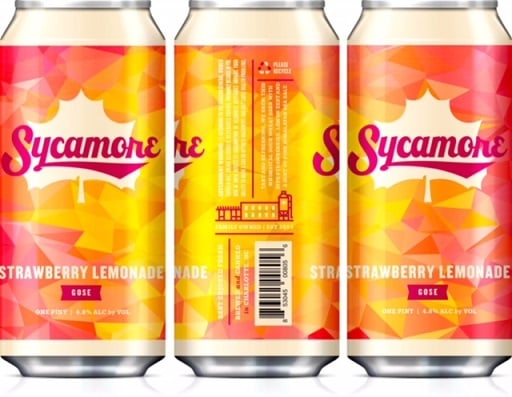 Here are the latest local craft beer bottle and can releases to keep your eyes out for this weekend. Also don't forget it's the final days of Charlotte Craft Beer Week; if you haven't made it to an event there's still some opportunities over the next couple days.
–Spring weather is trying so hard to arrive and, more importantly, stay in Charlotte. Perhaps a perfect spring beer release this Saturday will help. At noon in the taproom, Sycamore is set to roll out the latest in its small batch canning series, Strawberry Lemonade Gose.
This is a sour wheat beer that was brewed with fresh strawberries, lemon zest and a dash of pink Himalayan sea salt. If you've never had the style, Goses are sweet and salty – a perfect refreshing beer in warmer weather. Four-pack cans will be available at the taproom (the beer will be on tap as well), and look for Strawberry Lemonade Gose to hit distribution at craft bottle shops and grocery stores next week.
–Wooden Robot's sour program continues to be at the top of the class, and the brewery's latest release is more than tantalizing. Direct Currant is a sour farmhouse ale that was aged in Wooden Robot's foeders with house sour culture, then fermented with black currants. Per the brewery's description, "it will zap your palate with tangy acidity and jammy fruit notes." Sold.
Wooden Robot will be conducting Saturday's release a bit differently than past ones. The brewery will officially open at noon but will be handing out wristbands to the first 100 people in line. Those people will have the first opportunity to purchase bottles (there is a four bottle limit per person), and then any bottles still available will be sold at 2 p.m. Each Direct Currant bottle will be $16 plus tax.
–For several years, NoDa Brewing and Front Street Brewery have collaborated on an oyster stout, Mother Shucker. This year you'll be able to enjoy this popular seasonal at home as well, as NoDa is canning the beer for the first time. But before you take your cans to go, you'll want to take part in the annual Mother Shuckin' Oyster Roast, in partnership with Sea Level NC.
The festivities begin Sunday at 1 p.m. You can get a dozen oysters for $12 or a bowl of clam chowder for $8. Crystal Fountains will be performing live and if seafood isn't your thing, TIN Kitchen will be on site as always with its menu. Mother Shucker will be on draft and NoDa's taproom will be the only place you can buy 4-packs of the beer, as this one will not go into distribution.