Before + After: Modern History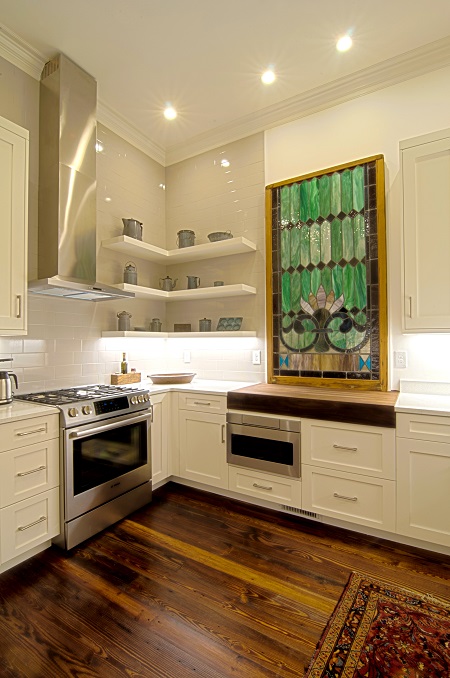 SUE AND BILL DAVIS bought their Fourth Ward home in 2014. The house is known as the Sloan-Davidson House to the Charlotte-Mecklenburg Historic Landmarks Commission, which designated the property a historic landmark in 1991. Since the property's deeds trace back to 1801—though the actual home's build date is unclear, it's recorded as one of the first dwellings in Fourth Ward—the Davises couldn't alter much on the outside, but they had freedom with the interior.
The couple worked with Plaza Midwood designer (and Charlotte native) Pete Mangum of M Pete Inc. to create a modern and minimal kitchen inside the approximately 1,600-square-foot Victorian home.
---
Stained Glass:
"There's a window behind there," Mangum says, "an old, original one." She wanted to highlight it with the butcher's block, but Sue had another idea. She had a stained glass window that her father, a minister, salvaged from a Baltimore church as it was being torn down more than 35 years ago. Sue says the kitchen was "the perfect place for it, and it complemented the old house."
Stretched Cabinets:
The Davis' ceilings are 12 feet high. Accommodating for the height meant building proportionate cabinets that don't overwhelm the room or look tiny. Though they "demoed the entire room down to the studs," Mangum says, the new, stretched cabinets from Wood Design were placed mostly in the cabinets' original locations. The floor plan barely changed, preserving the home's history.
Floating Shelves:
To create a point of interest in the kitchen, Mangum took down the cabinetry in the corner and filled the space with floating, open shelves to establish a belvedere. "It's something I do pretty often in kitchens," she says. Such shelves give homeowners a chance to showcase their personalities. "I like to do that in kitchens that have very high ceilings. It gives somewhere for the eye to go to and centers the room."