Before & After: Storybook Ending
A Plaza Midwood bungalow gets a seamless second story addition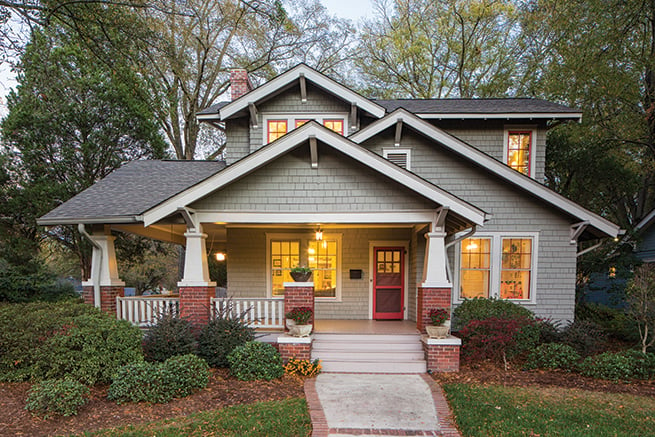 In 2006 Brandi and Chris Stigliano fell in love with a roomy bungalow just a few doors down from the Van Landingham estate. By 2012, they'd filled it nearly to the brim with two energetic little girls and a growing collection of vintage furniture. To create additional space without sacrificing historical integrity, the couple turned to Jessica Beil Hindman, architect with Studio H, who presented them with several options for adding some extra breathing room into the home they already loved. After some tough deliberation, they chose to go where most historic homeowners are afraid to venture: up into a second story. Their new addition is home to a sitting area, cozy office space, and a master suite with soaring ceiling heights, a spacious bathroom, and a generous walk-in closet—all of which were discretely incorporated into the existing lines and footprint of the house.
Before
COURTESY STUDIO H
Interior, After
---
---
Exposed Brick
The need to extend the chimney up to accommodate the house's new, larger height presented a fun opportunity to incorporate exposed brick into the master bathroom, visibly and physically anchoring the existing home on the first floor to the new story above. "I love this feature in the bathroom. We framed it with a wave-glass transom and double doors leading in from the bedroom," says Hindman. "This connection between new and old further just enhances the way the new addition reads as part of the original house and makes for a spectacular master suite." The bathroom also has a second exit through the spacious walk-in closet so that Chris and Brandi's morning routines don't have to interrupt the other's REM cycle.
---
Bedroom Windows
In the wintertime, the corner windows in Chris and Brandi's new master suite give them a gorgeous view of uptown—but selecting the right windows was one of the project's trickier decisions. "The Historic District Commission evaluates details at every scale, including the size, placement, and configuration of windows," says Hindman, who made the case for why this second-story window wouldn't be a double-hung window like original windows on the first floor. "Any other type of window either would have made it impossible for us to follow the roofline that we needed to follow to make the second story blend seamlessly with the first, or wouldn't have met the safety standards we need to meet to be up to code in a modern structure." Luckily, the commission agreed.
---
Built-Ins
Structural engineer Mike Gervais of Intelligent Design Engineering worked closely with Hindman and contractor Matt Ferguson of Stirling Group to make sure every wall, floorboard, and window (and everything in between) was in the right place. Reconciling those structural requirements with the existing lines and eaves of the house sometimes led Hindman back to the drawing board to look for creative solutions. The result of one of those conundrums is a set of built-in bookcases at the top of the stairs. "Old structures always have unexpected surprises, but architects like to see these as opportunities," says Hindman. "We literally needed another 16 inches of depth for the wall to be where it needed to be structurally but couldn't move it without sacrificing the design. These built-ins were the perfect solution."