Behind the Mask
The city's mascots tell all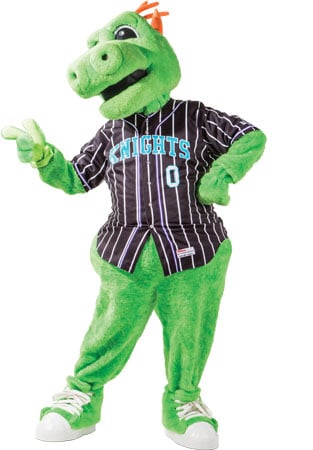 Whether waving a sign on a street corner or cheering for football players on a Saturday afternoon, these Charlotteans work hard to catch your attention. Meet the people who bring local characters to life.
Norm the Niner
Employer: UNC Charlotte
Alias: Matt Messina
What is it like being inside the costume?
It's kind of like being in another body. It's pretty dark, and you can't really see. You stumble over people if you don't know what you're doing.
What's your most memorable moment as Norm the Niner?
Probably the most memorable experience would be the ceremonies for the groundbreaking and naming of the new stadium. Getting to be part of that history in a sense, interacting with Jerry Richardson and all those important people from the city, and being right in the middle of all of that was pretty memorable.
---
Lady Liberty
Employer: Liberty Tax Service
Alias: Linda Jolly
What is it like being inside the costume?
On hot days, it's very hot! On cold days, it's very cold. There's no other way to put it. It's a job where you get to have fun, though. We get to wave to everybody—though we do get a few obscene gestures now and then—but it's all about recognition. You just have to be active. We had one lady who lost 30 pounds during tax season because she was active.
---
Mr. Toast
Employer: Toast Café
Alias: Michael Moore
What is it like being inside the costume?
Most of the time, it's a little hot. Thankfully our costume is really nice, and it's comfortable, but it is a little warm because it's so thick.
What's your funniest interaction while in costume?
On a daily basis, you get people riding their bike, and they'll wave or give you a high five. People in cars will wave and honk, but the people walking by are where we get the interactions. I did have one person come up to me and act like they were taking a bite out of the side of the costume. It freaked me out at first because I didn't know what was happening. Like, "Do I need to run away?"
---
Homer the Dragon
Employer: Charlotte Knights
Alias: Joey*
What is it like being inside the costume?
People often ask why my personality changes so drastically when I put the helmet on, and not being able to have anyone see my face really makes it feel like a completely different world. As soon as I put on the suit, I'm no longer Joey, but I become Homer.
How do you prepare for a game?
I'll stretch for about 20 minutes beforehand. I have a playlist that I listen to that's labeled "Homer Gameday," and I just listen to rock music and anything with a fast beat. It's a little silly, maybe, but as soon as I put the head on, the first thing I do is what I've called the Homer stance. That's where I open my legs a little bit and have my hands on my hips. I've sort of modeled it after what the traditional umpire is supposed to look like.
*Did not want his last name printed.