Belmont's Metamorphosis
It may have been Charlotte's most violent neighborhood a generation ago. Now, despite traces of those old days, things are looking up. But are they looking up too much, and too quickly?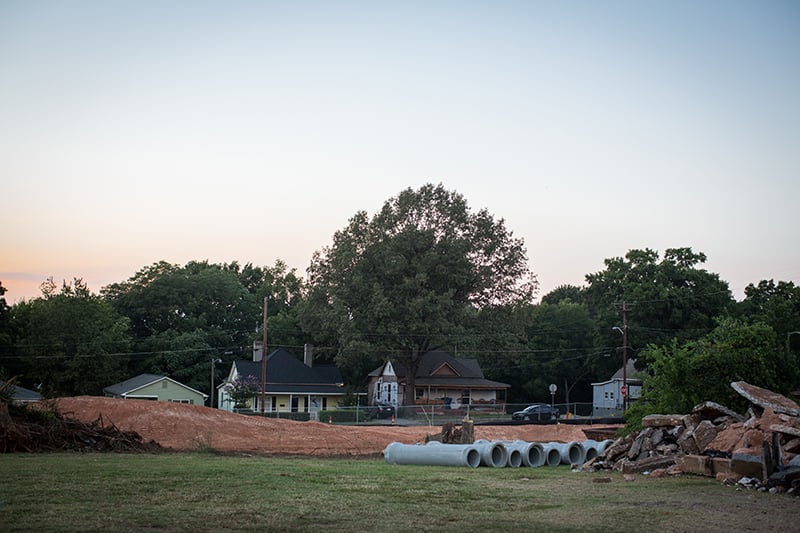 IN CHARLOTTE'S BELMONT NEIGHBORHOOD, new two-story homes gleam on lots down the street from decrepit, brick bungalows from the 1960s. Little Sugar Creek Greenway crosses freshly paved Belmont Avenue a few hundred yards from popular Birdsong Brewing Company. Just five blocks down the road, young men loiter outside a run-down convenience store on a corner that's been a favorite of drug dealers since the '70s. On hot days, they sit in the shade of an oak tree next to the Belmont Community Garden, lovingly maintained by the Belmont Community Association.
Teresa Reid, 58, has lived in a Habitat for Humanity-built home across the street since 1994. "Trust me, when I first moved here, I was up on the roof as they were building the house, and I said, 'Lord, I am afraid to live here,'" she says, sitting on her front porch.
Now, Reid says she doesn't want to leave. A generation ago, Belmont—due east of uptown, just on the other side of Interstate 277 from First Ward—was one of Charlotte's most dangerous neighborhoods. Now, it's in mid-metamorphosis: property values on the rise, crime rates improving, longtime residents' rents soaring. It's as pronounced a change as in any neighborhood in the city, and it places residents in an uncomfortable spot. They celebrate Belmont's resurrection as they grapple with the reality that the rising market is forcing many of them out of the neighborhood.
"A lot of wonderful people are moving in, and they're making the neighborhood nicer. So it's not negative, but … it is what it is," says 55-year-old Brenda Erwin, a longtime Community Association member who grew up in Belmont. She worries that her next lease renewal, in May, will come with a steep rent hike she can't afford. "People make that kind of money, they can afford that kind of house."
This is the familiar Charlotte story of gentrification, the same dynamic that's turned the once-dismal streets of NoDa, Wesley Heights, and South End into promenades for the young, affluent, and craft beer-swilling. But given its past, Belmont's rise has been especially steep, and, given the housing market's recent recovery, especially quick.
And it's not over yet. The city expects to open the nearby light rail extension next year, which promises to boost home values even higher.
When Vicki Jones bought her house on Allen Street in 2007, friends told her, dryly, that she was quite the urban pioneer. But Jones wanted to live closer to uptown, where she works as a vice president for Foundation For The Carolinas. She saw Belmont's potential for revitalization, too, backed by a 2003 city plan to develop new housing and business opportunities in Belmont.
These days, though, Jones can hardly believe what's happening around her. This year, she says, developers began listing new houses at prices as high as $400,000 in a neighborhood where the average sales price in 2015 was $126,000—and the median household income two years ago was just over $22,000.
"A lot of that is beyond our control. … I mean, it's a free market. But it's astounding to me, the prices of houses we're starting to see," says Jones, the Community Association's president since 2011. "If it keeps going up, it'll be challenging for people on the rental side to stay in the neighborhood."
She and other community leaders have succeeded in pushing the city to approve new developments with affordable units, such as a planned 112-unit affordable housing complex on Allen Street that developer Laurel Street Residential began building in August. Seigle Point, a 204-unit apartment complex that replaced a dilapidated public housing project in 2008, reserves about half of its units for income-based and workforce housing. But Jones knows there's only so much she, the Community Association, and residents can do. "There are just too many external factors," she says. The real estate market does what it will.
In the past year, Reid has received eight fliers, testing her interest in selling, which is none. As a homeowner, Reid is an anomaly in Belmont, where seven of every 10 residents rent. "I come from a family of eight children, and I was the first one to buy a home. It has sentimental value," she says. "As soon as I get those fliers, I tear 'em up and toss 'em in the trash can."
GREG LACOUR is a contributing editor for this magazine. Read his political coverage and other commentary in "The Buzz" section of www.charlottemagazine.com.
BELMONT QUICK FACTS
Size: 243 acres
Population: 1,847
Median household income (2014): $22,165
Violent crime rate (2015): 14.1 crimes per 1,000 residents. (Countywide rate is 4.2 crimes per 1,000.)
Home ownership (Percentage of owner-occupied homes, 2014): 30 percent
Racial breakdown (2010): 79 percent black; 11 percent white; 4 percent Asian; 3 percent Latino; 3 percent other
Source: 2015 Charlotte-Mecklenburg Quality of Life Explorer data
---
This article appears in the November 2016 issue of Charlotte Magazine
Did you like what you read here? Subscribe to Charlotte Magazine »
---