Best Bets December 2010
December's bets bets for what to see and do.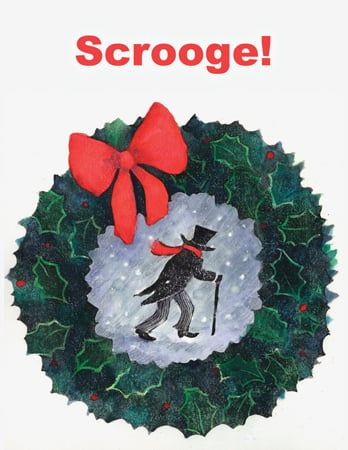 Scrooge!

There's something about A Christmas Carol's shackled ghosts and consumptive child hero that can turn holiday merriment morose. To keep holiday spirits high in your family, you'll want to check out the Children's Theatre of Charlotte's annual production of Leslie Bricusse's musical adaptation, Scrooge! With catchy numbers like Bob Cratchit's "Christmas Children" and Scrooge's "I Hate Christmas," it's just the upgrade this story needs to lighten its Dickensian mood. December 3-23 at the McColl Family Theatre at ImaginOn. Details here.
Charlotte Chamber Music

While the term "holiday concert" usually calls to mind jolly rounds of "Jingle Bells" and "Frosty the Snowman," Charlotte Chamber Music is putting on a decidedly more grown-up program this season. It's invited some of the Southeast's finest brass players to its First Tuesday concert series, which, this month, will feature classic (though hardly traditional) works like selections from Praetorius's seventeenth-century Dances from Terpsichore, Eric Ewazen's "Frostfire," and LeRoy Anderson's "Sleigh Ride." December 7 at First Presbyterian Church. Details here.
Irving Berlin's White Christmas

This new national tour, a revue based on the 1954 film that turned Bing Crosby into the essential soundtrack for every subsequent Christmas cocktail party, features Irving Berlin favorites like "Blue Skies" and "I've Got My Love to Keep Me Warm," with the kind of showy jazz hands that disappeared around 1960. The show's performed in enough red satin and white fur trim to dress Macy's Santas across the Southeast, so if you're looking for old-fashioned, flashy festivity, this is your stop. December 7-12 at Ovens Auditorium. Details here.
Carolina Chocolate Drops

In the 1930s, an African American string band called the Tennessee Chocolate Drops plucked and twanged their way across the Southeast; over the past five years, the Carolina Chocolate Drops, named in honor of their predecessors, have taken that Southern black banjo and string band tradition to stages across the globe. Their most recent album, Genuine Negro Jig, features traditional Appalachian tunes as well as bold covers, like "Hit 'Em Up Style," and has received critical acclaim. December 10 at the Neighborhood Theatre. Details here.
Every Christmas Story Ever Told (and Then Some)

If you're wary of clogging up your Netflix queue with holiday movies, the Actor's Theatre of Charlotte has a quick fix for you. Their holiday production is a three-man, rapid-fire anthology of the season's most classic tales, cherished carols, and beloved characters. The holiday hodgepodge is hilarious, and it will clear up your queue for new, nonfestive flicks. December 1-18 at the Actor's Theatre of Charlotte. Details here.
Charlotte Symphony Orchestra: Handel

We hear it every year, and every year it gives us the holiday heebie-jeebies. Handel's imposing oratorio doesn't quite reach its full potential, though, until it's heard live, so when the CSO takes the stage with the Oratorio Singers of Charlotte to show off the Baroque composer's skills, you'll want to make sure you're front and center. December 16-21 at the Knight Theater. Details here.
Trans-Siberian Orchestra

For those of you who like a little heavy metal with your holidays, rest easy. The Trans-Siberian Orchestra, with its electric violins and synthesizers, is bringing their tour to the Time Warner Cable Arena for a night of jingle bell rock (opera). The group has released six full-length albums, four of which are holiday music, so when it comes to knowing how to amplify precious classics like "The First Noel" and "God Rest Ye Merry Gentleman," these are the go-to guys. December 2 at Time Warner Cable Arena. Details here.
Doc Watson

The nice thing about folk singers is that no matter how big and famous they become, they always seem to come home. Doc Watson is one such bluegrass artists, who, after more Grammy and lifetime achievement awards than you can shake a banjo at, still graces his home Tar Heel state with that grass-roots voice we'd recognize anywhere. December 11 at the Neighborhood Theatre. Details here.
The Nutcracker

While you might groan at the prospect of seeing this production for the umpteenth time since that first fifth-grade field trip, North Carolina Dance Theatre's annual production may be just the show to breathe life back into the age-old story. The company will join forces with the Charlotte Symphony Orchestra, 100 community dance students, 150 pounds of dry ice, and a flying walnut shell for Clara. December 10-12 and 17-19 at the Belk Theatre. Details here.
Grease

Nothing says "happy holidays" like John Travolta thrusting his leather-bound hips on top of a hot rod. And while no performance will ever quite be the same as that one, we think you'll find yourself doing all the singing and twisting you did with the first Sandy and Danny. December 18 at Ovens Auditorium. Details here.