Best Bets February 2013
Your best bets of what to see and do this month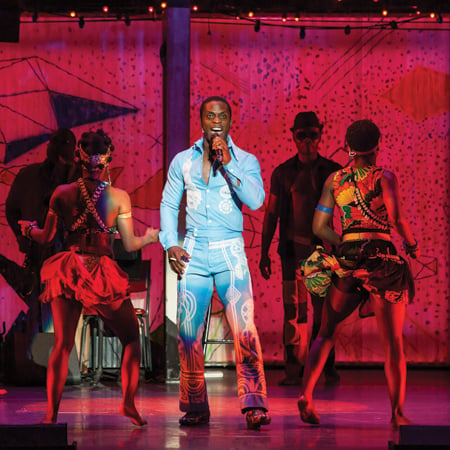 The Tony Award–winning musical about the life of Afrobeat pioneer and political activist Fela Kuti was all the buzz when it debuted on Broadway in 2009. Taste-making celebrities and critics alike (not to mention its A-list Hollywood producers) gave it a stamp of approval. But it's the adventurous music and choreography that really make it a must-see—with only two nights in town, the chance to do so is brief. February 25 and 26 at Belk Theater
Kristoffer Diaz's play follows wrestler Mace in his pursuit of top-tier status. When Mace recruits a charismatic Indian-American kid to be his partner, he predicts his career will take off—until his boss reveals the pair will portray terrorists. It's a poignant (and Pulitzer-nominated) tale of race, workplace politics, and integrity (with real wrestling!). Opens February 14 at Carolina Actors Studio Theatre.
The Grammy-nominated septet is considered an ambassador for Cuban timba music. But its traditional rhythms are spiked with Western influences that its members absorbed as teenagers listening to American radio over a crackly signal from Miami (a punishable offense under Fidel Castro's rule). Decades later, bandleader Jorge Gomez describes the group's sound as "Buena Vista Social Club meets Chick Corea." Imagine that combo backed by a full symphony of strings and horns with the infectious energy of fellow Miamian conductor Jacomo Rafael Bairos. February 22 and 23 at Belk Theater
This provocative exhibit documents the Iraq war through the eyes of five locals. Bank of America executive Jared Rorrer was a reservist there as Charlotte's Ráed Al-Rawi—a native Iraqi—was returning home for the first time in 25 years. They documented their individual experiences with hundreds of photos. Meanwhile, artist Marek Ranis culled satellite photos and images snapped from bombers. And The Charlotte Observer's Mark Washburn and Gerry Broome spent time embedded with the troops. Nearly 500 photos, along with paintings, satellite images, videos, diaries, and personal artifacts, tell the story from the perspectives of the soldiers and the Iraqi people. Through August. Levine Museum of the New South
If you were lucky enough to catch the theatrical rock experience Die Roten Punkte during the faux German brother and sister's 2010 and 2012 runs at Spirit Square, then you know the kind of cutting-edge performance art the Blumenthal sometimes scoops up from overseas. Meow Meow—the alter ego of Australian actress, dancer, and cabaret artist Melissa Madden Gray—is building global buzz after a 2011 prize-winning performance at the Edinburgh International Festival Fringe. A blend of sexuality and satire that hits on 1960s French pop, Shanghai show tunes, Eartha Kitt, and Radiohead—this is one of those small, must-see shows your neighbors will be chatting about months later. February 4-7 at Stage Door Theater.