Best Bets September 2012
Your best bets of what to see and do in Charlotte this month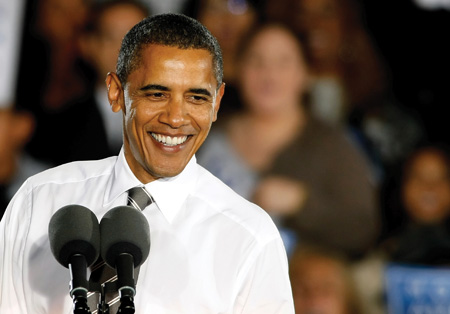 DEMOCRATIC NATIONAL CONVENTION
Charlotteans seem of two minds about this little shindig: 1.) Plan to stay as far away as possible. 2.) Hey, isn't that Bono? Well, you can count us in the wouldn't-miss-it-for-the-world camp. How often does a sitting President show up in town to get renominated by his party? This is history in the making, and we get a front-row seat to a key part of the process of—hey, isn't that Bono? Sept 2-6, uptown and beyond.
Leave it to Actor's Theatre (and we mean that in the nicest possible way) to produce this explosive play. Originally written in French by Yasmina Reza, the New York Times wrote "God of Carnage definitely delivers the cathartic release of watching other people's marriages go boom." So there's that. This is an actor's play—all four principals were nominated for Tony Awards after it opened on Broadway in 2009. Sept 21-Oct 13.
It has been seventeen years since Fiona Apple charmed us with her doe eyes and soulful voice on the massive hit "Criminal." Since then, she has experienced life as only producers of VH1's Behind the Music can appreciate. But she's turned that pain into a weapon she wields artfully on stage. She's the anti–American Idol—all authentic feeling and craft, no glitz or product placement. Sept 26 at Fillmore Charlotte.
GIACOMETTI: MEMORY AND PRESENCE
This exhibition at the Bechtler may be the sleeper hit of the season. Like all Bechtler exhibits, this one tells a story—in this case, the story of artist Alberto Giacometti's long relationship with the Bechtler family. In so doing, we get to see Giacometti's unparalleled career evolve through a variety of media from the museum's collection as well as from European institutions. Don't miss this. Through Feb 8.
For years, Chris Isaak has eluded Charlotte, playing Asheville, Greenville, and even Anderson, South Carolina. This month, the ageless crooner and his crack band finally play Charlotte. The set is certain to include a few of the fifty-six year old's hits (you know you love "Wicked Game"), as well as Isaak's personal faves. His 2011 album Beyond the Sun is a collection of covers of his biggest influences, including Johnny Cash, Roy Orbison, and Elvis Presley. Sept 10 at McGlohon Theater.
11 Questions with Chris Isaak
By Courtney Devores
For years, Chris Isaak has eluded Charlotte—playing Asheville, Greenville, and even Anderson, S.C. But September 10, the ageless crooner and his crack band play Charlotte's intimate McGlohon Theatre at Spirit Square. The set is certain to include a few of the 56-year-old's own favorites, given that his 2011 album, Beyond the Sun, is a collection of covers from his biggest influences: Johnny Cash, Roy Orbison, Elvis Presley, and others. Isaak recently answered some questions about the new album, what it was like to record at Memphis' famed Sun Studios, and maintaining such a timeless and professional appearance on stage with his band and off.
What really drew you to these artists and these songs as a kid?
I can't think of a time when I didn't listen to this music. My dad had a little box of records, and even though we were just kids he let us play the records any time we wanted. It was Jerry Lee Lewis, Carl Perkins, Roy Orbison, Johnny Cash, and, of course, Elvis. We just wore those records out! I have two older brothers and I remember getting up and getting ready for school, and every morning listening to rock and roll…it made you get dressed faster and feel good, even when you were condemned to go to school! How could I not love rock and roll?
Does it make performing them more fun? Do you, for instance, not mind the set going long or adding something in because you're having such a good time revisiting them?
I love to sing these songs. It is so much fun to play songs of ours, but it's also great fun to go from playing "Wicked Game" or "Baby Did A Bad Bad Thing" to an old Johnny Cash song like "Ring of Fire" or an Orbison tune like "Oh, Pretty Woman." It's fun to see people's faces light up when they hear one of those classic American rock tunes. I try not to wear my band out, but I could keep playing all night. The nice thing about having the same guys for twenty-seven years is the band can follow me no matter what I do! I sometimes just start singing a song that we never do…and I'm always amazed that they just follow me and play it like they did it every day. Eventually I'm going to have to start paying these guys.
When you were coming up with your own sound, did you find your own voice and really refine it?
I always loved "pretty" singers. And I love "pretty music." It's funny but I guess a lot of people really dismiss anything that is aiming to be pleasant to listen to, but to me that's important. I want records to be pretty and different, and I want to believe the singer. If it's just a really pretty voice, but not believable…ugh. I could listen to Elvis all day, or Orbison. Or John Lennon. Or Fogerty. Or Dwight Yoakum. Or the Everly Brothers. There are so many great singers. I think when I was starting I just wanted to write songs and sing as good as I could and hope that somehow it would sound nice and not sound like everyone else. It's always hard to understand how you sound to other people. I don't know exactly what my "sound" is…maybe it's kind of old school in that I like to hear the voice on top of the mix. As far as "refining" my sound…I'm still refining!
You wrote a couple of originals for this record. Do you think the experience of recording at Sun and playing these songs will color the next record?
I do! I loved going into the studio and recording in Memphis. The guys at Sun were as cool as the room itself. A very laid back attitude. We came in late in the day. They still do tours at Sun Studio, so we came just after the tourists left. We would play all night, and they even gave us the keys to the diner that is connected next door so we could snack late at night. It was a ball making this record, and we played and recorded without any tricks. We just all went into the room and sang and played together and that was it! I told the guys to play good because we aren't going to "fix" anything. And I told them if they heard me singing good they better not screw up, because I was going to pick the take where I was singing good!
There is a mix of songs that everyone knows and others that go deeper on Beyond the Sun. What were your thoughts about the songs you wanted to include?
I picked songs that I like to sing. I figure if they are fun to sing then there is a better chance they will be fun to listen to. I have been singing a lot of these songs most of my life, so it was really just a ball to go in and cut loose! It's also fun to be in the same room that Elvis sang the song you are singing…and to stand in the same spot where Jerry Lee Lewis was cutting loose. I think all in all we got a nice mix, some songs that everybody knows: "Great Balls of Fire," "Can't Help Falling in Love," "Ring of Fire"… and then some songs that are little more on the edge: "How's the World Treating You," or "Miss Pearl." Hopefully it's a nice blend. I always listen to the record when I'm driving. If I can drive all the way to L.A. from San Francisco then I know I have a good mix of songs.
I think we picked some really nice tunes, and they kind of all go together…ballads and rockers, fast and slow, but all rock and roll. The first thing I did when I finished the record was send a copy to Scotty Moore, Elvis's original guitar man. Scotty wrote back a really nice letter, said he liked the record and wanted to know about a few of the songs that he didn't recognize. (I was so glad he asked about "Live It Up," because it was one I wrote for the record). I figure if Scotty liked it, I was happy because he is the guy I was always wishing I could play like. I even play my guitar today set up with really heavy strings because I read that was what Scotty Moore did. Of course nobody sounds like Scotty!
What was the experience like recording at Sun?
I wouldn't have a music career without Sun. Really. I grew up listening to the artists that Sam Phillips recorded there. When I was boxing in Japan I bought a copy of Elvis's "Sun sides" and listened to it so much that my Japanese landlady started being able to sing in English! I was on the boxing team wearing a mandatory flat top at the time, or as they called it a "sports cut." I went to my coach and said, "I gotta grow my hair long." My coach made a deal and let me grow my hair long…unless I lost a match. So I was fighting to keep my Elvis hairstyle. I got into music because of the wonderful, ethereal other worldly sound that was on those early Sun records. Over the years I have worked with Johnny Cash, Jerry Lee, B.B. King, Orbison…and when I got to go into that studio and record, it just felt like I was coming home.
Was the album recorded in the same way it would've been in the 1950s or 1960s?
Yes. I know some people have recorded in the room at Sun, but I don't think many did it as old school as we did—all at once, everybody getting it on all together and having a ball. We cut a bunch of songs really fast because we would do it two or three times and then we had it. We would just start singing another one. They had to get soap and a crowbar to get me out of there, because I could sing in that room all night and day. We do a whole section of our live show now where we pull out a stand-up bass and upright piano and play it just like we recorded it in the Sun Studio. We even have a neon sign on stage that lights up and says "Memphis Recording Studio" like Sun.
I once saw you perform in what was basically a gymnasium in South Carolina in what I thought were going to be really bad conditions, but you and your band sounded fantastic. What do you credit with being able to pull off a great show in maybe less than stellar circumstances?
I think sometimes playing to rough crowds in bad situations is how you grow muscles! You learn to entertain. I have played to small crowds, to crowds that didn't come to see me, to drunk crowds, to crowds that were worn out or baked in the sun for hours…what you learn is to pay attention to the audience and make sure you are having fun on stage. Because if the band is having fun, then the crowd will have fun, too. And my band and I always have fun on stage! Nowadays we have better situations than some of the honkytonks you play starting out, and we have a ball. We are the guys on the record, so it isn't that hard to make it sound right. And we get to dress up and put on a real show. We have a smoking piano that catches fire, a twenty-five foot tall inflatable woman that blows up for "Oh, Pretty Woman," and the band has stage suits that look like they stole them out of Liberace's closet.
I also once saw you perform in a suit covered in little mirrors. Where did your interest in fashion—and daring (possibly uncomfortable) fashion at that—come from?
My brother told me years ago to be in show business you need talent or a sequined suit. He said there was nothing I could do about talent but I could buy a sequined suit.
Any upcoming projects in the works?
I have a bunch of songs ready to record, but in the meantime I am going to be touring the U.S., then Europe, then Australia. I know it sounds like a lot of work, but it is a ball. The guys in the band are not only great musicians; they are funny as hell and make living on a bus or on tour a lot of fun.
You've aged better than 99% of the population. Any secrets?
I never smoked, never got into drugs, never drank. I guess playing in bars all the time early in my career I just didn't want to start up with those habits. And I always liked to play sports. I still surf every chance I get. I love getting in the water, but I think the thing that makes anybody feel good is fun work and fun friends. I got lucky; I have both. I have a band on a bus that is hilarious and I get to sing for a living? Life is great. No complaints.