Best Brewery Bites
In celebration of National American Beer Day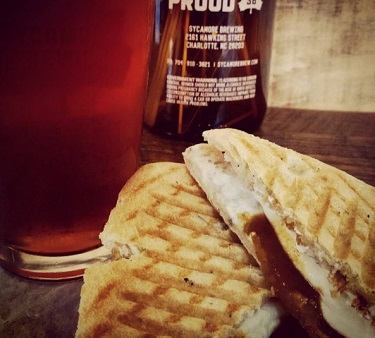 Today, October 27, is the day we celebrate National American Beer Day. Charlotte has tons of breweries (with new ones on the horizon at any given time), but what snacks can you get to help complement that bubbly brew? We've rounded up a few of our favorites from the Queen City from the breweries that DO serve food in house.
Olde Mecklenburg Brewery: If you're craving something substantial and rich (like sausages, pretzels, and cheese), head to Olde Meck. Their German-style fare like brötchen and Currywürst make an excellent partner to their heady German beers.
____________
​​Heist: Want something a bit outside the box with your beer? Head to Heist and grab the chicken n' waffle flatbread. Pepper-fried chicken pairs with the creamy decadence of meringue-whipped waffles. Don't worry – there's plenty of maple syrup and butter – champagne butter, to be exact.
____________
VBGB: Although they don't brew their own beer on site, VBGB serves tons of local Charlotte brews and has lots of food to choose from. For a handheld option while you play some of the giant lawn games in the biergarten, grab a pulled chicken sandwich on a salty pretzel roll. The barbecue sauce may get messy, but it's worth it.
____________
Sycamore Brewing: If you head to Sycamore Brewing Monday through Thursday, you can grabbed a fresh-pressed sandwich on savory foccacia bread. The menu changes often, so be sure to check the Facebook page. Pumpkin butter and goat cheese has made an appearance this week …