Best New Restaurants
Where to Eat (And Drink!) Now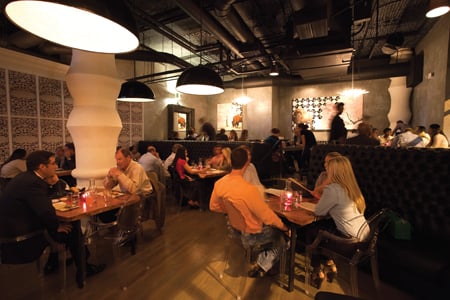 CHARLOTTE has had a big year and so has the city's restaurant scene. It's been a year packed with restaurant openings, including fresh concepts by two celebrity chefs and a premiere effort from a new restaurant group that's already become a local favorite, plus reinvented spaces, upscale ethnic food, and lots (and lots) of small-plates menus.
Someday, perhaps, we'll look back on 2012 as the year Charlotte started to come into her own as a foodie destination. In the meantime, from comfort food to haute cuisine, these twelve new restaurants (in no particular order) have us excited about the future of the city's restaurant scene. Reserve a table, sidle up to the bar, or just pop into one of these newcomers—there's no wrong place to start.
5Church (127 N. Tryon St., Ste. 8, 704-919-1322, $$-$$$)
When 5Church opened in May, the city's restaurant scene got a lot edgier. The first effort from MAP Management (the new restaurant group from managing partners Mills Howell, Alejandro Torio, and Patrick Whalen) is easily the restaurant phenom of the year. With its dramatic black-and-white décor, large bar and lounge area, and already infamous ceiling—hand-painted with the entire text of The Art of War—dining here is a true experience.
Chef Jamie Lynch's New American menu is executed with precision and originality. Offerings revolve around locally sourced fresh ingredients, and the elegant, modern menu manages to be interesting without being intimidating. Dishes most local restaurants might consider risky (like the tender 60-Second New York strip steak ($32) that's cut to order and cooked on only one side) are fixtures, while others, such as the butternut squash, caramelized onion, and ricotta pierogies ($7) with pomegranate molasses and pumpkin seeds, change with the seasons. Vegetarians have plenty to choose from, including crispy marinated tofu ($16) with sautéed spinach, kimchi, brussels sprouts and teriyaki, and kale risotto ($9) with sherry vinegar onions and Parmesan. Other standouts include the grilled flatbread ($10) with shrimp, arugula, red onion, and Boursin and the lamb burger ($13) with red onion marmalade, Gorgonzola, and arugula, both of which are also available during the restaurant's popular Sunday brunch.
Sushi Guru (6601 Morrison Blvd., 704-362-3021, $$)
With the opening of Sushi Guru, Executive Chef Cy Santos reinvented the former Cyros Sushi with a new, more creative and versatile menu. (He was also executive chef and co-owner of the former establishment, which operated out of the same space.)
The space is still small and still jam-packed with tables, but the décor is understated—all the better to let Santos's cuisine be the star of the show. You can find some of the city's best sushi rolls here, but if you only order one, make it the hamachi jalapeño roll ($12). Filled with crab and avocado and topped with delicate hamachi (yellowtail) and paper-thin slices of jalapeno, the roll is finished with a drizzle of wasabi citronette for perfectly layered flavors. Don't miss the Guru Smoked Fresh Sashimi ($9 tuna, $8 salmon, $10 yellowtail), a smoke-filled jar with slices of smoked fresh fish, and the Fujisan Roll ($10), filled with lump crab and avocado with slices of Fuji apple and topped with eel and crispy wonton strips.
10 Park Lanes (1700 Montford Dr., 704-523-7633, $$)
Yes, 10 Park Lanes is a restaurant inside a bowling alley. But what it isn't—and this is a big point of distinction—is a bowling alley restaurant. You won't find stale nachos and rubbery cheese here.
Instead, the reinvented Park Lanes is a happy mix of fun and comfort food. The space's new look preserves and enhances the mod style of the original 1960s George Pappas bowling alley (think Mad Men mixed with a touch of futuristic styling à la The Jetsons). The menu has an emphasis on barbecue, including St. Louis–style ribs, chicken, pulled Boston butt, smoked sausages, and brisket-style prime rib. Tender and unsauced, it's all ready to be drenched (or dotted) with the restaurant's house-made barbecue sauces, including sweet and tangy Double Honeycomb, vinegary Piedmont Blond, smoky and spicy Coffee Jalapeno, and the mustard-based Chipotle Apricot.
Crispy, thick flatbreads are standouts, with toppings including smoked prime rib and Applewood bacon. But the restaurant's specialty, Mason Jar Signature Stacks ($9)—a Southern-inspired twist on the classic meat-and-three concept—should not be missed. Choose the Mason Jar Que with pulled pork,
barbecue smoked baked beans, and slaw layered into a large Mason jar, or build your own by selecting a protein and sides.
Like the original in SouthPark, Rooster's Wood-Fired Kitchen's uptown location is a Southern restaurant with French, Italian, and Spanish influences and a focus on local ingredients. The concept translates well to its new, two-level urban setting—in fact, this new location is poised to eclipse its sister restaurant. From College Street, guests enter a cozy bar that has the same welcoming charm as the original. A chalkboard menu specifies bar-only choices, such as a salumi and cheese plate ($7) and lamb sausage pie ($8). Upstairs, an intimate dining room wraps around the open kitchen (a Rooster's trademark).
Executive Chef Joe Kindred does nearly everything—from making pastas to butchering animals—in-house. The menu doesn't vary much from the à la carte offerings that made the restaurant's SouthPark location a favorite, but the daily specials are Kindred's creations, and he executes them well.
Levant Mediterranean Cuisine (135 Levine Avenue of the Arts, Ste. 120, 704-333-0930, $$-$$$)
The elegant sister restaurant to owner Omar Kweider's Kabob Grill (with locations in Dilworth and Stonecrest), Levant Mediterranean Cuisine is tucked into an intimate but lavish space on Levine Avenue of the Arts. Filigree light fixtures, geometric woodwork, and furniture inlaid with mother of pearl give it an exotic, elegant charm.
The menu is straightforward and beautifully presented, featuring traditional Levantine cuisine, representing a section of the Eastern Mediterranean from Egypt to Turkey. Much of the food here is vegetarian friendly and flavorful, especially the starters, which include creamy baba ghanouj ($8), thick, velvety hummus ($8), and mijammara ($8), a spread made of breadcrumbs, walnuts, chili pepper, cumin, and olive oil—all of which are excellent options for those unfamiliar with Eastern Mediterranean food.
Kabobs are prominently featured as main dishes, with choices of lamb, beef, chicken, shrimp, and kafta (ground seasoned beef), but if you're seeking something a little different, opt for the fried kibbeh ($14 for lunch, $23 for dinner), small, football-shaped dumplings stuffed with a mixture of sautéed ground beef, onion, and walnuts.
If you're unsure where to start, let the servers guide you—they know the dishes well. And be sure to check out the wine and beer selection; craft beer may have taken over the city, but there are some interesting (read: hard to find) options from the Eastern Mediterranean here.
The Peculiar Rabbit (1212 Pecan Ave., 704-333-9197, $$-$$$)
The newest establishment on this list, The Peculiar Rabbit has already started to come into its own as a destination for elevated comfort food. The location alone, a three-story building that formerly housed both a church and a nightclub, helps it live up to its name.
The menu is, well, a peculiar mix of pub food (think: bangers and mash and shepherd's pie), with a few Asian- and Southern-inspired dishes in the mix. Can't-miss items include oxtail poutine ($11), fries topped with oxtail gravy, farmstead cheese, and cilantro, cider-braised pork belly ($18), a crisp but tender slab of pork belly atop a bed of mashed celeriac and salty-sweet maple-bruléed brussels sprouts, and the restaurant's namesake dish ($24), a portion of flavorful cabernet-and-spice-braised rabbit on a mound of colcannon.
With its two bars, interesting beer selection, energetic servers, and plentiful seating, the Rabbit is already a happy addition for Plaza Midwood residents. The rooftop bar and skyline views won't let it remain a well-kept secret for long.
e2 Emeril's Eatery (135 Levine Avenue of the Arts, Ste. 100, 704-414-4787, $$$)
The first restaurant from a celebrity chef to open in Charlotte this year, e2 Emeril's Eatery has evolved in some big ways since first opening its doors in January. The new concept from Chef Emeril Lagasse, e2 launched with plenty of fanfare in a primo location—between the Mint and Bechtler museums uptown on Levine Avenue of the Arts.
Since then, the restaurant has matured, with a new sidewalk patio, a new chef (Brian Mottola), and the addition of breakfast and lunch take-out service through its adjoining e2 GO. It also became the city's first Leadership in Energy and Environmental Design (LEED)–certified restaurant. But the biggest changes have been on the menu, where e2 has maintained its emphasis on local ingredients while focusing on modernized American classics, particularly New Orleans- and Southern-style dishes.
A few of the restaurant's instant favorites appear here to stay, including the crispy fried Ashley Farm chicken thigh ($8) served atop a buckwheat waffle with sorghum molasses and slaw, a New Orleans–style gumbo of the day ($8), and shrimp and grits ($24) with gulf shrimp, pancetta, Anson Mills grits, tomato, corn, and mushrooms. Newer offerings include North Carolina rainbow trout ($24) topped with lump crab, Swiss chard, and meunière sauce and a Maple Leaf Farm Duck ($28)—a roasted duck breast and confit leg on a bed of Anson Mills hominy and étouffée.
Heist Brewery (2909 N. Davidson St., Ste. 200. 704-375-8260, $$)
When Heist opened the weekend before the DNC, it filled a void in the city's restaurant scene: the lack of a true, local brewpub. Charlotte's craft brewery scene has exploded in the past few years, and there's a strong roster of gastropubs, but until Heist, none of the local breweries had been brave enough (or crazy enough) to offer food service.
Heist does both extremely well. It has one of the most creative—and quirky—menus in town. Boasting what Executive Chef Rob Masone calls "twisted American cuisine," everything on the restaurant's menu pairs nicely with Brewmaster Zach Hart's brews (including his handcrafted sodas: cream soda, root beer, orange cream, and black cherry).
If you're enjoying the small-plates trend, you've hit the jackpot here—there are a multitude of options. Standouts include the Kurobuta pork belly corn dogs ($11), piled high and stuffed with milk-and-honey-braised pork belly, served with a root beer barbecue sauce, and the pimento cheese flatbread pizza ($12), topped with six-cheese pimento, jalapeno bacon, sweet fire-roasted tomatoes, and grilled leeks. And there are several items here you absolutely can't find anywhere else in the city—they're so unusual, in fact, that Masone designed the plates and serving vessels himself just so that he'd have the perfect way to show off his creations. Consider the lobster bisque ($6), served up in test tubes, and the Himalayan Shrimp Stix ($16), spicy skewered shrimp wrapped in lemon-wasabi cotton candy, which arrive at your table spiked into a piece of heavy granite. (Heist's servers should probably lift weights.)
Judging by the crowds, Heist is already a local favorite—but this is a place that likely won't be happy with the status quo, so don't be surprised to find some new items on the menu soon.
Queen City Q (225 E. Sixth St., 704-334-8437, $$)
The best advertisement for a barbecue joint is that unmistakable smoky scent of slow-cooked pork—and judging from the amazing aromas on the Sixth Street side of the Seventh Street Station parking garage, Queen City Q knows it.
The casual eatery is a partnership between veteran restaurateur J. D. Duncan (who also owns Bonterra Dining & Wine Room) and husband-and-wife team Bryan Meredith and Sue Johnston. The trio brought in pitmaster Dan "Boone" Gibson to supervise the smoker. He takes a classic approach: the barbecue here is hand pulled, mixing fatty and lean cuts. The dishes are all based on Gibson's family recipes, which he hasn't modified much—and the result is a restaurant that serves up tender, smoky barbecue (unsauced), along with home-style Southern sides such as a peppery green bean casserole (Gibson's mother's recipe), thick mac and cheese, collard greens, and three kinds of slaw.
Charlotte is still a burger-obsessed city, but the explosion of new pizza places in the past few years makes the Italian staple a close second. And the pies at Wolfgang Puck Pizza Bar, the flagship of a new concept from the celebrity chef, are excellent. The dough is a new recipe, created especially for this restaurant, and takes nine days to complete, including two pre-fermentation steps to give it depth of flavor. The resulting crust is light and chewy, with a hint of tang that's reminiscent of sourdough. There are eighteen pizzas to choose from, and standouts include roasted wild mushroom ($15), which is rich with truffle oil, spinach, and Robiola cheese; potato and egg ($12) with large pieces of rosemary potatoes, pancetta, oven-roasted eggs, and sweet peppers; and
Wolfgang's famous smoked salmon pizza ($17), topped with dill cream, red onions, chives, and salmon roe.
But there's much more than just pizza here: appetizers range from roasted garlic bread ($5) to a San Daniele prosciutto plate ($15) with Burrata cheese, arugula, basil, and aged balsamic, as well as salads, house-made specialty pastas, and grilled main dishes including rosemary chicken ($23) with pancetta, roasted potatoes, and olives and Scottish salmon ($22) atop pasta risotto, charred tomatoes, basil, and arugula pesto.
With its beautiful, rustic setting in Phillips Place, reclaimed wood furniture and décor, a centerpiece bar, and patio seating, Puck's Pizza Bar is both family-friendly and chic.
On the second day of 2012, restaurateur Augusto Conte launched a new Spanish tapas restaurant in the Hearst Tower plaza, replacing his longtime Italian restaurant Coco Osteria with Malabar Spanish Cuisine. Malabar's popularity is proof that Charlotte has been hungry for Spanish tapas.
The new restaurant has an intimate, European feel without seeming cumbersome or claustrophobic, even though it's a small space with tightly packed tables. The menu from Executive Chef Gabriele Grigolon is a plentiful lineup of tapas separated into categories (carne, queso, vegetal, and pescado), plus a selection of entrées, and four kinds of paella. There are many traditional Spanish and Latin American favorites, such as the airy empanadas de ropa vieja ($9), stuffed with tender braised beef; patatas bravas ($8), fried potatoes in a smoky-spicy sauce, and Churrasco ($16), grilled skirt steak with a colorful, garlicky chimichurri sauce and fried yucca. Two delicacies not to be overlooked: the pulpo ($10), a delicate, fragrant dish of grilled octopus, potatoes, and olives and the hearty pimientos rellenos ($10), roasted peppers stuffed with rice and cheese.
But the paella is the star of the show here—and it should be, since Conte had the kitchen completely reconfigured just so the paella could be prepared in the traditional wide and flat paella pans. There's no wrong choice. All four versions are made to order and take thirty-five minutes to arrive—but are well worth the wait.
Maverick Rock Taco (1513 Montford Dr., 704-527-1400, $-$$)
Nestled on buzzy Montford Drive between Duckworth's and The Roasting Company, Maverick Rock Taco has the feel of a restaurant and bar that doesn't take itself too seriously. At the entrance, you're greeted with a choice: sit in the bar area to the right or head to the left, past a large colonial American flag art installation, to the dining room, where tables and booths are surrounded by walls painted with airbrushed rock band logos. Unlike its sibling restaurants (Big View Diner, Nolen Kitchen, and Ilios Noche), there's no Greek food to be found here—just solid Mexican-inspired food, including burritos, tortas, enchiladas, and fifteen kinds of tacos.
When you go, skip the bar, which can be loud (not surprising for a place with the word rock in its name), and head to the dining room. Settle into one of the booths and start with the chunky classic guacamole ($5)—don't forget a squeeze of lime. Then order a plate of street tacos: opt for the crispy fried avocado taco with tomatillo avocado salsa and black-eyed pea salad, and the spicy guajillo chili–roasted pork topped with pineapple mango habanero salsa. For a side: Mexican street corn. Cap it off with one of their margaritas made with fresh fruit—and plenty of napkins.