Best of the Best: Charlotte Arts + Culture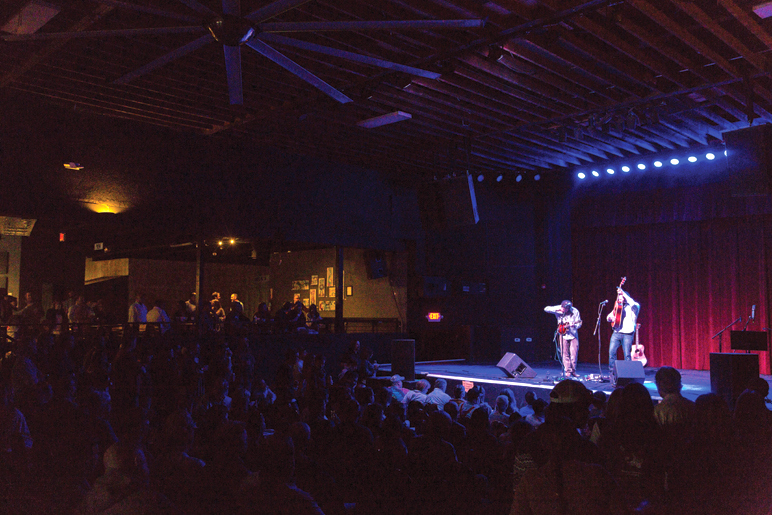 > Cultural Structure Still Standing
Neighborhood Theatre
When galleries came to NoDa in the 1990s, so did a new idea for the rundown Astor Theatre, built in 1945 to bring movies to millworkers and their families. It would become the Neighborhood Theatre, a live music venue that has since seen its own ups and downs. It closed for two months in early 2013, but reopened that May under new management. Its classic marquee still hangs over the sidewalk along 36th Street, and this place is still a central part of NoDa's artistic identity, rocking the neighborhood with touring and local acts. 511 E. 36th St., 704-942-7997.
---
> Art Gallery
CPCC's Ross and Pease galleries
The galleries at Central Piedmont Community College have always served students and faculty, providing a space for their work and occasionally bringing in outside talent. But recently, the spaces have evolved. The Ross and Pease are now home to emerging and professional talent, from Shaun Cassidy's The Sound of Everything (which runs through July 14) to a recent exhibition made entirely of animated GIFs, a medium never before presented in Charlotte galleries. 1201 Elizabeth Ave., 704-330-2722.
---
> Historic Live Music Venue
Double Door Inn
The Double Door Inn is one of those rare lifers, outlasting many of the old venues in town. This year marks 42 years of touring shows, weekly features, and live album recordings of every genre. 1218 Charlottetowne Ave., 704-376-1446.
---
> Best Author
Jeff Jackson
With his debut novel, Mira Corpora, Jackson garnered praise from Don DeLillo and was a finalist for the Los Angeles Times Book Prize. (He's working on his second novel now.) His experimental plays have exploded in New York, with five performed by an Obie Award-winning company. He's also an arts and culture critic with a long list of publications on his resume.
---
> Theater Company
Theatre Charlotte
Eighty-seven years ago, the first incarnation of Theatre Charlotte staged a reading of Sutton Vane's Outward Bound. In 1941, the company moved to its current building at 501 Queens Road. But longevity isn't its only accomplishment. Theatre Charlotte stays young with diverse performance choices, such as the upcoming season's Jesus Christ Superstar (which runs May 15-31) and Dracula (this fall). 501 Queens Rd., 704-376-3777.
---
> Event/Festival
Charlotte Pride
In 2014, just before same-sex couples could marry in Charlotte for the first time, Charlotte Pride drew an estimated 80,000 people. Tryon Street transforms during this event. Elected officials lead the way. Local vendors line the parade route selling food and drinks. And a parade that celebrates differences is becoming a familiar part of life in center city.
---
> Culture for Kids
Bechtler Museum of Modern Art
Education outreach was one of the original charges of the five-year-old museum. Today, the Bechtler's Artists in Schools program engages with kids all over Mecklenburg County in their own classrooms, ensuring that field trips aren't the only way the museum can inspire youth. 420 S. Tryon St., 704-353-9200.
---
> Museum Mainstay Exhibit
Cotton Fields to Skyscrapers: Reinventing Charlotte and the Carolina Piedmont in the New South
With every exhibit, Levine Museum of the New South reminds us of our past while illuminating today's voices. This permanent exhibit sets the standard for that, with more than 1,000 artifacts tracing Charlotte's lineage.
200 E. Seventh St., 704-333-1887.
---
> Rebranding
Charlotte Ballet
In 2014, North Carolina Dance Theatre became the Charlotte Ballet. The move wasn't made to save some ink on the masthead. The ballet was sending a message: It is Charlotte's troupe. 701 N. Tryon St., 704-372-0101.
---
> One-Stop Shop for Culture
NC Music Factory
Live comedy, national touring acts, and a bar with a giant chess set—there's no shortage of things to do at NC Music Factory. Most weekends, the hard part is choosing among them. 1000 NC Music Factory Blvd., 704-987-0612.
---
> Entertaining Twitter Feed
@CharMeckSchools
All the school system wanted to do was say "good morning." But high-schoolers, who are big Twitter users, aren't morning people. And they don't censor themselves. Ignoring the ones with expletives, this is perhaps the most prototypical of all responses: "there's nothing good i am exhausted life sucks." Ah, high school. It's a simple formula that always delivers humorous moments: Take the cheeriness of the people behind @CharMeckSchools, add some teenage detractors, and then have a school day that's operating as usual.
---
> Record Company
Self Aware Records
Self Aware Records started as a labor of love between Josh Robbins and Sarah Blumenthal. Now, the two are married, and Self Aware Records has a couple of dozen releases under its indie belt. Late Bloomer and Museum Mouth are just two of the regional rock acts that have recorded with the label.
---
> Band/Performer
Matrimony
"What is that song?"
During a recent episode of HBO's Girls, more than 24,000 viewers had this question. So they got out their Shazam apps and discovered that it was Matrimony's "Giant." It's just another way in which the Charlotte-born folk-pop act is reaching listeners across the world. Last year saw extensive touring for the group and the release of its full-length album, Montibello Memories.
---
> Public Lecture
The Learning Society of Queens University of Charlotte
Last year, Columbia University Press published Creating a Learning Society, a 680-page tome that advocates "a new approach" to social progress: promoting a culture of learning. Queens launched a "learning society" in 1988. A service to the community funded by donors and sponsorships, spring and fall lectures are delivered by scientists, journalists, business leaders, writers, political strategists, and statespeople of national renown. The cost of tickets has risen over the years as attendance has grown; the public lectures include a Q&A with the audience. Ordinary Charlotteans have had front-row seats to William F. Buckley, Jr., Carl Sagan, and Carly Fiorina. At the Knight Theater in February, author Michael Lewis spoke to a packed house. Various locations, 704-337-2200.
---
> Place for Adults to be Kids
Discovery Place's Science on the Rocks
Every day, the halls of Discovery Place are filled with children laughing, screaming, and, occasionally, having a meltdown—all in the name of science. But on the third Friday night of every month, adults get to run around and take part in the museum's experiments. Themes such as "'90s Throwback Night," with its Carlton Dance-Off and Mario Kart bouts, display the brilliance of Science on the Rocks. Discovery Place knows how to make parents feel like kids, a gift we all need from time to time. Other venues should take notice: This is how you do community outreach, one liquid-nitrogen wine slushie at a time. 301 N. Tryon St., 704-372-6261.
---
> Cultural Grab Bag
Pecha Kucha Night
Twenty slides, 20 seconds each. That's all you get at Pecha Kucha Night, an international phenomenon that quickly grew out of its original goal of letting designers share new works. Painters talk about their processes. Thespians offer a monologue. Arts leaders let the community know what they're doing (and sometimes, how much money they need to do it). The presentations all last less than seven minutes, ensuring that things never get stale.
---
> Art in a Bar
J.Sam's
When J.Sam Daniels opened his namesake SouthPark bar and restaurant in March 2013, he also created an art gallery. He displays the work of local and regional artists on the walls inside J.Sam's, a cozy spot for after-work drinks. He calls the artwork portion HD Artists' Gallery and frequently holds art-inspired fund-raisers and events. 4625 Piedmont Row Dr., 980-406-3761.
---
> Cheap Date Concert
Jazz Room @ Stage Door Theater
Jazz, even at its most frenetic, has always been romantic. In the dimly lit, cozy auditorium, the quartet bops along. Couples scoot closer, sipping cocktails from the bar. This concert series, organized by the nonprofit Jazz Arts Initiative, presents tributes to such jazz greats as John Coltrane and Duke Ellington. You don't have to know a lot about the genre to appreciate the concerts. And at $15 a ticket, becoming a regular isn't a problem, either. Jazz Arts Initiative: 1800 Camden Rd., 704-336-9350, thejazzarts.org. Stage Door Theater: 130 N. Tryon St., 704-372-1000.
---
> Artsy Neighborhood
South End
Art galleries, music venues, theater—it can all be found in South End.
Wait, was that a typo? Did they mean "NoDa"?
Nope. These days, South End is where you go on a Friday night if you're looking for multiple cultural experiences within a few blocks.
I thought all they had were some shops, Food Truck Friday, and great-looking families with well-groomed dogs.
Look harder, friend. Charlotte has a new arts district.
---
> Artist
Shaun Cassidy
Cassidy is not a native Charlottean, but the British sculptor has become part of the city. He's sculpted leaves that can be found in the walls that line the track fencing of the LYNX Blue Line. Cassidy's other work is displayed across the globe, but he stays local through public art projects, his leadership role at the McColl Center, and as a professor at Winthrop University in Rock Hill.