Best of the Best: Charlotte Body + Soul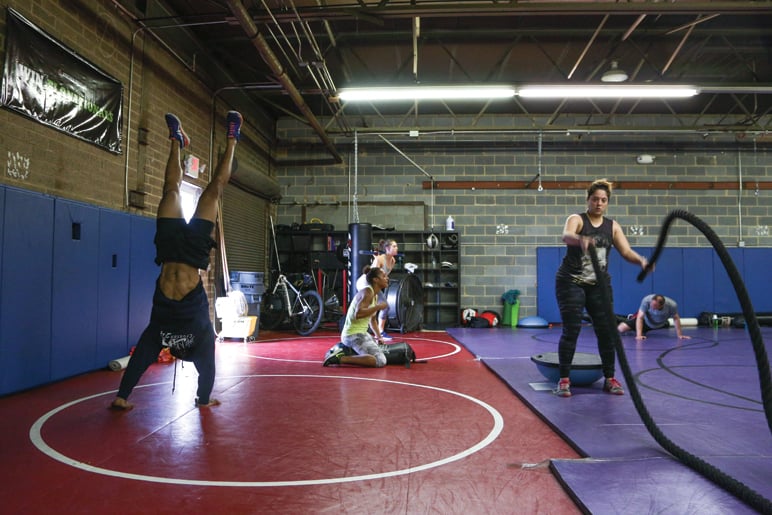 > Best Hot Yoga
Arrichion
Expert yogis and novices will enjoy Arrichion, tucked down a side street in South End. The classes, which run from 45 minutes to an hour, are challenging yet relaxing, and they're typically filled with a wide range of body types and skill sets. Unlike a lot of hot yoga studios, Arrichion is heated evenly. No clunky heaters, no pockets of cool air. 125 Winona St., 704-201-4586.
---
> Workout Group that Comes with a Nickname
F3 (Fitness, Fellowship, and Faith)
Show up for a few free early-morning, boot-camp-style workouts with F3, and you will find yourself more fit, with more friends, and, the founders hope, a renewed sense of purpose. You will also be given a nickname. That name will be, at best, neutral and probably not flattering, but no matter how much you might not like it, don't complain—because if you do, the replacement will be far, far, far worse. (Note: The workouts are limited to men.)
---
> Road Race
Thunder Road
The premier running event in a city that loves to run, Thunder Road turned 10 years old last fall, when 6,000 people descended on Fourth Street to participate in the 5K, half-marathon, or full marathon. It was a cold day, and most of the runners started in layers. But the farther they went, the more they peeled off shirts and warm-ups, leaving many streets near uptown covered in clothes, hard evidence of a city that loves exertion.
---
> Triathlon Coach
Jamey Yon, TRi-Yon Performance
If you're going to wake up at 5:30 a.m. on a Monday or Wednesday to run in Freedom Park, you want to train with someone who is as crazy as you are. Coach Jamey Yon is a former professional triathlete who's been competing, training, and coaching for 25 years. Leading by example—he completed his 20th Ironman competition last October at the Ironman World Championship in Hawaii—his regimen includes nutritional guidance, strength training, swimming, and biking. Yon also counts NASCAR Champion Jimmie Johnson as one of his clients. 704-651-3621.
---
> Best Bootcamp Workout That's Not Crossfit
MADabolic
MADabolic uses interval workouts with fast, intense intervals to burn fat and build muscle. The classes, which run 50 minutes, start off slowly, with stretches and warm-ups, but by the end, participants are exhausted. A typical interval could include body weight movements, kettle bells, boxing, dumbbells, and a stationary bike. Don't be surprised by the burn—or by the quick results. 2610 South Blvd., 980-949-7263.
---
> Free Workout
Fitness Zone at the Bette Rae Thomas Recreation Center
In 2011, the median household income in this neighborhood was below the federal poverty level and the violent crime rate was more than five times Mecklenburg County's average. Against that backdrop, a small, free selection of outdoor exercise equipment can make a big difference. There's an elliptical machine here, a recumbent bike, and chest and leg presses, among other options. It's nothing fancy, but The Trust for Public Land, a national organization that funds Fitness Zones throughout the country, hopes it will provide a healthy option for area residents who can't afford a gym membership. 2921 Tuckaseegee Rd., 704-393-7333
---
> Route to See and Be Seen
Booty Loop
It's at its best in the spring and early summer, before the weather gets too hot and while the leaves are still tender. A breeze blows down Queens Road West, past the multimillion-dollar houses, and onto the backs of runners and bicyclists cruising the Booty Loop, a nearly three-mile circuit through Myers Park. It's a perfect spot to train for that 5K you agreed to run—just watch out for the rest of Charlotte packing the sidewalks and bike lanes. At peak hours, the loop is one of the most popular spots in town.