Best of the Best: Charlotte Dining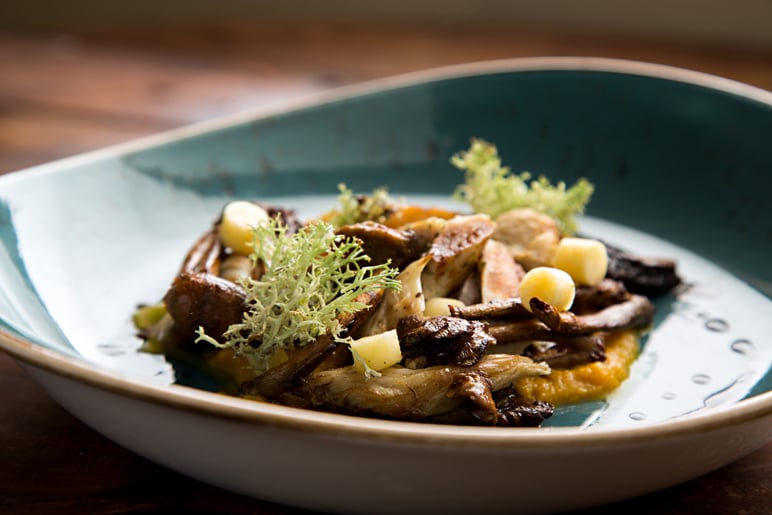 > Restaurant Repping N.C.
Heirloom
Clark Barlowe's name comes up in most conversations about the Charlotte food scene these days. We'd like to think it's because he was on our January cover, but it's more likely because of his dedication to serving up fresh dishes made only of Carolina ingredients. The bar team can keep up with the chef's creations, too, using NC-based spirits such as Cardinal Gin and Queen Charlotte's Rum. 8470 Bellhaven Blvd., 704-595-7710.
---
> Place for Cooking Like Mama's
Mert's Heart & Soul
Mert's is many things at once: a Beautiful People Place in the heart of uptown, a roadside dive with a giant "EAT" sign in the dirt parking lot, and your grandma's kitchen. With the aroma of fried chicken, cornbread, and butter filling every crevice, it smells like the best Sunday you can remember—and tastes like it, too. The only downside is when you're done eating, you can't take a nap on the couch. 214 N. College St., 704-342-4222.
---
> Coffee Shop for a Meeting
Central Coffee Co.
It's not too hip, and it's not too stiff. The music isn't too loud, and it's not too soft. Up front, barstools line the window seats, for those who just want to have a quick chat. In the narrow middle, tables for two run along the walls. And in the back, four cushioned chairs surround a table for those working on a group project. On any given day, everyone from civic leaders to artists is here, making connections and putting Charlotte to work. 719 Louise Ave., 704-335-7288.
---
> Trusty Standby
Alexander Michael's Restaurant & Tavern
This past New Year's Eve, as restaurants throughout the city offered prix fixe menus and fulfilled reservations taken weeks in advance, Alexander Michael's treated it as any other Wednesday night. No reservations, no exceptions. The blackened catfish was cooked just right, as it always is at this Fourth Ward institution, and the Cajun pasta arrived piping hot. Pints of beer flowed at the bar, and light-hearted chatter filled the dining room. As much as Charlotteans like progress, we return to 32-year-old Alexander Michael's because it's just the way we remember it. 401 W. Ninth St., 704-332-6789.
---
> Grits
The Flipside Café
Grits have become trendy. Restaurants throughout the South top them with shrimp and elevate them to be a culinary symbol of the region. But grits are simple. They're just ground corn. And here, inside a strip mall cafe in Fort Mill, South Carolina, Jon and Amy Fortes serve grits alongside farm-fresh eggs and thick-cut bacon. They're rich and creamy. They arrive in a supporting role, but with each bite, they quickly become the star of the meal. 3150 Hwy. 21 N., Fort Mill, SC, 803-802-1711.
---
> Banana Pudding
Fran's Filling Station
When you sit down at Fran's and banana pudding is on the menu, order it. The pale yellow, thick, and creamy treat is as much banana as it is pudding. Heck, order it as an entrée—bananas are good for you, right? 2410 Park Rd., 704-372-2009.
---
> Pimento Cheese
NoDa Bodega
Every day this deli and market posts photos of its sandwich specials on Facebook. Take notice when the list of ingredients includes housemade chipotle pimento cheese. You might see it pressed between a baguette with turkey and avocado or on a ciabatta roll with ham and jalapeños. If it's not on the specials menu, it's inside the sliding door of the refrigerator, in a plastic, eight-ounce tub for $4.99. 800 E. 35th St., 704-375-8704.
---
> New Take on Cauliflower
The Blue Taj
Cauliflower may get a bit of a bad rap, but The Blue Taj, sister restaurant to Copper, in Ballantyne is doing something special to elevate the pale florets. Instead of puréeing or hiding the vegetable, the Indian eatery quickly sautés bite-size florets in a garlic, scallion, soy, and spice glaze, resulting in a nearly fried consistency, red color, and explosive flavor. You won't be able to eat just one. 14815 Ballantyne Village Way, 704-369-5777.
---
> Best Restaurant for Romance
Stagioni
If there's such a thing as a restaurant that makes you want to go home and take off your clothes, Stagioni's it. Maybe it's the crimson accents throughout the dining room. Or the perfectly curated wine list. Stagioni's coziness is seductive. Diners lean in toward one another, sharing bites of grilled octopus at the start of their meal or vanilla panna cotta at the end. They leave, cheeks flushed, fingers intertwined, eager to get home. 715 Providence Rd., 704-372-8110.
---
> Shared Plate You Won't Want to Share
Soul Gastrolounge
Soul seems to be taunting us with its "shared" plate of Asian Glazed Pork Belly Tacos. One bite of the piece of soft meat wrapped in a mini soft taco shell with a watermelon relish is enough to make you wish you didn't have friends to share with. Start with a double order. Trust us. 1500 Central Ave., 704-348-1848.
---
> Mexican Cuisine
Three Amigos
The rave reviews for Mexican staples such as enchiladas, burritos, and tacos come through word of mouth. Three Amigos has gained a loyal following with its authentic food, classic margaritas, and fresh-to-order guacamole. Head to the restaurant on a Thursday to enjoy all-you-can-eat enchiladas for just $7.99, then finish out the meal with tres leches. Multiple locations.
---
> Airport Food
Bad Daddy's Burger Bar
The airport version of Bad Daddy's has many of the same burger options as the Bad Daddy's in town, where you don't have to take off your shoes to get in. Sit at the bar, order some beef, and let the belly full of calories put you right to sleep on your flight. Or get a burger to go and risk getting drooled on by the hungry guy in 12A. 5501 R C Josh Birmingham Pkwy., Concourse C, 704-359-4467
---
> Cooking Class
Chef Alyssa's Kitchen
Chef Alyssa Gorelick, formerly of Fern, brings themed cooking classes to Atherton Market several times a week. It's a great date night, night with friends, or place to learn a new dish to impress. Sign up early; she sells out just about every class. Pro tip: If you can score a tabletop for two, you'll have more leftovers. 2104 South Blvd. (Inside Atherton Market), 704-817-7568.
---
> Meal for a Cause
The King's Kitchen
If you're a do-gooder, going out to dinner can sometimes feel gluttonous. Not at The King's Kitchen. Owner Jim Noble opened the restaurant as a nonprofit, and recently won an award for its role in the community. You'll never know it from the service, but the staff includes troubled youth, former inmates, and others who needed a second chance. All of the proceeds from King's Kitchen go to helping feed the hungry. 129 W. Trade St., 704-375-1990.
---
> Best Coffee
Not Just Coffee
For years, Charlotte was a Folgers kind of town. We drank our automatic drip coffee from a no-frills mug. But craft coffee became a trend, and now we drink nonfat soy caramel lattes and organize coffee crawls. At Not Just Coffee, the baristas are talented and knowledgeable, but they won't condescend if you don't know the difference between a cortado and a macchiato. If you just want a cup of black coffee, they can do that, too. 224 E. Seventh St., 704-817-3868.
---
> Use of Pickling
The Asbury
The house-made pickled vegetables come in a canning jar, a nod to their authenticity and the love that goes into making them. Chef Chris Coleman's mix is always changing with the seasons, but okra, traditional pickles, baby carrots, and pickled greens often make appearances. Upgrade to the snack plate, which includes the pickled mix along with popcorn, hummus, and deviled eggs, to taste how a fried cornichon atop each egg makes the Southern classic even better. 235 N. Tryon St., 704-342-1193.
---
> Chocolate Chip Cookie
Burnt butter chocolate chip cookie, Earl's Grocery
This gourmet cookie for grown-ups wins because of its texture—an ideal balance of crunch on the outside and chewiness in the middle—and the sprinkle of salt on top, which complements the sweetness of the chocolate. 1609 Elizabeth Ave., 704-333-2757.
---
> Service
Carpe Diem
Good luck trying to stump the members of Carpe Diem's wait staff. They're always ready with a recommendation or explanation for dinner and drinks, even with the specials. No "Sorry, I haven't tried that yet" at this place—if they serve it, they've tasted it. We only wish we could say the same. 1535 Elizabeth Ave., 704-377-7976.
---
> Take-Out Taco
Tacos El Nevado
Fried pork, grilled steak, beef tongue—choose any kind of filling for a small, soft corn tortilla, and prepare to make it a habit. The meat is moist and dripping with just enough grease. It's topped with onions and cilantro, along with a few slices of radish, roasted jalapeño, and lime on the side. This is all that's required to create a taco addiction, and each one costs less than three bucks. 4715 Central Ave., 704-563-4667 and 4640 South Blvd., 704-529-4477
---
> Salmon Snack
Catch On Seafood Market
Cases displaying fresh seafood on ice take up most of the space in this small storefront, and that's why visitors shop here. Go past the filets on your left, and if the pastrami cold smoked salmon is still there in its middle case, try some. The pink fish, smoked for five days at 37 degrees, can hold up against the 22 herbs and spices in the pastrami seasoning, resulting in bites that are neither fishy nor meaty. Even with a price of $32 a pound, it's often sold out nearly as soon as it comes in. 1801-A Commonwealth Ave., 973-557-6383.
---
> Build-Your-Own Lunch
Crisp
The cheerful staffers start asking questions the moment you step in line during your quick lunch break. Spinach or romaine; cucumbers, tomatoes, or bacon? Why not all of the above? Chicken, shrimp, or steak? It's all cooked to order. Finish it off with a homemade dressing and voila! A gourmet salad is ready in a matter of minutes. The ingredients are fresh, the portions are generous, and you will return to work feeling more than satisfied with your heavy brown box of healthy goodness. Multiple locations.
---
> At-Home Italian
Pasta & Provisions
Authentic pastas, raviolis, cheeses, meats, sauces, and wines line the shelves and deli counter. All the hard work for a pasta supper is already done for you; the varieties of pastas are made fresh, making them faster to cook at home. Light some candles and buon appetito! 1528 Providence Rd., 704-364-2622.
---
> Thai
Thai 1st
Traditional curries, soups, and noodle dishes dot the menu. The Larb and Tom Kha Gai are standouts. For Thai lovers wishing for something other than the usual red, green, or yellow curries, try the Thai Lover. Tender shrimp, chicken, cashews, peppers, scallions, and pineapple sit in a flavorful and Massaman curry. Still undecided? The extremely helpful staff loves to recommend favorites. 9824 Rea Rd., Ste. B, 704-541-9099.
---
> Vegan Cuisine
Nourish
Owner Julia Simon's ability to cook vegan meals without sacrificing taste has allowed her company to grow significantly since opening in 2012. The locally sourced, eco-friendly weekly meal deliveries are now available throughout North Carolina. But Charlotteans can order á la carte entrees, sides, desserts, salads, breakfast, and more for delivery. You won't even miss the meat. 855-442-3663.
---
> Most Inventive Breakfast
Your Mom's Donuts
Who knew doughnuts could be farm-to-table? This family-owned shop in Matthews uses North Carolina-milled flour, local eggs, and produce from Mecklenburg County farms to create massive square doughnuts. Flavors rotate depending on what's in season, but think confections like strawberry-lavender or peanut butter and caramel. Traditionalists can take comfort in the safety of perfect vanilla glazed doughnuts, too. An even sweeter treat? If you're within 10 miles, YMD will deliver to your home or office (weekdays only). 11025 Monroe Rd., Matthews, 803-280-5720.
---
Barbecue Face-Off
In North Carolina, the debate over eastern vs. western style barbecue is old news. Now it's old-school vs. new-school, city vs. country, booths with finished-wood tables vs. booths with checkered tablecloths, Styrofoam cups of sweet tea (with lemon, please) vs. pints of craft beer. In Charlotte, we have both, and these two places are the best of each.
> Old-School Barbecue Joint
Bill Spoon's
Some menu highlights: The sweet tea is "famous." The banana puddin' doesn't come with a g on the end of it. And for the pie of the day, well, just ask your waitress. Bill Spoon's—a place that opened in 1963 and remains in the same family, a place where the owners have said for years that they treat customers the way they'd want to be treated—may just be the most Southern place in Charlotte. 5524 South Blvd.,
704-525-8865.
---
> New-School Barbecue Joint
Midwood Smokehouse
Hog or chicken or cow, there's a platter for that, or a taco for that, or a salad for that, or a sandwich for that, or a sauce for that. The burnt ends and pork ribs always sell out first. The ribs are as tender as they come. The pitmaster learned to make brisket in Texas. And the attention to each dish is most evident in the spicy and smoky bacon-wrapped jalapeños, which take six hours to make. The restaurant gained national recognition last fall when NBC aired a 30-second montage of shots during a Panthers' game, and its local following will only grow with the new location in south Charlotte. 1401 Central Ave.,
704-295-4227.
---
Pizza Showcase
> For the Foodie
Pure Pizza
The Chorizo, a blend of organic shaved radishes, cilantro, chopped onions, lime juice, and, of course, chorizo, is an example of what Pure Pizza does right: foodie-friendly pies that don't sacrifice taste when they take out the extra grease. The 7th St. Public Market backdrop isn't as intimate as a traditional, low-lit spot, but this farm-to-fork pizza impresses. 224 E. Seventh St., 980-207-0037.
---
> Late-Night Detour
Fuel Pizza
Four beers ago, you may have opted for something a bit more upper-crust, but now is the time for a by-the-slice joint like Fuel. At this hour, all you want are some solid slices of pepperoni before you head home. Look no further than this Charlotte institution, with eight locations in the area. There may be a few things you'll regret about this night, but Fuel won't be one of them. Multiple locations.
---
> Deep Dish Delivery
Jet's Pizza
In a city where deep dish is scarce, Jet's fills a much-needed, square-shaped hole. For a movie night in with (or without) your loved ones, this is the place to get your fix delivered. The buttery crust shines. 'Za tip: You can enhance that crust with different flavors to add to the fun. Our recommendation is Jet's Turbo Crust, which mixes butter, garlic, and Romano cheese. Multiple locations.
---
> Authentic Italian Experience
Portofino's
Traditionalists: This is your spot. Portofino's, named after a city on the coast of northern Italy, inspires nostalgia, even if it's your first time stepping into one of its locations. It doesn't stray too far from the classic Italian template: mozzarella is a key ingredient in all of its specialty pies, and there's a special attention to sauce. Multiple locations.
---
> Family Pizza Night
Pizza Peel
For pizza night with the kids, you need a place that excels both in gourmet creations and a solid slice of pepperoni. The pie sizes make them easy for kids to share. And for the adults, the beers are local and top-notch. The playful atmosphere (the new Plaza Midwood location includes an exterior disc golf goal) lets both adults and kids sit and stay a while. Also, you can ask for the "secret menu," full of innovative pies that give everyone an excuse to return. Multiple locations.
---
> Office Outing
Hawthorne's NY Pizza & Bar
Hawthorne's, with its booth-casual vibe, is the happy-hour haven of the list. The menu sports a variety of gourmet toppings, making it possible to please everyone in your surrounding cubicles, and daily drink specials aid the after-hours bonding. Our pizza pick: Hawthorne's Special White, with ricotta cream sauce, pesto, and sun-dried tomatoes. Multiple locations.