Best of the Best: Charlotte Diversions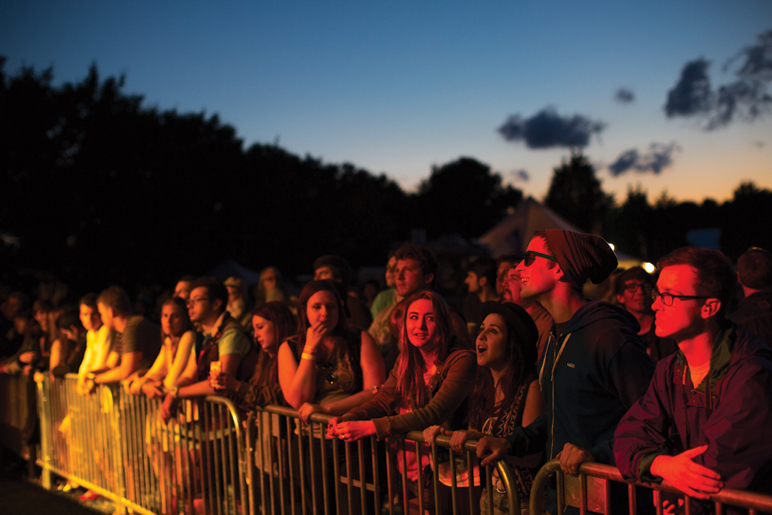 > Music Festival for a Cause
Drumstrong
After his son survived bone cancer, Scott Swimmer found a way to help support cancer research and raise awareness: a giant, outdoor drum circle and music festival. This year, the ninth annual Drumstrong event will be held at the NC Brewers & Music Fest, where participants will join in the longest continuous drum circle ever held. There will also be live music, yoga, a health expo, craft beer, and activities for kids. May 9, Rural Hill Farm, 4431 Neck Rd., Huntersville, 704-375-7177.
---
> NASCAR Team Garage Tour
Self-Guided Tour at Joe Gibbs Racing
It's hard to imagine what it takes to create a race car until you've seen it happen. Although much of the building is off-limits to visitors (you could be a spy for another team, after all), floor-to-ceiling windows over the shop floor let you see cars being prepped for upcoming races. Not a NASCAR fan? The lobby also highlights some of Joe Gibbs' greatest moments with the Washington Redskins. 13415 Reese Blvd. W., Huntersville, 704-944-5000.
---
> Hike
Latta Plantation Nature Center and Preserve
Park in the lot just inside the gate. Hop on Hill Trail at the end of the lot. Hoof it up the harder-than-it-looks incline that gives the trail its name, and veer right onto the Cove Trail at the top. Walk two-tenths of a mile or so, and you are now in the middle of one of the highest-quality forests left in Mecklenburg County. 6211 Sample Rd., Huntersville, 704-875-1391
---
> Place to Catch an Author Reading
Park Road Books
Three, four, and sometimes five nights a week, an author sets up in the back of this quaint and carpeted bookstore in Park Road Shopping Center, and people gather around. In the era of Amazon, this independent store brings not just the books, but the people. Park Road Shopping Center, 4139 Park Rd., 704-525-9239.
---
> Natural Escape Within County Limits
McDowell Nature Preserve
There are nearly seven miles of hiking trails here, and if you're lucky, you'll get lost in them. Start on a path that hugs the shoreline of Lake Wylie, then turn right into the woods. There's the sharp and holy scent of Eastern Red Cedars. There's the murmur of the creek as sunlight filters through the high branches of oak and pine. Back here, far from the lake and hidden from the main road, the trees envelop you. Not many weekend hikers venture out to the Cedar Ridge Trail, the steepest path in the park. But if you find it, you'll be rewarded with a view that silences the chatter in your mind. A glimpse of the forest floor, with its depth and shadow, reminds you why you venture out here in the first place. 15222 York Rd., 704-588-5224.
---
> Seats in the City
Down the Third-Base Line at BB&T Ballpark
When box seat season tickets went on sale last year for the Knights' inaugural season in the city, the first to go were those behind the third-base dugout. And the second to go were the seats behind those seats, and so forth. Here, being close to the field doesn't matter as much as the direction you're facing, because there's nothing like being able to watch a fly ball soar high into the sky against the backdrop of Charlotte's tallest buildings. 324 S. Mint St., 704-274-8300.
---
> Reason to Make the Trip to UNCC
McMillan Greenhouse at UNCC Botanical Gardens
Inside McMillan Greenhouse at UNCC Botanical Gardens is a balmy oasis. The gardens, which include the Susie Harwood Garden, Van Landingham Glen, and the greenhouse, were started in 1966 as a living classroom for students. Now we all benefit. The greenhouse shows plant diversity, with exotic species from all over the world. The Titan Arum plant, from the jungles of Sumatra, Indonesia, is named Bella and only blooms for a few days every three to five years. The orchid collection, which peaks in the winter, and the carnivorous plants, Venus flytraps and pitcher plants, are visitor favorites. 9090 Craver Rd., 704-687-0721.
---
> Place to Catch a Free Show
U.S. National Whitewater Center
The setting: on the banks of a man-made river with rushing white water. The facility: a stage with lawn seating—chairs and blankets welcome. Amenities: food, beer, wine, restrooms, room for the kids and dogs to run. Costs: $5 parking fee, getting wet if it rains. Sounds like a good deal to us. 5000 Whitewater Center Pkwy., 704-391-3900.
---
> Museum You Should Know About
Life And Times In Black American History (LATIBAH) Collard Green Museum
This is not your typical artifact-filled, self-guided museum experience. Founded in NoDa in 2009 and relocated to the West End in early 2014, the LATIBAH museum hosts community drum circles, lecture series, and artists-in-residence, in addition to its vivid exhibits. Guided tours take visitors through art installations that represent snapshots of African American history, from the great Egyptian thinkers to the Underground Railroad to a replica of the Door to No Return, storage cells in West Africa where hundreds of thousands of people were held before being loaded onto slave ships. The museum's mission is to change perspectives and build the self-esteem of a people who have been bombarded with negative imagery about their past and present. 720 Tuckaseegee Rd., 704-333-2426.
---
> Way to Learn a New Skill
Sustainable Living Series
In 2013, the Mecklenburg County Cooperative Extension introduced a yearlong set of classes called the Sustainable Living Series. The series starts with a basic primer in understanding our food system. Then, participants learn how to do everything from building a raised bed and starting a seed to harvesting and preserving their bounty. The cost of the classes ranges from $5 to $18. That's a pretty good bargain for skills that will help you eat for a lifetime. 1418 Armory Dr., 704-336-2082.
---
> Workshops
West Elm
West Elm is a chain, but part of its success is that each store works with and supports its local community, whether highlighting works from local artists or holding a weekend workshop. In a workshop last fall, local calligrapher Kyle Varian taught participants how to add a touch of class to event invitations. 1100 Metropolitan Ave., Ste. F-160, 704-333-0642, Follow them on Instagram or Facebook for workshop information.
---
> New Adrenaline Rush
Fury 325 at Carowinds
At its peak, it's 325 feet high. After that, it drops at an angle of 81 degrees toward the earth. At its fastest, it goes 95 miles per hour. It covers 6,602 feet of track over 8.4 acres of land, and it goes underneath a pedestrian bridge. The new Fury 325 at Carowinds is the world's fastest and tallest giga coaster—a type of roller coaster that goes really fast and climbs really high—and it will be the attraction of the summer. 14523 Carowinds Blvd., 704-588-2600.
---
> Place to See Men in Skirts
Rural Hill Scottish Festival and Loch Norman Highland Games
This gathering, held April 18-19 this year, showcases kilted fellas dancing, playing the bagpipes, throwing stones, and wielding battle axes. If they're "going regimental" in true Scottish style, you might want to divert the kids' attention when skirts go flying. Remember the pre-battle taunt in Braveheart? Pipe bands, Highland games, and historic encampments draw up to 12,000 enthusiasts during the weekend event, held on a former Davidson family farm that's now owned by the county. Historic Rural Hill, 4431 Neck Rd., Huntersville, 704-875-3113.
---
> Best-Kept Secret Festival
Lily Fest
About an hour south of Charlotte is the world's largest population of rocky shoals spider lilies. The lilies cover about 20 acres along the Catawba River at Landsford Canal State Park. Each May, the park celebrates peak blooming season with Lily Fest—live music, about 450 acres of peaceful park, and thousands of white blooms floating on the river. This year's festival is May 17 from noon until 5 p.m. 2051 Park Dr., Catawba, SC, 803-789-5800.
---
> Thing to Put on a Charlotte Scavenger Hunt
A Coin Minted in Charlotte
Every coin made in Charlotte carries an identifying mark—the letter "C." The coins, produced here at the Charlotte branch of the United States Mint from 1837 to 1861, are rare. They include a $5 coin called a half-eagle, a $2.50 coin called a quarter eagle, and a $1 coin. The Mint Museum Randolph, housed in the old Mint building, has a few of the coins on display in its Heritage Gallery. 2730 Randolph Rd., 704-337-2000.
---
> Bad-Ass Team
Charlotte Roller Girls
Check out a roller derby with this team, and you'll reconsider your idea of roller skating as a sport confined to kids' birthday parties. For 60 minutes, these women throw their body weight into each other while moving at high speeds on eight wheels.
---
> Way to Make a Difference In Your Community
The Free Store at Crisis Assistance Ministry
It looks like a mini-department store. It has clothing racks with the garments arranged by gender and color, a checkout line, and a few shelves for home goods. But the items inside the Free Store at Crisis Assistance Ministry don't cost customers a cent. They were donated, organized, and stocked mostly by volunteers. Sign up to spend a few hours here or drop off a bag or two from your closet. 500-A Spratt St., 704-371-3001.