Best of the Best: Charlotte Nightlife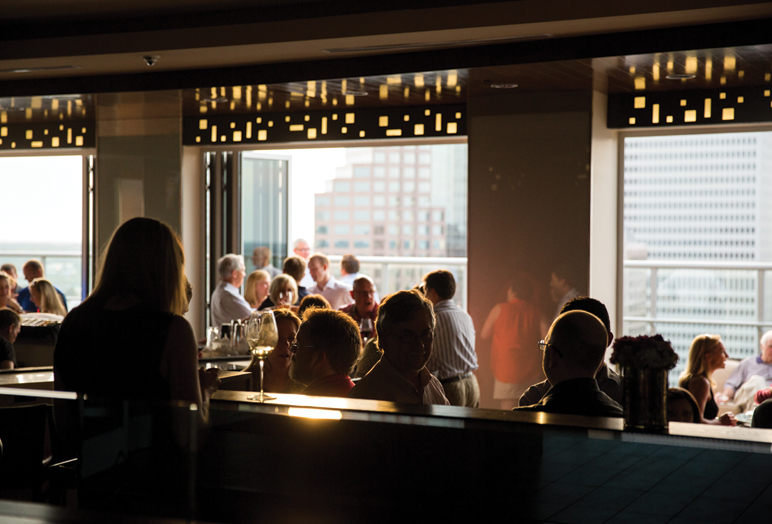 > Bar Patio or Rooftop
Fahrenheit
When Fahrenheit opened on the 21st floor of the Skye Condominiums building last year, shots of the Charlotte skyline began showing up all over social media. The large, wrap-around bar looks out to a balcony that has one of the best views of the city—and, on clear days, you can even see the mountains far to the west. 222 S. Caldwell St., 980-237-6718.
---
> Nightlife Neighborhood
Plaza Midwood
Long gone are the days when Plaza Midwood was just a neighborhood with curious thrift shops, tattoo parlors, and dive bars. Those elements are still there (see the Thirsty Beaver for your dive fix), but so are several of the city's most popular bars—including Soul Gastrolounge, Whiskey Warehouse, The Common Market, The Peculiar Rabbit, and Pint Central. Park the car and walk to any of them.
---
> Bar for Everything
Heist Brewery
You go to a brewery for good beer. But at Heist, you get craft brews plus great cocktails (try the Asian Pear or Cucumber Cobbler), food (it's a full-fledged restaurant with skilled chefs), live entertainment by local bands, art exhibits by Charlotte artists, and comfortable patios (and you can always find a spot of shade when it's warm out). 2909 N. Davidson St., Ste. 200, 704-375-8260.
---
> Nightclub
Label
Go ahead: Believe that you've outgrown the club scene. Soon enough, there will be a birthday, or a job promotion, or a long-lost friend visiting, and you might decide you really want to go out. Turn to what continues to be the hottest nightclub in the city, Label. The mega-club has high ceilings, multiple rooms, dozens of VIP tables, and a huge video screen—and it draws large crowds at least four nights a week. 900 NC Music Factory Blvd., Ste. B6, 704-910-0526.
---
> New Bar
Sports One Bar and Lounge
This uptown sports bar's list of owners includes Peter Thomas of Bravo's The Real Housewives of Atlanta. The décor is upscale, and the food is better than you'd expect at a bar. 521 N. College St., 704-733-9962.
---
> Late-Night Dining Scene
5Church
Since opening three years ago, 5Church has revitalized a strip of Fifth Street in uptown with its innovative American menu and craft cocktails. The restaurant has won numerous awards, drawn lots of celebrity diners, and its bar is just as much of a hot spot nearing close as it is at 8 p.m.—especially on Friday and Saturday nights. 127 N. Tryon St., Ste. 8, 704-919-1322.
---
> Bartender
Bob Peters, The Punch Room
Sit down at Peters' bar and you'll leave feeling like you've befriended one of Charlotte's best-known cocktail artisans. From his hometown pride (Peters grew up in Charlotte) to his belief that sharing his knowledge is part of the job description, Peters is a great representative of our city. We all breathed a sigh of relief when we heard that he was leaving Pisces not for New York or Chicago, but for the Ritz-Carlton's new concept, The Punch Room. The Punch Room at The Ritz-Carlton, 201 E. Trade St., 704-547-2244.
---
> Fund-raising Gala
Young Affiliates of the Mint Fall Ball
Millennials (along with their Gen-X cohorts) showed they clean up well last fall, donning tuxedos and gowns for the second annual Fall Ball at the Mint Museum Uptown. But neckties were loosened and heels came off as the party, which included a live band and an open bar, hit the dance floor. Proceeds from the Fall Ball benefit the museum.
---
> Nightlife Renovation
Vault
Vault needed a few months to find its identity after it replaced Kazba at the EpiCentre early last year. But soon it became the place where the elite shell out big bucks for VIP couches and casual partiers dance in nice jeans and button-downs. The two groups party side by side, a velvet rope separating them, to popular music played by some of the leading DJs from around the country. 210 E. Trade St., at EpiCentre, 704-272-4713.
---
> Social Group/Club
Awesome Random Adventures
This group, which perfected the use of meetup.com, has more than 3,800 members in the Charlotte area. Meet-ups have included bar and dinner crawls, a chocolate buffet and martini mixer, a stoplight party (where colors denoted relationship status), karaoke, and comedy shows.
---
> After-Work Spot
McCormick & Schmick's (Uptown)
A restaurant that specializes in fresh seafood and steaks usually means a hefty tab, so the happy hour menu at McCormick & Schmick's is a steal. It runs from 4-7 p.m., and the food specials include $3 bruschetta and hummus, $4 chicken sliders, and $5 oyster shooters. 200 S. Tryon St., 704-377-0201.
---
> Sports Bar/Place to Watch the Game
Icehouse South End
Icehouse in South End has plenty of seating, more TVs than you can easily count, a big food and drink menu, and lots of out-front parking. Also, the managers and staff do a fine job of deciding which games deserve sound, and which are better left quiet. 2100 South Blvd., 704-375-1128.