Best Tomato Dishes in Charlotte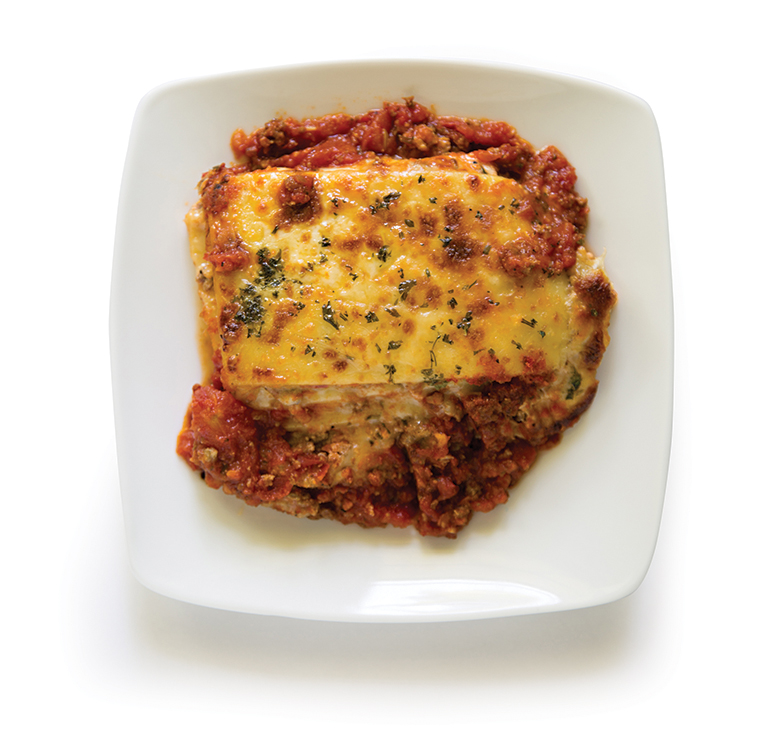 WHEN THE SUMMER heat is on, we're reminded of what the tomato should really taste like. You'll find the veggie—or fruit, if you will—in soups, sauces, and salads around Charlotte. Here are the best bites of tomato in town, served in dishes that are inspired by places from the Southern United States to Italy. Photographs by Peter Taylor.
Mama Ricotta's
What: Lasagna
A lasagna is only as good as its parts. The sauce here is an integral part of the dish, and its recipe is closely guarded by Mama's chefs. We can only report that the sauce uses San Marzano tomatoes, along with basil, oregano, salt, and pepper—all stewed together to create the foundation for the classic, layered pasta. 601 S Kings Dr., Ste. AA, 704-343-0148.
---
Halcyon
What: Tomato Confit
It isn't its own dish, but it could be. Found on the menu as a supporting star of numerous entrées, tomato confit is a fancy name for a simple preparation. At Halcyon, the fresh, red tomatoes are blanched and peeled, then cooked in the oven—resulting in a sweet and tangy yet rich accompaniment for any plate. 500 S. Tryon St., 704-910-0865
---
Dish
What: Fried Green Tomatoes
Like any good Southern city, Charlotte is full of restaurants churning out fried green tomatoes. Dish may have the best, though. The process is old-school. The green (unripe) tomato slices are dredged in a wash of buttermilk and egg, says General Manager Penny Craver. Then they are dusted with cornmeal, flour, salt, and black pepper.
After a dip in the fryer, a sprinkle of sea salt sets the tangy green tomatoes with a flavorful bite. 1220 Thomas Ave., 704-344-0343
---
The King's Kitchen
What: Nobles Tomato Bisque
Tomato soup should be simple, says General Manager Steve Hendrick of King's Kitchen. The restaurant's tomato bisque is vegetarian, starting with sautéed carrots, celery, and onions before plum tomatoes and sea salt join the mix. Then, after cream is added, the mixture is puréed and served with a sliced baguette, which is set atop the soup, and capped with goat cheese and basil. "People complicate soup or bisque. This is pure and natural … with only local ingredients," Hendrick says. 129 W. Trade St., 704-375-1990
---
Dandelion Market
What: Sundried Tomato Tapenade
When a tomato is dried out, its flavor becomes a concentrated medley of sweetness. Executive Chef Bob Vanatta says his restaurant's sundried tomato tapenade, part of a trio of Mediterranean spreads, mixes those sweet, sun-dried tomatoes with green olives, capers, garlic, oregano, and dill. The mixture is blended together and plated with a lemon garlic
hummus, tabbouleh, and grilled and fried pita bread. 118 W. Fifth St., 704-333-7989
---